Support NRA Shooting Illustrated
DONATE
There's little doubt that we're in the golden-age of polymer-framed, striker-fired pistols. Today, all the major and contemporary striker-fired pistol designs are well-established and regarded as quite reliable. Now that the standard offerings of 9mm, .40 S&W and .45 ACP have been thoroughly covered, a trend for major gunmakers is to optimize a striker-fired pistol for calibers beyond those main three mentioned above. Cartridges like .380 ACP, 5.7x28mm or 10mm come to mind. In the autumn of 2021, Smith & Wesson officially introduced the 10mm to its flagship product line of the M&P M2.0 handgun family, listing five different versions, all with full-size frames and barrel lengths of 4 inches, 4.6 inches and 5 inches.
M&P 10MM M2.0 Overview
The standard M&P 10mm 2.0 has a magazine capacity of 15 rounds and a 4.6-inch barrel. This pistol has all the hallmarks of the current version of the M&P M2.0 family including the scalloped forward serrations and improved flat-faced factory trigger. Notably, all 10mm versions in Smith & Wesson's lineup include S&W's CORE optics-ready system in addition to taller suppressor-height iron sights (with the typical M&P white 3-dot pattern). Compared with the full-size 4.25-inch 9mm M&P M2.0, the standard M&P 10mm M2.0 is approximately ½-inch longer.
The entire Smith & Wesson M&P M2.0 family uses stainless steel barrels and lockup the same way (except the 5.7x28mm model). The same is true for their frames: the grips, their side panels, backstrap panels, the ambidextrous slide stop levers, the magazine catch buttons and the slide takedown levers are virtually identical. In essence what really changes is the caliber. The forward serrations found on more recent models are a welcome addition as it makes it easier to manipulate the pistol when a reflex optic is mounted. Even better than the slide serrations is the new "default" flat-faced trigger. While it isn't a true match trigger, it's certainly an improvement over the original crescent-shaped trigger found on my older 9mm M&P M2.0. Both the old and new triggers stop at a very clear wall, but with the flat trigger face, it's easier to have a more consistent trigger break. To prevent overtravel, M&P M2.0 frames have an integral polymer nub behind the trigger guard. Aside from being optics-ready, a nice thing about iron sights on the M&P M2.0 series is that both the front and rear are fully adjustable in their dovetails.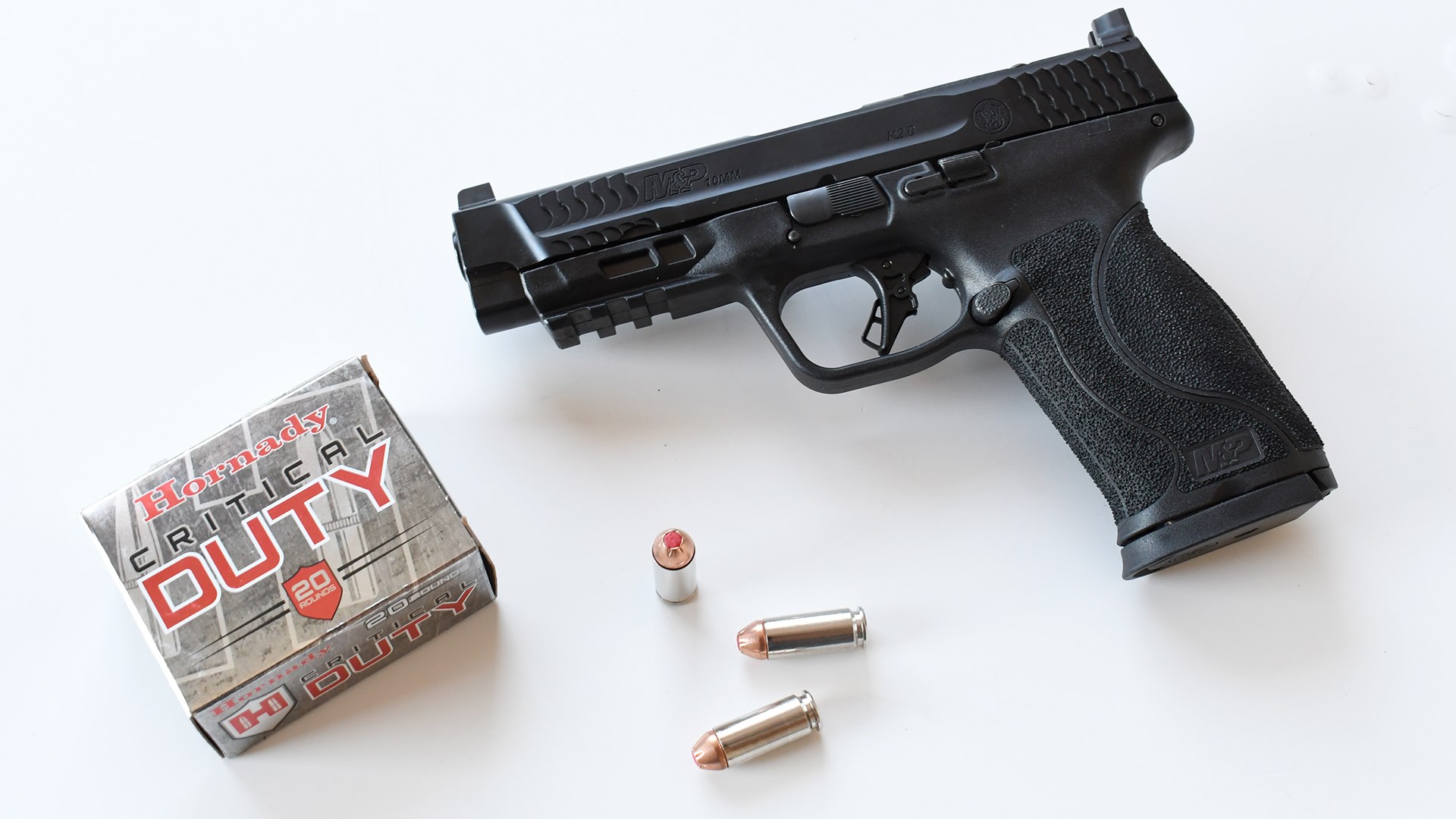 Handling wise, this 10mm pistol has a very similar "feel" to its 9mm counterpart, which somewhat surprised me as I expected the grip to feel wider and longer in order to accommodate the larger 10mm cartridge. The grip is slightly longer, but the difference is subtle. Most double-stack guns built around larger calibers like 10mm or .45 ACP have a reputation for fatter and clunkier grips, but this isn't the case for the M&P 10mm M2.0 which is only .015-inch wider than the 9mm version. For a full-sized 10mm, it is wonderfully ergonomic, and has the signature 18-degree grip angle which is modeled after the venerable 1911 pistol. Like the rest of the M&P M2.0 family, it has that medium-coarse "assertive" texturing on the side and backstrap inserts. While shooting I was able to build my standard two handed firing grip and maintain control of the pistol with relative ease. 
The M&P 10MM M2.0 On The Firing Line
Although this gun accepts optics, but I did not use one for this review. Instead, I relied on the tall suppressor-height sights. I fired 135 rounds of 10mm for this review, all factory ammo loaded by Aguila, SIG Sauer and Hornady that I bought locally at a sporting-goods store. It's always difficult describing the subjectiveness of felt recoil, but the M&P 10mm M2.0 wasn't unreasonable. It's certainly a bit warmer than the typical polymer-framed 9mm, but nothing unmanageable. The only other larger-caliber semi-automatic similar to this one that I've owned and shot is my Heckler & Koch USP-45, and that's what the M&P 10mm M2.0 mostly reminded me of.
The first thing I did to get acquainted with the M&P 10mm M2.0 was to shoot a 50-round Dot Torture drill. All of my impacts were fairly consistent indicating how easy it is to handle this gun with a proper two-handed grip. Even at 5 yards, the tall sights kept hitting low so I had to hold very high for each target on this drill. I still managed to print some rounds far lower than I would have liked. At 7 yards I fired six rounds at a 6-inch circle printed on a 8.5x11 piece of paper as fast as I could, and while challenging, but I managed to leave them all on the piece of paper itself. I fired another 8 rounds of controlled pairs at this same target. The goal was just to get a feel for the M&P 10mm 2.0 and the mythical cartridge under rapid fire. I fired 20 rounds freestyle at an NRA-B8 target at 25 yards. Even with a six-o'clock hold, it's still challenging to do with standard iron sights. I used the top-center of the front sight to hold, and both 10-round strings printed about 3 to 5 inches beneath that point of aim. With Aguila I managed to group about 3.9-inches and the SIG Sauer ammo which was warmer also shot a little tighter, closer to 3.25-inches. I suspect that using a center-hold with the white dot itself would have raised the impact closer to its true point of aim, but the most precise way to shoot at B-8 (or any other traditional bullseye target) with iron sights is with a proper 6 o'clock hold. Because of the great cartridge this full-size pistol is chambered in, it would most certainly benefit from a mounted optic.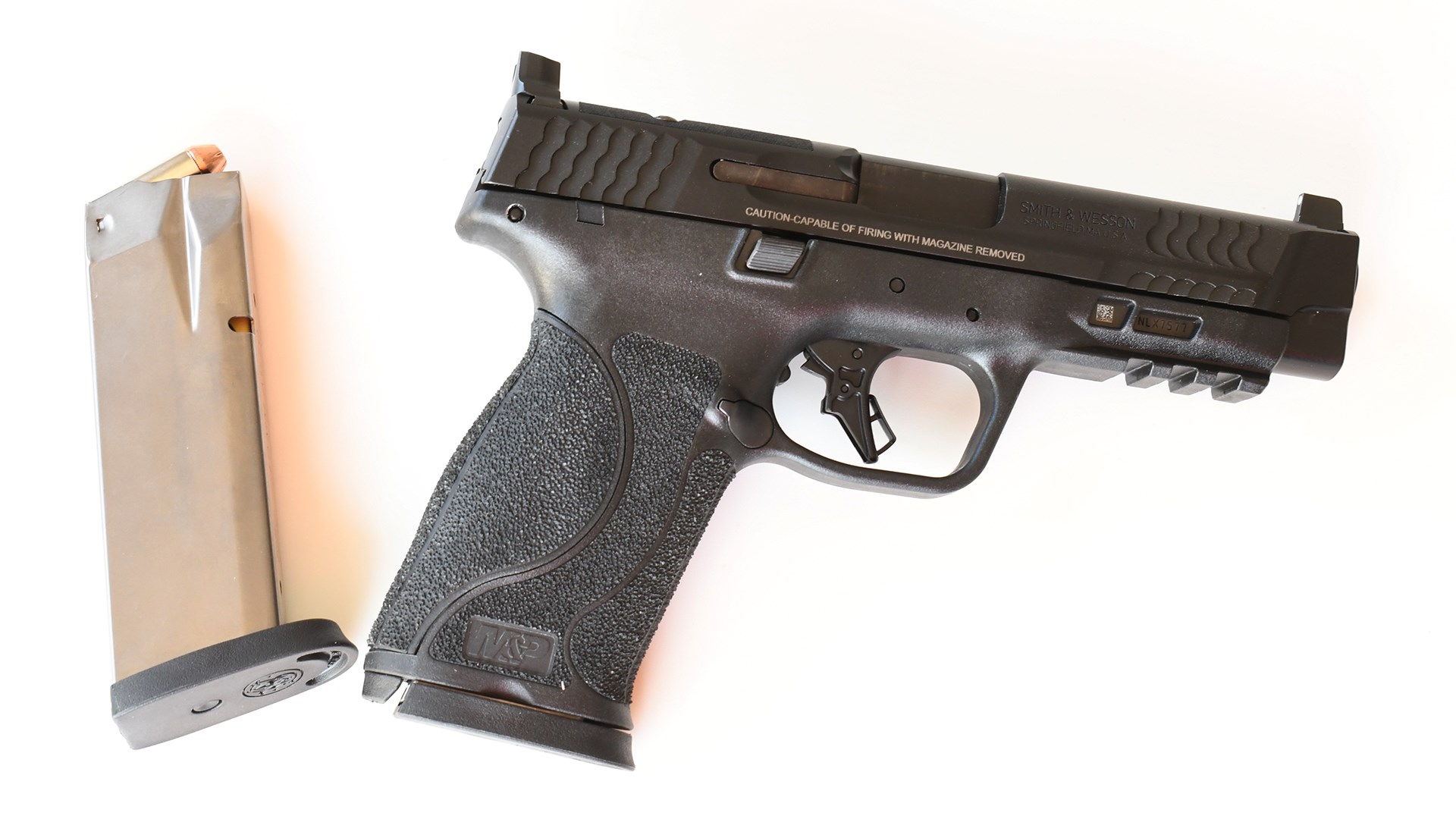 I had zero issues while shooting, other than one tick which seems to affect all M&P 2.0s: the ambidextrous slide stop levers are fairly stiff when trying to release the slide forward with a fresh magazine. Moreover, shooters with short thumbs might have a hard time reaching them without breaking their grip.  
The Takeaway
The 10mm is probably one of the most infamous, but well-known cartridges in modern handgun history. It was a product of the early 1980s with some inspiration by Jeff Cooper's desire to send a 200-grain bullet at 1,200 feet-per-second. Simply put, it's a rimless semi-automatic magnum pistol cartridge that would have "replaced" the .45 ACP. It almost did after the 1986 FBI Miami Shootout, which among other things inspired law-enforcement leaders to seek more powerful duty ammunition. 10mm became a prospect, but after being deemed "too powerful" and "hard to control" by federal agents, the .40 S&W supplanted it and ended the 10mm's law-enforcement career. Making matters worse was that Dornaus and Dixon, makers of the CZ-75 derived Bren Ten pistol which was supposed to be the 10mm's standard-bearer, also went out of business. What the 10mm never lost was its dedicated fan base and devotees who had kept this caliber alive on the sidelines. Because companies like Smith & Wesson (1006 Series) or Glock (20/29) kept supporting it, the caliber never faded into obscurity. Between all the new makes and models fielded by major companies like FN (510) or SIG (320) in addition to Smith and Wesson (M&P 2.0) or Glock (40), perhaps the "best millimeter" will make a full comeback this decade.
Smith & Wesson M&P 10mm M2.0 Specifications:
Make: Smith & Wesson
Model: M&P 10mm M2.0
Action: Striker-Fired Semi-automatic
Caliber: 10mm
Slide Material: Carbon steel
Barrel Material: Stainless Steel
Frame Material: Polymer
Height: 5.6 inches
Width: 1.3 inches
Length: 7.9 inches
Optics Ready: Yes
Sights: White 3-dot suppressor height front/rear
Barrel Length: 4.6 inches
Twist Rate: 1-in-10
Weight: 29.3 ounces
Finish: Armornite
Magazine Capacity: 15 rounds
MSRP: $669
25yd Accuracy Report
| | | | |
| --- | --- | --- | --- |
| Ammo: | Min Group (inches) | Avg Group: | Max Group: |
| Hornady Critical Duty 175gr FlexLock | 1.25 | 1.56 | 3.00 |
| SIG Sauer 180gr FMJ | 1.50 | 2.06 | 3.00 |
| Aguila 180gr FMJ | 2.00 | 2.55 | 3.00 |