The Smith & Wesson M&P moniker stands for Military and Police and dates back more than 100 years, when Smith & Wesson first applied it to its double-action, K-frame, service-size .38 Spl. revolvers. In the modern era, Smith & Wesson's family of duty-grade, polymer-frame, striker-fired pistols now holds the Military and Police label. The M&P line of striker-fired handguns has been performing quite well in an extremely hot and competitive handgun market since its original release circa 2005. Following the release of the subsequent M&P M2.0 line and upgrades comes the all-metal M&P9 M2.0 variant. These specific versions are completely identical to regular M2.0 pistols, but instead of being built around a polymer frame, they are built with a 7075-T6 aluminum frame. All magazines, parts, accessories and dimensions are fully interchangeable between this metal pistol and the polymer M2.0 originals.
The Smith & Wesson M&P9 M2.0 is a duty-size, optics-ready, striker-fired handgun. Its the slide stop is ambidextrous, and its magazine release is reversible. And, similar to other modern duty-oriented handguns, the M2.0 Metal has a Picatinny-rail dustcover that accepts accessories like weaponlights or lasers. The alloy provides enough rigidity to support accessories without affecting reliability or contorting the frame.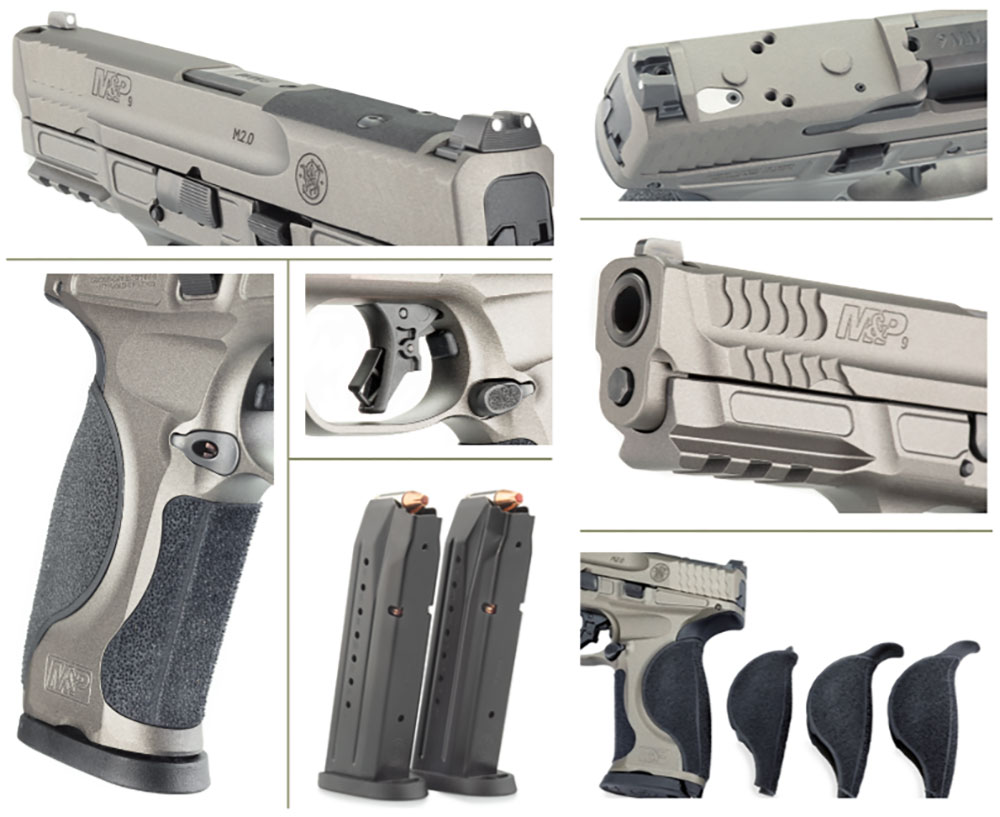 The first thing about this pistol to catch your eye will most likely be its tungsten-gray sheen, courtesy of a Cerakote finish. Contrasting the gray color are matte-black-accented parts like the trigger, slide stop and grip inserts. There is not a terrible difference in weight between the polymer frames and these new aluminum frames, with M2.0 Metal guns weighing approximately 30 ounces. Something that the M&P9 M2.0 Metal provides that the polymer model cannot is a certain level of rigidity due to its aluminum frame. As mentioned above, this not only makes the pistol more rigid along its dustcover area, but through its entire frame. A fully metal pistol grip will not contort when a strong shooter clamps down with a tight two-handed, free-style grip, either. In all, a pistol frame manufactured from 7075-T6 aluminum is a good option for those who prefer their guns to be fully metal, but are looking for something that carries lighter, like a polymer handgun.
To say describe the newest addition to the M&P lineup as accurate and easy to shoot is an understatement. This pistol is equipped with the latest M&P M2.0-style trigger, which facilitates putting 9 mm holes exactly where you want them to go. This is also made easy in part by an enhanced sear to aid in providing a crisp trigger break while avoiding the stereotypical spongy feeling that other striker-fired triggers have after the shot breaks. A 1:10-inch-twist barrel measuring 4.25-inches made from stainless steel is used to connect bullets with their targets. Both FMJ and defensive ammo in 115-, 124- and 147-grain weights shot and cycled with no issues through my testing. To be more specific, I shot groups and put several rounds of CCI Blazer Brass 115-grain round-nose, Federal Premium 124- grain HST JHP, Federal Premium 135-grain Hydra-Shok JHP and Speer Gold Dot G2 147-grain JHPs through the M&P9 M2.0 Metal. In my experience, this pistol did quite well with the Blazer Brass 115-grain range ammo. That any pistol is able to cycle and shoot reasonable groups with lower-cost training ammunition is crucial, especially these days. 
The M&P9 M2.0 Metal's grip has an 18-degree angle (incidentally, so does the venerable 1911). Even though describing how a gun "feels" in the hand is something subjective and unique to each person, the M2.0 Metal felt fantastic in my hands. The texturing found on the polymer frontstrap and palmswells is assertive, but not so aggressive that it would sand off the outermost layer of skin from your palms. Between the rigidity of the aluminum and the M2.0 Metal's texture, it allowed me to confidently build a solid two-handed firing grip and clamp down on the gun. (Don't forget to apply pressure with the pinky finger of the firing hand.) Short of having an actual 1911-style trigger that glides directly to the rear to break the shot, the combination of this M&P9 M2.0 trigger, an 18-degree pistol grip and a selection of removable backstraps and palmswells result in making the M2.0 Metal quite suitable for the majority of hand shapes and sizes. Like with all M&P semi-automatics, there is a generous cut on top of the barrel hood that makes it extremely easy to visually verify whether a round is chambered and the gun ready to fire.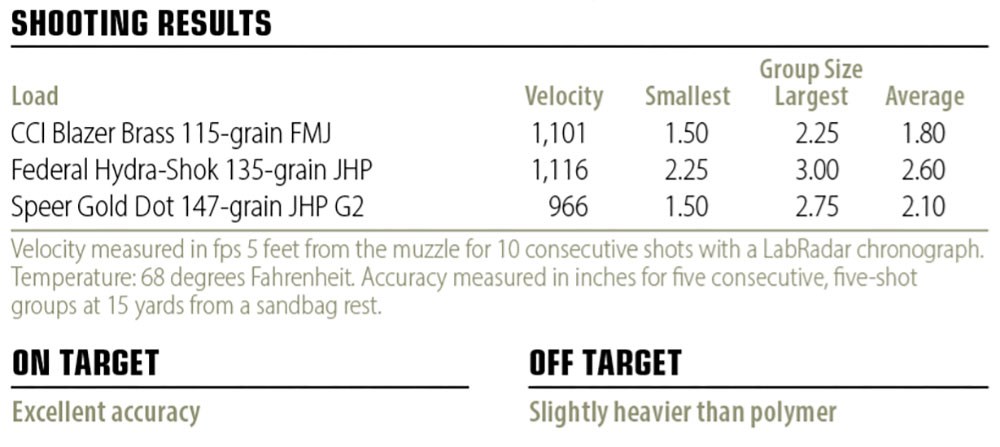 The M2.0 Metal comes standard with regular-height, white three-dot front and rear sights. Were I to shoot the M2.0 Metal with iron sights exclusively, I would probably swap this pair out for something akin to a Dawson Precision skinny fiber-optic front sight and a plain-black, serrated rear sight set. At the very least, I would use a permanent marker or some other means to black out the two dots on the rear sight, allowing me to use the front sight and target focus more easily. 
Like many other guns in the M&P lineup, this one has an optics-ready CORE (the manufacturer's optics mount) system. A milled-out portion resides directly behind the pistol's ejection port and is covered with a polymer dustcover by default. The M2.0 Metal ships with the five most common optics-footprint-pattern mounting plates. These plates are sandwiched between the surface of the M&P CORE slide and the base of the electronic red-dot sight itself to better anchor  it on the slide. In all, between iron sights and the endless slide-mounted dot options, calling your shots with the M&P9 M2.0 Metal is not difficult. 
Back in 1899, when Smith & Wesson introduced its .38-caliber Military and also its Police 1st Model revolver, that gun was one of the most advanced revolvers in existence. Likewise, in this century the fully ambidextrous, alloy-frame, optics-ready duty-size M&P9 M2.0 Metal pistol righteously represents the company's Military and Police line.