To say the least, 2020 has been quite the year for firearms owners. First, we weren't allowed to leave our home to go to the range, and then once we were allowed there was barely any ammunition to be found. If you have found yourself quarantined and out of ammo, there are still ways to hone your marksmanship skills and maintain your sanity. Meet Smart Firearms, a safety tool that also makes for some fantastic dry-fire training.
Smart Firearms got its start in 2013 with the SF-30 training pistol that is designed to alert the shooter and instructor when their finger is inside the trigger guard but not on the trigger taking a shot, thus training shooters to develop proper trigger finger discipline. The robust design has a realistic resetting trigger and is built to survive a 4-foot drop. I've personally fielded the training gun in Renaissance Firearms Instruction for several years and I can attest firsthand to its realism and durability.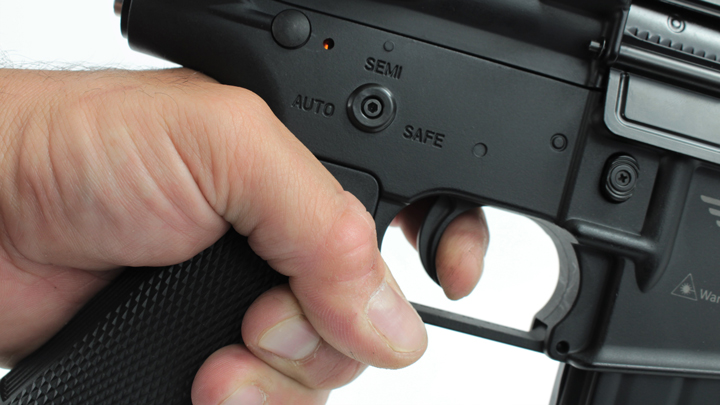 Through the use of better technology, licensing agreements, and plain old ingenuity, Smart Firearms has launched several products since its first training gun hit the market and most recently released the next logical evolution, the SF-M4, a realistic M4-pattern rifle.
The new M4 is based largely off of a familiar Airsoft gun, but the similarities stop there. In place of an air system, the guts have been replaced with wires and sensors that help a shooter develop not only handling skills but marksmanship skills as well. Chief among this technology is the 780 infrared laser. This invisible laser will register with any target system that can detect it, such as the Laser Ammo Smokeless Range.

External features are also realistic, such as a trigger that has an accurate pull weight and travel distance and even a proper reset. The furniture is all based on Mil-Spec features and the buffer tube can even accommodate the stock of your choice if you wish to make some modifications. Speaking of modifications, the gun is clad with Picatinny rails on the receiver as well as out on the fore-end in the classic (I feel old typing that) quad-rail configuration.

This allows you to run whatever optic you wish, although it does come with a set of flip-up iron sights so nothing more is needed to shoot. Most of the controls work as expected, which includes the charging handle, magazine release, forward assist and safety selector.

I was a little disappointed the bolt didn't reciprocate or lock open, which makes reloads feel slightly different, but SF quickly redeemed itself by making sure the giggle switch did indeed enable full-automatic fire. Furthermore, the gun even has a round counter that forces a reload after 30 rounds but can be changed to any number you wish, should you want to dial it up to "beta mag" or crank it down to see what infringement feels like.
The gun came ready to go out of the box and even had a nominal charge when it arrived. I charged it with the included USB cable and charger for 4 hours and was set for a 6-hour range session, right in my basement. In my time down there I tested the flagship incursion detection technology which sounds the alarm when you violate safety rule No. 2 and noticed that not only does it work, but it can now tell the difference between poor trigger discipline and someone just taking a slow, well-aimed shot.

I also liked that it has a magazine sensor that disabled the gun should your magazine not be properly seated, or not in the gun at all. I moved on to test the gun with the Laser Ammo Smokeless Range with a variety of its training programs. I started with the basic Target Shooting program which allows for the use of many different standardized targets such as those used in IPSC and IDPA matches and worked on my zeroing.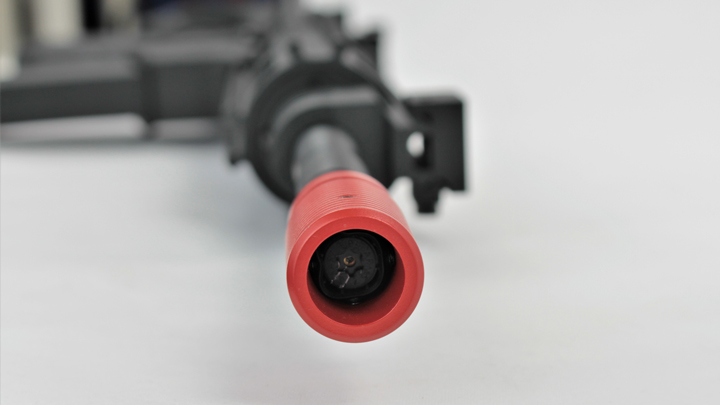 A gross adjustment is made by aligning the muzzle-mounted laser and then fine adjustments are made with the iron sights (or aftermarket optic). I got a kick out of this; not only is it realistic, but it makes for a great classroom demonstration when you want to show a new shooter how sights work.

After I was dialed in, I used the Dueling Tree program to work on lateral transitions and some of the other programs that involve random movement and decision making. Each time I fired, the gun vibrated and when I was "empty" it forced me to reload in the traditional manner. Currently, the gun only comes with one magazine but Smart Firearms says it plans to ship with a second in the future. If you are already an avid Airsoft enthusiast, we found that many major brand magazines fit and lock into place. If you aren't, a STANAG mag will fit and satisfy the reload criteria — it just won't stay in place very long so be sure to account for that.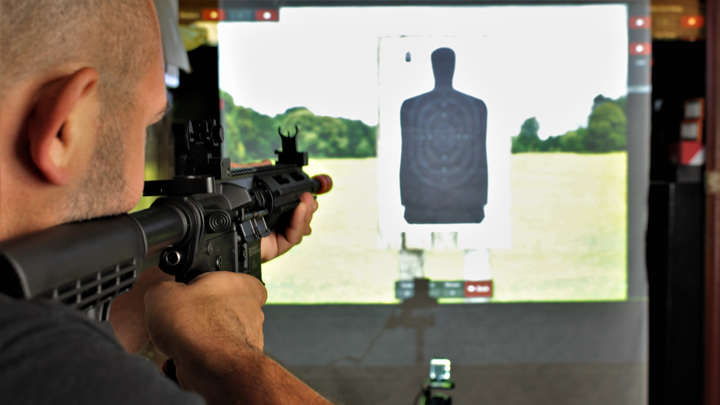 Overall I am very pleased to use the gun in my home to save ammo when it is scarce and expensive. I also use the gun to train students and to start hammering home trigger finger discipline before they ever lay a finger on a live firearm. While the SF-M4 comes with the invisible IR laser as its standard offering, visible red or green lasers are an option as well. These are great when you want to use the gun without any additional products, but they do draw the shooters eye off of the front sight and onto a target, a habit that you want to break right away. Whichever model you choose, it will pay for itself in as few as 800 trigger presses, which is kinda sad in today's 5.56 ammo market.