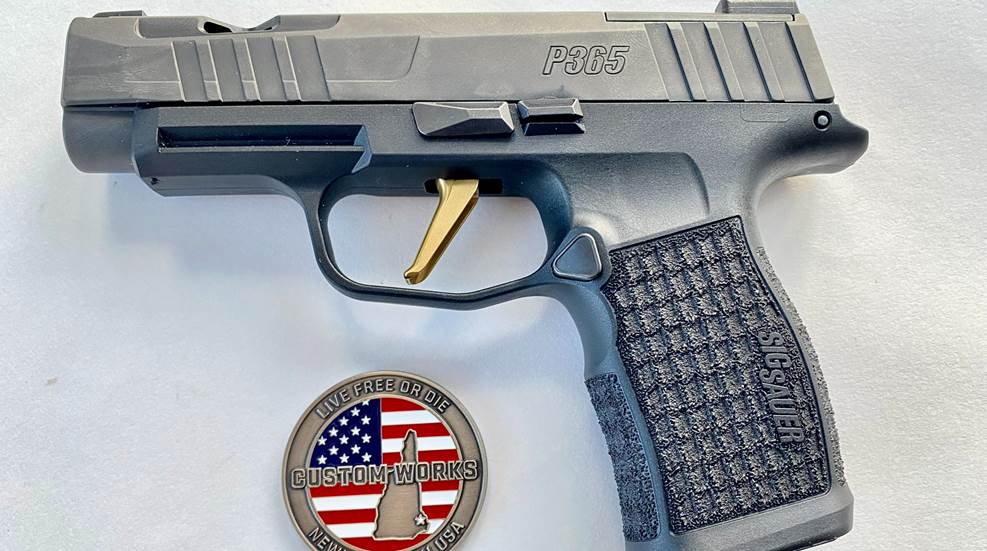 Introduced in January 2018 by SIG Sauer, the P365 micro-9 mm double-stack pistol garnered many positive reviews, really strong sales and awards including the Shooting Illustrated 2019 Golden Bullseye Award for Handgun of the Year.
Made for everyday concealed carry, the 9 mm P365 gave shooters a capacious micro-compact pistol, smaller and lighter than other pistols in its class, while featuring a patented double-stack magazine for 10+1 capacity. SIG would go on to offer 12-round factory magazines, for a total 13-round capacity, and eventually even a 15-round magazine. Slim and nifty, the P365 was easy to conceal and quick to present.
Since then, SIG has added a number of P365 iterations to its line up, including the P365 Romeo Zero, paired with SIG's Romeo Zero optic already mounted, and the P365 SAS, which incorporated an FT Bullseye sight embedded into the slide and in the process removed the primary snag hazard of all pistols…the front sight!  

More recently, the SIG Sauer Custom Works got into the P365 game with the P365XL Spectre Gold. Slightly larger and heavier than the original, the P365XL Spectre Gold sports a barrel nearly an inch longer that the first P365, and comes with two 12-round magazines versus the original's 10 rounders; it looks quite different than the first model, too, thanks to a laser engraved grip pattern and gold-coloring on the trigger and barrel. 
At my outdoor range, I ran the Spectre Gold with two brands of range ammunition—Remington's UMC loaded with a 115-grain full-metal jacket (FMJ) bullet and SAR-USA's Premium Performance 124-grain FMJ load--plus one self-defense round—High Terminal Performance from Remington, a +P round firing a 115-grain jacketed hollow point bullet.
For my accuracy testing I shot the Spectre at what I consider basic concealed carry distances of 5- and 10-yards, offhand. Some of those groups were truly amazing, including: 6 shots at 5 yards with the HTP that measured just .86-inches; 6 shots at 10 yards with the Remington UMC that pegged .93-inches; and 7 shots with the SAR ammunition that scored .90-inches at 10 yards.
Of course, I shot bigger groups, and average group sizes were larger (see table). But any smaller semi-auto that can place 5 to 7 shots at right around 1.0-inches at 10 yards offhand? That's a keeper!
The striker-fired trigger on my Spectre had an average pull weight of 2 pounds, 12 ounces, according to my Lyman Digital Trigger Pull Gauge. The trigger snapped off cleanly once it hit the wall, but there was about .20-inches of take up before that wall was reached.
The pistol's X-RAY3 Day/Night Sights put me on target quickly in bright sun and overcast situations. The front post was especially visible in all conditions thanks to  white dot center encircled by a green fiber optic disk.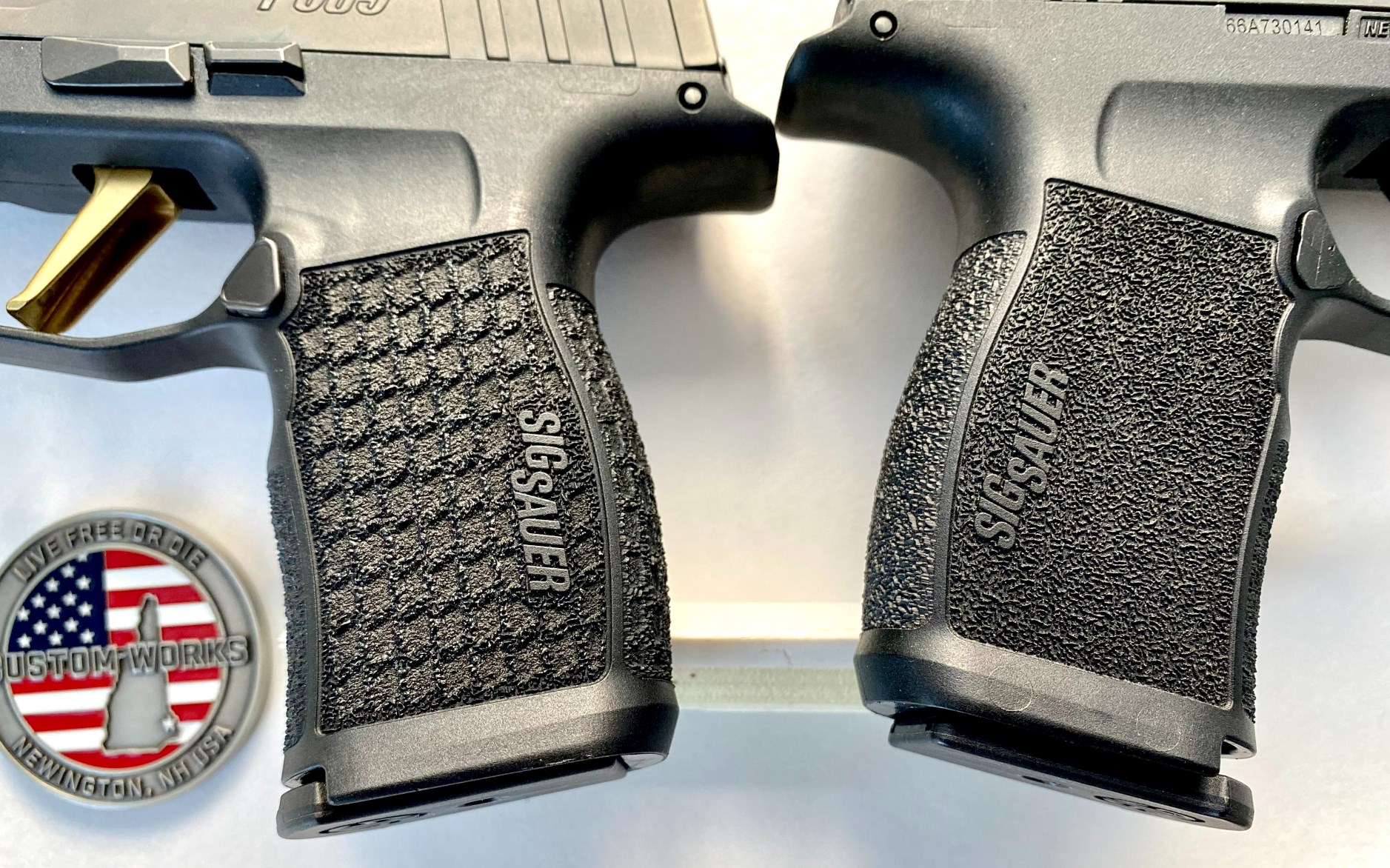 P365XL Spectre grip modules are laser engraved, on all four sides, at the Custom Works with a pattern of raised and rather rough rectangles. The result is an aggressive and stylish texture for a stronger, more controlled grip versus the original P365 texture. I had an earlier model P365 XL on hand and while the grip pattern on that model was certainly functional, it did not grab my shooting hand as firmly as the Custom Works  version.
The one problem I did experience with the Spectre concerned the two magazines which came with the pistol. Both were made of steel and were supposed to hold 12 rounds a piece. However, I could not load 12 rounds into either of the magazines. I don't know if the springs were too tight or there was some internal malfunction at work, but one magazine would only allow 11 rounds, the other just ten rounds—and that was with the assistance of a magazine loading device. It is quite possible this may be an issue with new springs and the magazines might break in over time (like those of a certain Austrian make...).
Magazines aside, the P365XL Spectre is an accurate and functional pistol. In 200 rounds I didn't experience a single failure to feed or eject. If you are tired of the black-on-black that's become the norm for pistols, the Spectre's gold-bling trigger and barrel will be a nice aesthetic change, too. For concealed carry and home defense the Spectre is a very solid choice, extremely accurate, very reliable and a real pleasure to shoot.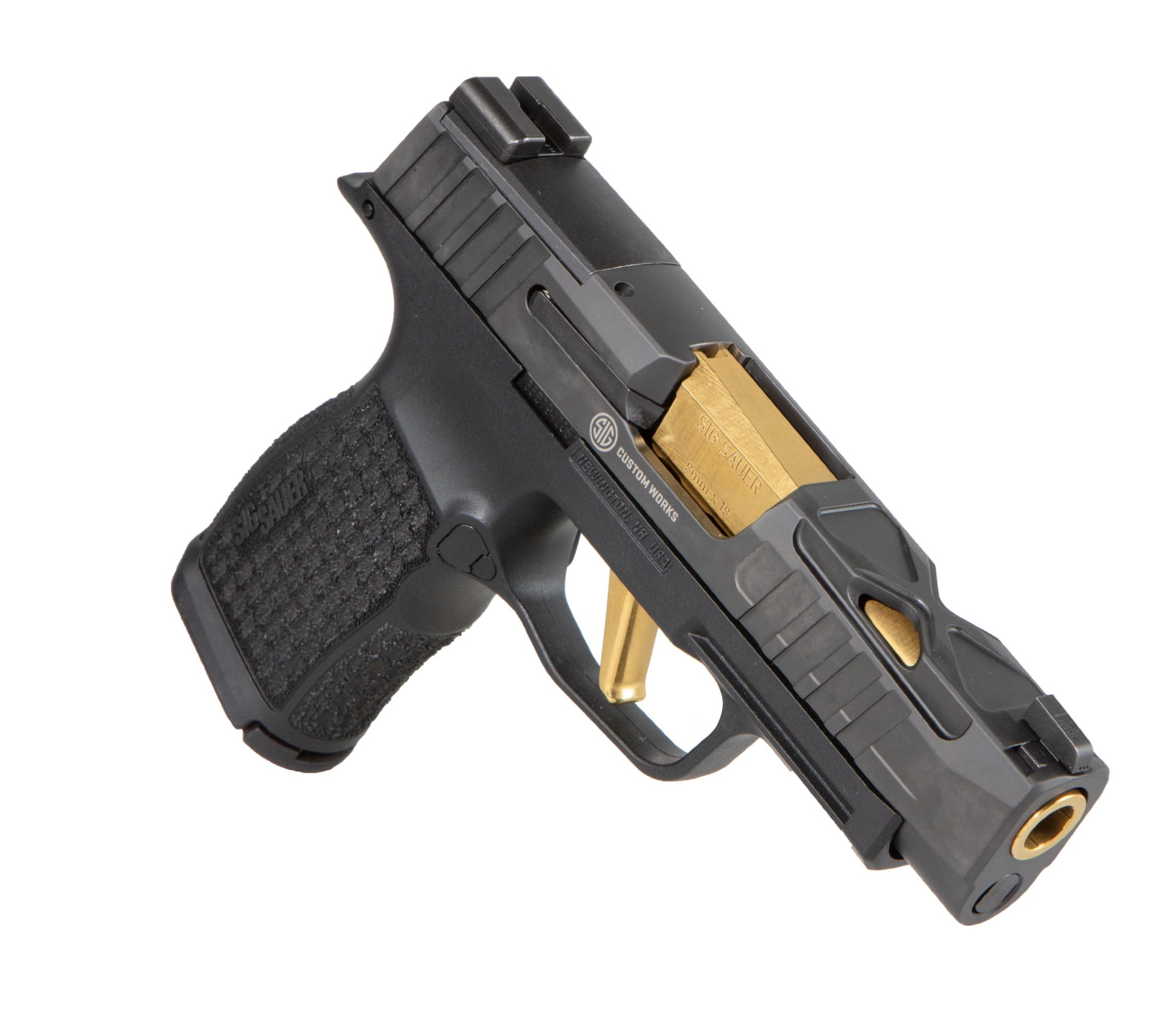 Specifications
Manufacturer: SIG Sauer; (603) 610-3000, sigsauer.com
Action type: Striker-fired, semi-automatic
Caliber: 9 mm 
Capacity: 12+1 rounds
Frame: Polymer
Barrel Length: 3.7 inches
Sights:  X-RAY3 Day/Night Sights front and rear
Trigger Pull Weight: 2 pounds, 12 ounces
Length: 6.6 inches
Width: 1.1 inches
Height: 4.8 inches
Weight: 20.7 ounces
Accessories: Two 12-round magazines, case, manual
MSRP: $1199.99
Shooting Results
| | | | | |
| --- | --- | --- | --- | --- |
|   | Velocity (fps) |   | Group size (inches) |   |
| Load |   | Smallest | Largest | Average |
| Remington UMC 115- grain FMJ | 1,081 | 0.93 | 2.2 | 1.46 |
| Remington High Terminal Performance 115-grain +P JHP | 1,125 | 1.1 | 1.85 | 1.35 |
| SAR-USA Premium Performance 124-grain FMJ | 1,101 | 0.9 | 2.07 | 1.42 |