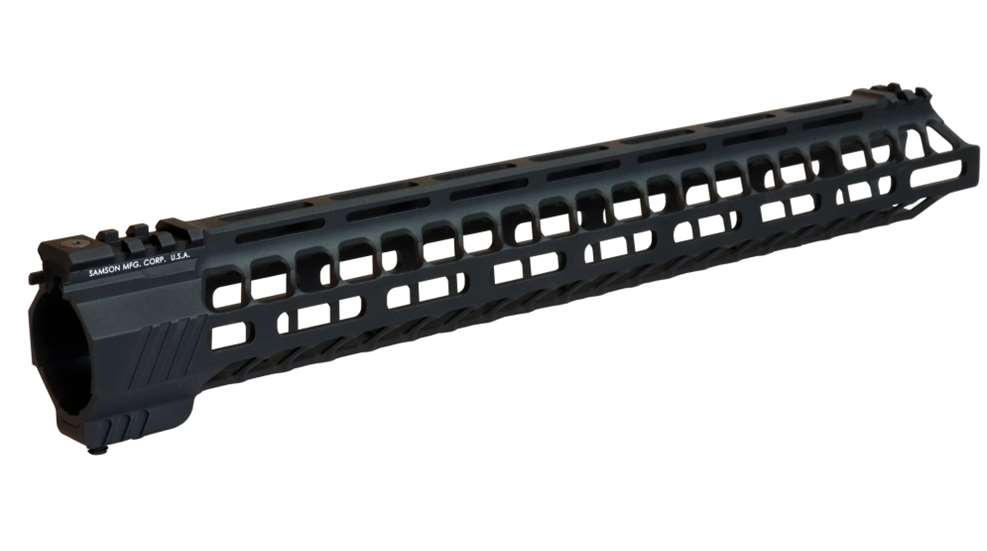 Obviously designed with competition in mind, the Samson Manufacturing SXS Lightweight Handguard shaves ounces off your rifle's weight while still allowing a multitude of attachment options, if needed. M-Lok-compatible slots at the 3-, 6-, 9- and 12-o'clock position allow 360 degrees of attachment, while lightening cuts keep the weight to a minimum—this 15-inch-long handguard weighs 8.0 ounces. If you're looking to save weight, and don't mind a slightly shorter variant, there's a 13-inch model available that tips the scales at a mere 6.8 ounces.

Installation is quite easy: an included barrel nut wrench is designed to work with a torque wrench to insure the barrel nut is installed to proper specifications. Anti-rotation tabs present perfect alignment with the upper receiver, and hex screws at 6- and 12-o'clock make sure the handguard is in perfect alignment with the barrel. For certain upper receivers, slight filing may be required to mate the handguard to the receiver—so be sure to check the fit to the upper receiver before committing to the build.

Once installed, the design of the Samson SXS Lightweight Handguard can be fully appreciated. Whether you're a fan of vertical foregrips, angled foregrips or handstops, mounting gear is simple. Samsom and other companies offer grips, sling- and light mounts and other accessories that attach directly to M-Lok rails, eliminating the extra weight of a Picatinny rail. But, if rails are needed, Samson offers them as accessories and other companies like Longshot Manufacturing have plenty of options.

When it comes to freefloat handguards, there are plenty of options around. Samson Manufacturing's Lightweight series offers utility and rigidity at a minimum of weight, critical when it comes to a rifle that gets carried and used in the field. Whether chasing the elusive prairie dog or competing in 3-gun shoots, having a solid handguard that keeps weight to a minimum is a welcome addition. The suggested retail price on the Samson Manufacturing SXS Lightweight Handguard is $259.