Support NRA Shooting Illustrated
DONATE
I recently had the opportunity to try out the Safariland Model ALS Concealment Paddle Holster and must say I'm quite impressed with its performance in several key aspects: pistol retention, ease of draw even with a thumb button, and durability.
First and foremost, let's talk about pistol retention. This holster utilizes Safariland's renowned Automatic Locking System (ALS) to secure your firearm. I was initially skeptical about the ALS, as I've had some negative experiences with retention holsters in the past. However, I was pleasantly surprised by the holster's performance. The ALS engaged smoothly and positively when I holstered my Smith & Wesson Shield, my everyday carry pistol. I could feel the reassuring click indicating my gun was securely locked.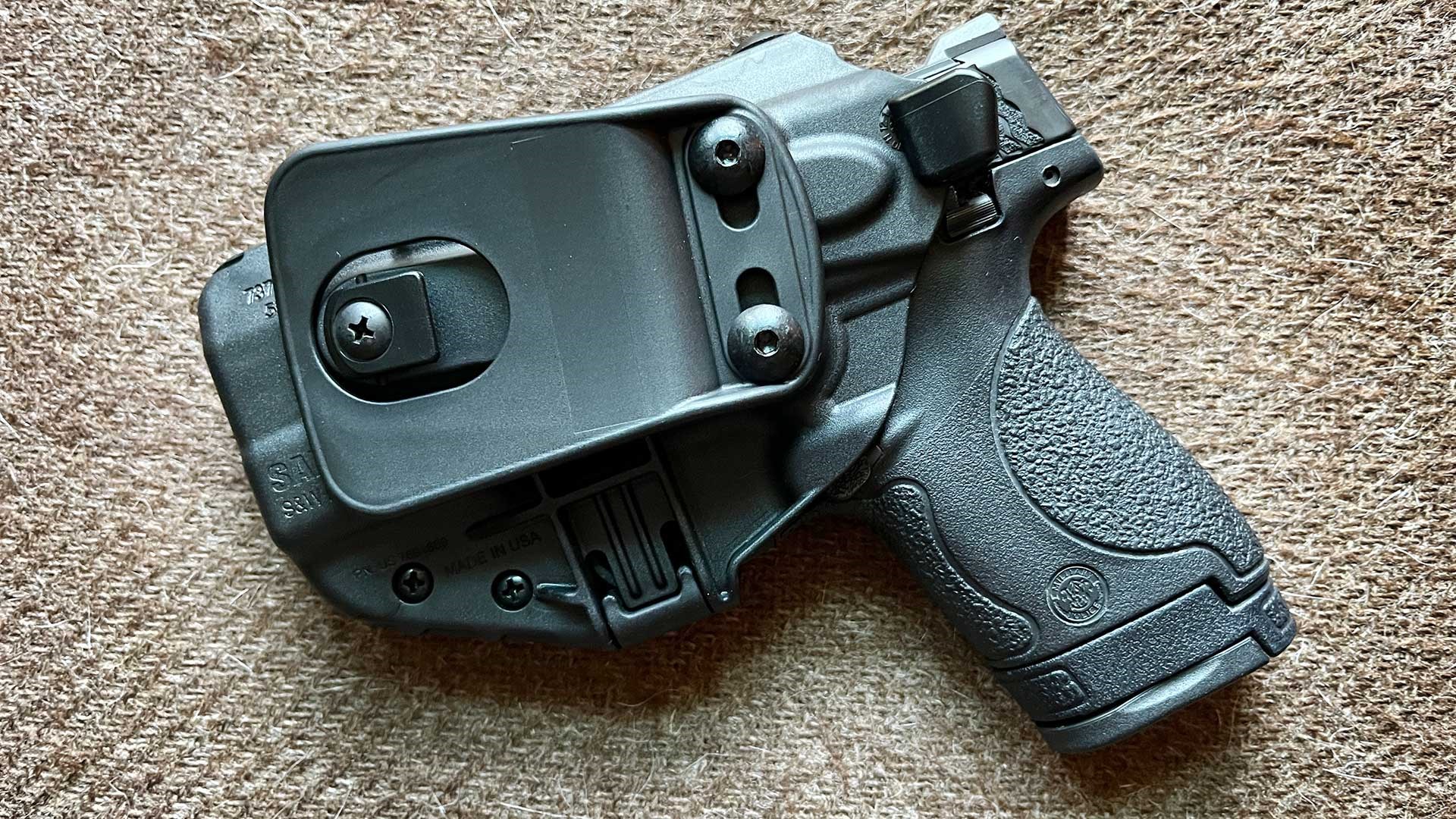 What sets the Safariland ALS system apart is its intuitive and natural draw motion. With a simple and ergonomic thumb release button on the top of the holster, I easily deactivated the lock and drew my pistol. The button is responsive and doesn't require excessive force, making it easy to release, even in high-pressure situations. Yet it would be tough for the bad guy in front of you to draw the pistol because of the angle of the release.
Durability is crucial when choosing a holster, and this one does not disappoint. Safariland has crafted this holster from their proprietary 7TS material, which is both lightweight and incredibly tough. It's resistant to impacts, heat, and moisture, ensuring that the holster will withstand the test of time and the elements. I appreciate that I don't have to worry about my holster deteriorating or losing its shape over time, which can be a concern with some other materials.
When it comes to color choices, you can choose either the classic black or FDE (Flat Dark Earth). The paddle attachment offers excellent stability and comfort and allowed easy on-and-off yet securely held my belt, preventing unnecessary shifting or discomfort throughout the day.
One final observation: While the shell has an open-end design for a threaded barrel, it does not accommodate suppressor-height sights, which I found odd.
The Safariland ALS Concealment Paddle Holster has an MSRP that starts at $68 and is a top-notch choice for anyone needing a reliable, durable, and easy-to-use holster. Its pistol retention system, featuring the ALS and thumb release button, is both secure and intuitive. The 7TS material ensures long-lasting durability, while the variety of color choices allows you to personalize your carry setup. For more information on this holster or other products from Safariland, please visit safariland.com.