While there are a ton of holster companies out there—most of them excellent—there are very few that make truly dedicated duty rigs. Some civilian OWB (outside the waistband) holsters can be requisitioned for duty use, but only a few companies design holsters specifically for the unique needs of law enforcement and the military. Safariland is the one that comes to mind most often because of its stellar reputation for highly durable holsters that stand up to the rigors of law enforcement and military requirements, such as weapon retention and overall toughness. The darn things last forever.
The latest iteration in a long line of purpose-built duty rigs from Safariland is the 6354DO ALS Optic Tactical Holster for Red Dot Optic. Safariland sent me one to try with my Gen 4 Glock 17 MOS with a Vortex Viper red dot attached. Since red dots are becoming increasingly popular on duty pistols, the holster is available in various red-dot hood options, accommodating many of the most common brands and models and even some of the more obscure or less popular pistol optics. 
To say that the holster is tough and rugged is an understatement. It might be the most durable and ridiculously strong holster I have ever tried, and I've reviewed over 100 holsters, including others from Safariland. The shell is made from what the company calls "SafariLaminate thermal-molded construction," which, so far as I can tell, may as well be thermal-molded concrete and steel but without the weight. I tried to crush the holster by landing on it, stomping on it, throwing it onto the driveway—everything short of driving over it with my car. Damage assessment? None. The Cordura-wrapped outside (which they claim reduces heat signature) wasn't even scratched. It looks as good as the moment it left the packaging.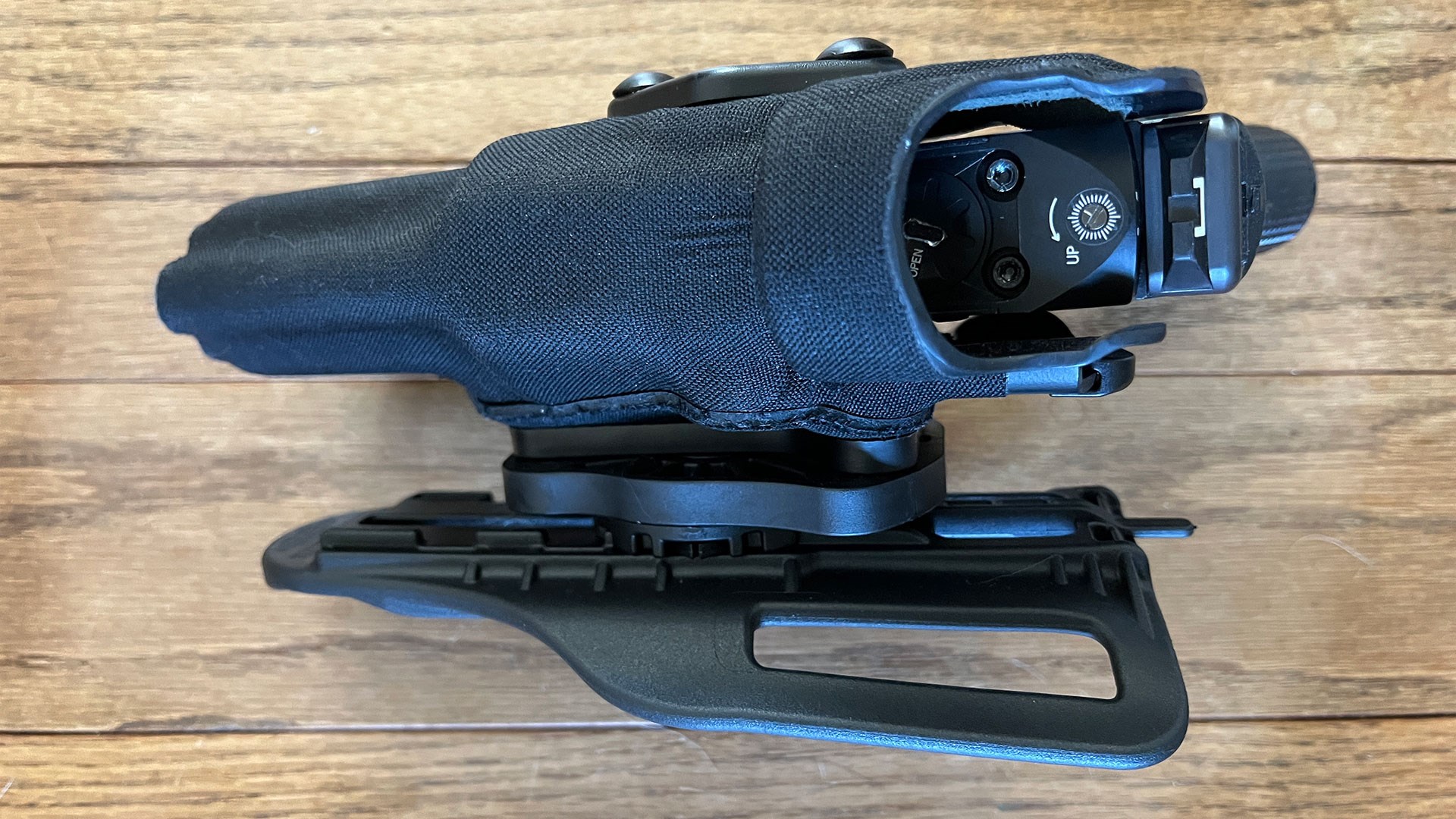 For maximum weapon retention, the 6354DO uses Safariland's trademarked ALS, which stands for Automatic Locking System and consists of a pivoting retention block inside the holsters that grabs onto the ejection port groove to hold the weapon inside. The only way to draw the gun is to defeat the ALS with the thumb lever and pull the gun straight up and out. Anyone trying to yank the gun out from a different angle and without moving the lever (which is small enough that it's hard to see but big enough to hit with your draw hand thumb) will be unsuccessful. The gun isn't going anywhere. My 15-year-old son tried to pull my [verified unloaded] Glock out and only succeeded in getting more and more frustrated. He finally gave up. The gun stayed put.
As for comfort, it's designed to be worn on a duty belt or drop-leg all day and performs as advertised. Aside from how far it sticks out—it's definitely not designed for concealed carry—it felt as good as any other OWB I've ever tried.
The holster comes with a drop-leg setup, but I'm not a big fan, so they sent me a belt attachment. Moving the holster from one setup to the other was easy with the included tool and clear instructions. The belt setup is wide enough for an LEO-style duty belt.
The 6354DO ALS Optic Tactical Holster for Red Dot Optic is a beast, plain and simple. If you need a gun holder that will repeatedly take a beating and come back for more while locking your gun securely inside until you, and only you, need to get to it, this is the one. It ain't cheap, though, with prices starting at $259.50, but it might be the last duty holster you ever need to buy.