Support NRA Shooting Illustrated
DONATE
I'm always looking for gear that enhances the comfort and effectiveness of my EDC setup while allowing me to quickly access everything I need—i.e., the best way to "break glass in case of emergency." When N8 Tactical sent me their Magna-Clip Magazine Carrier, I was intrigued by its promise of convenience and discreetness. It didn't look like a conventional mag carrier. Not even close. So, how was this going to work? Would I like it?
The first thing that caught my attention was the Magna-Clip's interesting design. Unlike traditional magazine carriers that require a belt, the Magna-Clip attaches directly to the waistband of my pants or inside your pants pocket using a strong magnetic clip. This offers a new level of flexibility and comfort.
It can slide into your pants pocket for deep concealment rather than hanging outside or tucked inside the waistband. As far as concealing the magazine, the pocket option does a good job. Unless you have a gigantic magazine (really, not euphemistically), it will hide well inside your pocket.
The only drawback of the pocket carry option is that it slightly restricts your hand's access to the pocket, but I found that became less of an issue once I got used to it. Whether I was wearing jeans, slacks, or shorts, the Magna-Clip stayed securely in place.
Another borderline drawback—maybe—comes into play if you carry polymer magazines. The Magna-Clip works on magnetism, so some plastic magazines won't hold to it. Sorry, Glock owners. Steel magazines work fine, however.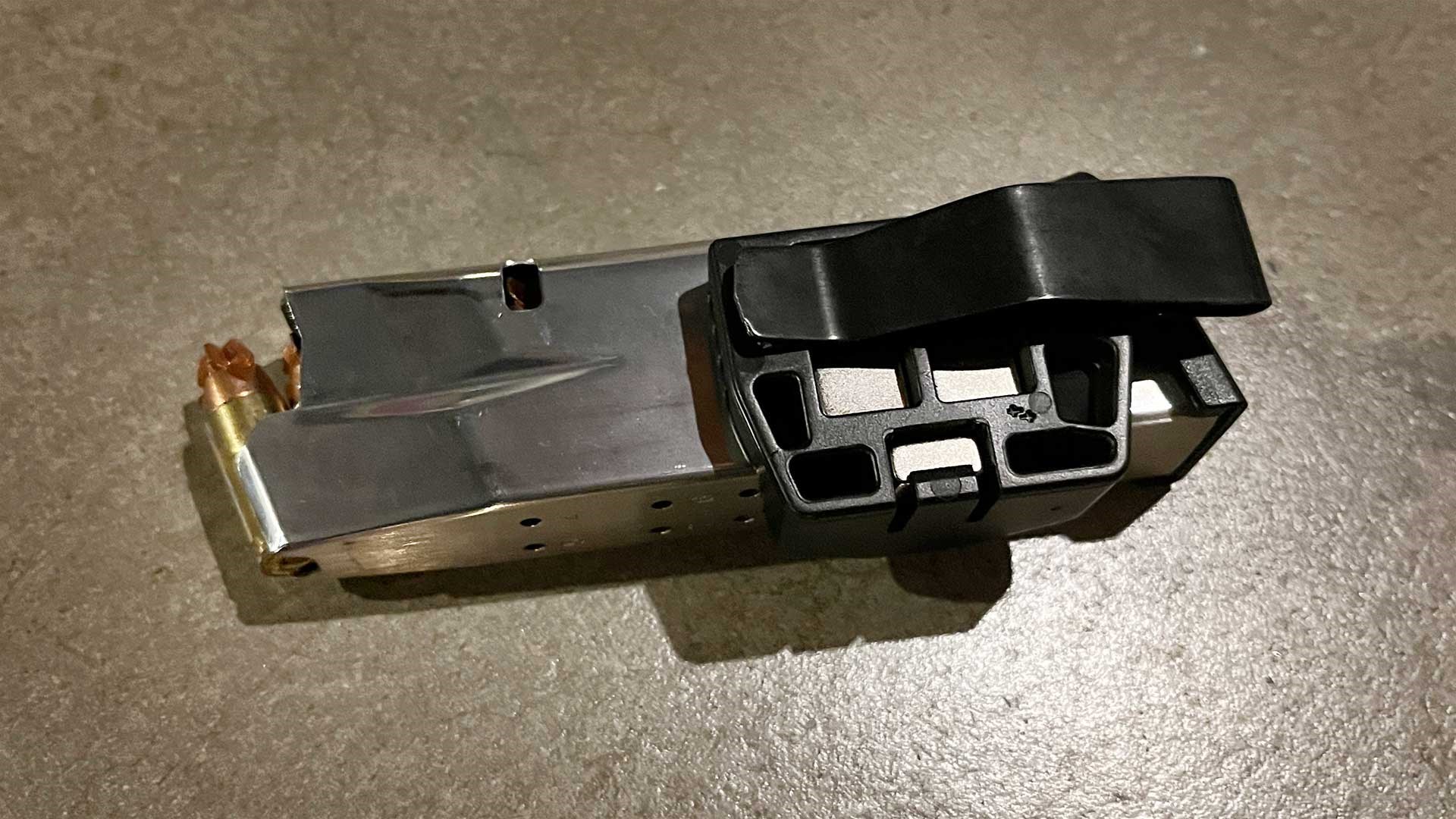 Comfort is key in concealed carry, and the Magna-Clip excels in this department. The clip's magnets are remarkably strong, ensuring that my spare magazine stayed put throughout my daily activities. I ran, jumped, and bent over, and the carrier never budged from its position, nor did the magazine fall off.
The versatility of the Magna-Clip is another major selling point. It's wide enough for both single-stack and double-stack magazines without worrying about them falling out or being overly difficult to draw. The smooth, snag-free draw is consistent and reliable, ensuring clean and quick access to my spare magazine.
One aspect that truly sets the Magna-Clip apart is its inconspicuous appearance. The low-profile design and dark color blend seamlessly with my attire, making it virtually invisible when stashed. I appreciate knowing my concealed carry setup won't attract any unnecessary attention or raise eyebrows.
In terms of build quality, the Magna-Clip is good. The durable materials and solid construction reflect good attention to detail.
The Magna-Clip Magazine Carrier by N8 Tactical has become a viable option for my concealed carry setup. Its innovative design, comfort, versatility, and inconspicuous appearance make it a standout choice for anyone looking to enhance their everyday carry experience. I can confidently say that the Magna-Clip has earned its place on my beltless waistband, providing me with the reliability and convenience I demand from my gear. MSRP for the N8 Tactical Magna-Clip Magazine Carrier is $29.95, and more information on this product is available at n8tactical.com.