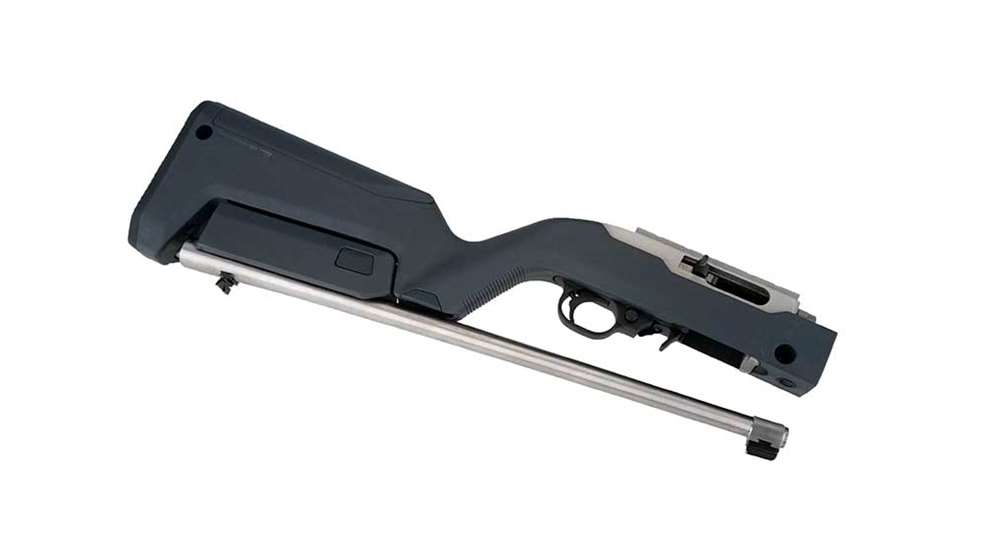 Magpul introduced its X-22 line of stocks several years ago (in fact, the 2016 Golden Bullseye Award for Shooting Accessory of the year was the Hunter X-22 stock), and at SHOT Show 2017 introduced the Magpul X-22 Backpacker stock for the Ruger 10/22 Takedown.  The X-22 Backpacker shaves ounces off the 10/22 Takedown, but more importantly provides a way to keep both barrel and receiver together in a package that is hardly larger than the Takedown stock and receiver.

Installation is a breeze, pretty much because Ruger did a splendid job of keeping it simple. Remove the existing Takedown stock—loosen the barrel band, then unscrew the barrel screw and the stock screw—then simply attach the X-22 Backpacker with the barrel and stock screws. It's just that easy. Heck, even a self-proclaimed "mechanically declined" editor can do it.

What's even more impressive about the X-22 Backpacker stock, though, is just how chock-full of extras this affordable option is. Ambidextrous QD mounting points are located on the back of the stock and on the front of the receiver, waterproof storage for spare parts is hidden in the grip and the fore-end has a molded projection to ensure proper fit. Additionally, two cheekpieces are included (one with extended height should a tall scope be fitted), and inside the stock itself is a divider system that allows three spare 10-round magazines to be stored.

The single most-noticeable thing about the X-22 Backpacker stock is the cut-out in the bottom of the stock. When the barrel is removed from the receiver, it has a slot into which it fits, and the handguard rides over a notch that locks it in place. The result is a super-compact 10/22 Takedown that fits in half the space it previously occupied while wearing the factory stock. Even with an Aimpoint Micro T-2 red-dot sight attached, the 10/22 Takedown in the X-22 Backpacker stock fit in the Ruger factory soft case—in the section where the receiver alone had been stored.

Perhaps most-impressive of all, however, is an MSRP of only $109.95. Four color options are available: black, FDE, OD green and the gray shown. Magpul offers a wide range of accessories for the X-22 Backpacker, and one of the neatest is a barrel-mounted optic mount, perfect for a small red-dot sight or scout-type telescopic sight.