by
Shooting Illustrated Staff
posted on April 20, 2016
Support NRA Shooting Illustrated
DONATE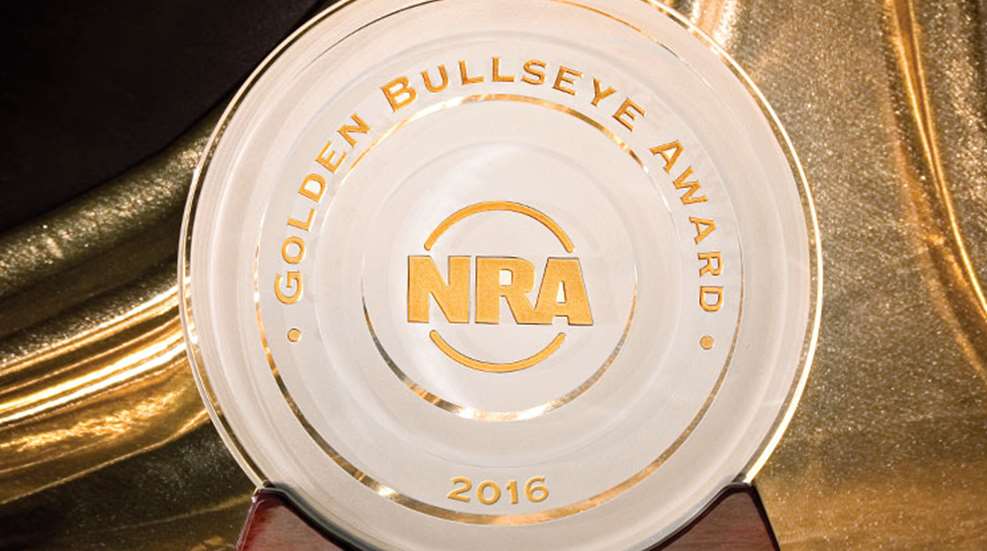 Whether it's a new take on a treasured old design, a radically innovative design or an enhanced value for the consumer, firearm industry manufacturers are constantly keeping us on our toes. Among the hundreds of new guns, optics and accessories we test each year, a select few stand out. Those that best combine innovation, value, quality and utility receive our Golden Bullseye Award.
Executive Director of NRA Publications Doug Hamlin states, "This year's winners exemplify what NRA members want in their shooting and hunting equipment—outstanding performance, innovative design and value. We congratulate those who have created the industry's best new products."
---
Handgun of the Year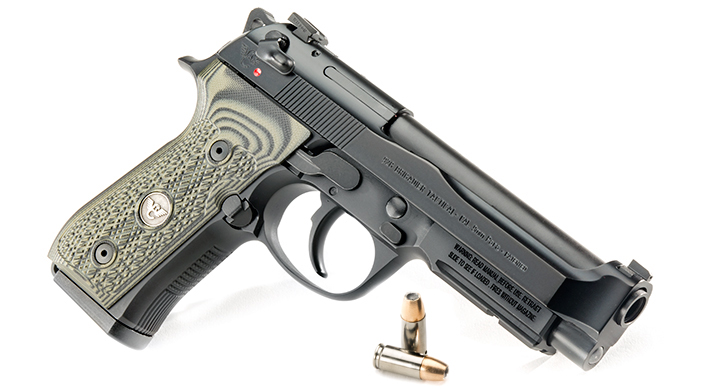 "Certainly, one can say that the Wilson Combat 92G Brigadier is perhaps the coolest 92 ever…" —Bill Loeb
Wilson Combat/Beretta 92G Brigadier Tactical
What's innovative about a 40-year-old design that's been the standard-issue sidearm of the U.S. Military for three decades? That's where Bill Wilson comes into the picture. A longtime fan of the Beretta 92, Wilson helped Beretta refine its iconic handgun, with a host of upgrades to make the ideal pistol for fans of the 92/M9 platform. From its railed dustcover to additional grip checkering to the Elite II skeletonized hammer, the Model 92G Brigadier Tactical is visibly different from the first glance. Wilson Combat parts are also present in the form of a fluted guide rod and G10 grips. Add an enlarged magazine release, full ambidexterity, a beveled magazine well, a recessed target crown at the muzzle and an enhanced trigger spring, and this Model 92 may be the best version ever built. 

Winning Features

Tritium front sight combined with Wilson Combat Battlesight rear sight for quick, clear target acquisition
Enhanced magazine featuring Physical Vapor Deposition coating for added durability
Decocking lever replaces the manual safety
Fully ambidextrous controls make weak-hand operation simple

Wilson Combat
(800) 955-4856 wilsoncombat.com
Caliber: 9 mm
Capacity: 17+1 rounds
Barrel Length: 4.7 inches
Overall Length: 8.25 inches
Weight: 36 ounces
MSRP: $1,195
---
Rifle of the Year

"Two important points on which many carbines miss the boat are balance and ergonomics, but the IC shines in these departments. …if you plan to carry your carbine any distance and use it in practical situations, these characteristics become extremely important." —Keith Wood
LWRCI M6IC A5
From its gas-piston system to its enhanced bolt carrier to its innovative fore-end, the LWRCI M6IC A5 is an AR-pattern rifle that exudes quality. Everything about this carbine is high-end, which makes its raison d'être—to be a single rifle for nearly every task—less of a pipe dream and more of a reality. If, for whatever reason, you were limited to owning only one rifle, the M6IC would be an excellent choice. It is fiendishly accurate, lightweight, ambidextrous and ultra-reliable. So, while being able to own only one rifle is our vision of the apocalypse, it's nice to know that should the rapture arrive tomorrow, we could pick a versatile carbine in the M6IC and be able to persevere.

Winning Features

Ambidextrous fire controls
Spiral-fluted barrel for faster heat dissipation
Flared trigger guard makes operation while wearing gloves easy
Magpul MOE pistol grip
LWRCI
(410) 901-1348 lwrci.com
Caliber: 5.56 NATO
Capacity: 30 rounds
Barrel Length: 16.1 inches
Overall Length: 32 inches (collapsed); 35.25 inches (extended)
Weight: 7 pounds, 5 ounces
MSRP: $2,599 (black); $2,749 (Cerakote)
---
Shotgun of the Year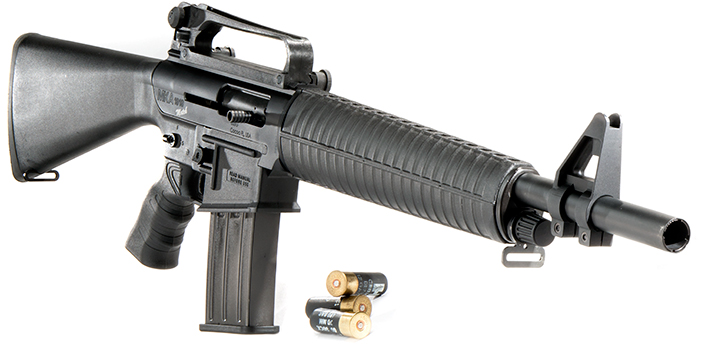 "If you have the itch for 3-gun, but not the scratch for a custom-enhanced 1919, in the MKA 1919 Match you now have a reliable gun with which to get started." —Daniel T. McElrath, Managing Editor
EAA MKA 1919 Match
Where previous iterations of this AR-shaped, semi-automatic shotgun were admired in concept, but not execution, the MKA 1919 Match proved eminently reliable in our testing thanks largely to an improved gas system. The dream of an AR-like shotgun has indeed arrived in reality, and this one might be the ideal Unlimited-class 3-gun shotgun. It mimics the ergonomics and fire controls of the most-popular rifle platform in the sport and, thanks to its detachable-box magazine, makes reloads a cinch. A railed receiver beneath the detachable carry handle makes attaching optics easy, and the MKA 1919 Match includes an A2-style front post sight along with an AR-style dual-aperture rear sight. Despite its polymer lower receiver reducing the gun's weight, recoil was kept to a minimum. Best of all, the MKA 1919 Match is remarkably affordable for a semi-auto scattergun, meaning almost everyone can join the fun.
Winning Features
Oversize, side-mounted charging handle for fast loading
Five-round magazine fed flawlessly and makes for quick reloads
Extended magazine-release and bolt-release buttons for easier actuation
Ambidextrous safety selector
European American Armory
(321) 639-4842; eaacorp.com
Gauge: 12; 3-inch chamber
Capacity: 5+1 rounds
Barrel Length: 18.5 inches
Overall Length: 39.5 inches
Weight: 8 pounds, 3 ounces
MSRP: $699
---
Optic of the Year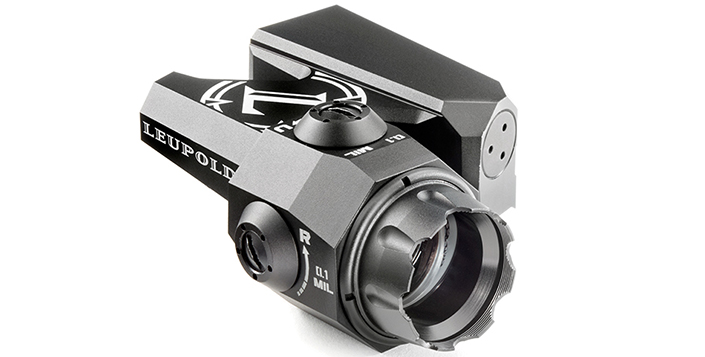 "…when paired with a zero-magnification, red-dot-style sight, [the D-EVO] is either very close to perfect, or will at least change your perception of what perfect is."—Richard Mann, Ammo Editor
Leupold D-EVO
Most new optics are evolutionary—they are improvements upon existing designs. The Leupold D-EVO, however, is truly revolutionary. One look tells you it is unlike any other optic. An offset objective lens hangs slightly off to the side, while the smile-shaped ocular lens boasts a flat top and is in line with the bore. This configuration enables the D-EVO to pair with an unmagnified dot sight, creating a system that is ideal for engagements from short to medium ranges. While magnifiers have been around for decades, they need to be moved out of the way to access the 1X dot sight for close-range use. Using the 6X D-EVO, the shooter need only raise his eye a mere 6 degrees to access the 1X sight for those nearby targets requiring a fast response. Adding to the D-EVO's utility is the CMR-W reticle that provides ballistic corrections out to 600 meters, along with windage compensation. It's rare for a single optic to offer so many game-changing capabilities.
Winning Features
Offset objective allows for use with a dot sight without having to remove the magnified optic
Radical shape of eyepiece enables user to acquire a dot sight by merely shifting the eye
Aircraft-grade aluminum housing provides durability
Short overall length takes up minimal space on rails

Leupold
(800) 538-7653; leupold.com
Magnification: 6X
Objective Lens Diameter: 20 mm
Adjustability: 14.5 mils in .1-mil increments
Eye Relief: 3.25 inches
Length: 4.75 inches
Weight: 13.8 ounces
MSRP: $1,874.99
---
Ammunition Product of the Year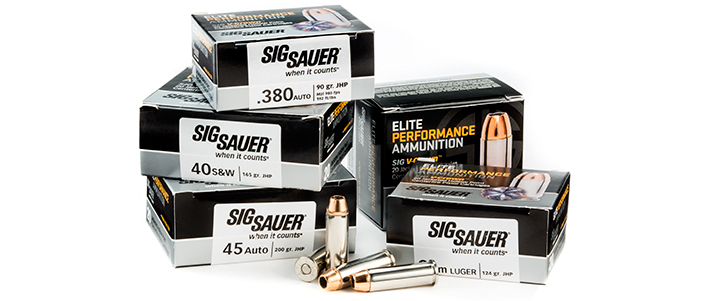 "With the difficulty of finding quality ammunition for our defensive firearms the way it is, SIG Sauer's Elite Performance Ammunition is something we can all hitch our wagon to…" —Richard Mann, Ammo Editor
SIG Sauer Elite Performance V-Crown
In our August, 2015 issue, we compared shooting data for hundreds of personal-protection handgun loads. Among new ammunition introductions, the SIG Sauer Elite Performance V-Crown had the best finish, winning the 9 mm category and finishing in the top-five for both .357 Mag. and .40 S&W. While our test was not scientific and our methodology for weighting factors like price and availability raised some hackles, the V-Crown's performance was undeniable. For a new ammunition manufacturer to perform well across multiple loads, be relatively affordable, meet law enforcement standards and be readily available on retailer's shelves in the midst of the biggest bull market for ammo in history is a testament to SIG Sauer's commitment to quality. With loads for all major defensive handgun calibers and an expanding choice of bullet weights within those chamberings, our decision to award the V-Crown a Golden Bullseye was easy.
Winning Features
All loads retained 100 percent of their weight in ordnance gelatin
Mechanically locked, non-bonded bullet provides excellent expansion
Techni-Chrom plating on brass for feeding and ejection reliability
Available in every major defensive caliber

SIG Sauer
(603) 610-3000; sigsauer.com
---
Accessory of the Year

"Adjustable for length-of-pull and comb height, Magpul's X-22 chassis adds easy customization to Ruger's popular 10/22 semi-automatic rifle." —Jay Grazio, Associate Editor
Magpul Hunter X-22 Stock
Aftermarket stocks for the Ruger 10/22 are common, but Magpul raised the stakes with the X-22. This polymer version feels as solid as any more traditional material, yet is lightweight. That means this chassis will perform well either off the bench or from the shoulder. M-LOK slots along the fore-end allow for easy mounting of accessories, and the back end features spacers to adjust length-of-pull. A textured rubber buttpad keeps the stock firmly mounted against the shooter's shoulder. The affordable X-22 adds tremendous versatility to the most-popular rimfire rifle in the world.

Winning Features
Reinforced polymer construction provides solid bedding
Weighs only 39.2 ounces
Flared fore-end for a more comfortable support-hand grip
Texturing on grip ensures solid purchase
Magpul
(877) 462-4785; magpul.com
MSRP: $139.95
---
Women's Innovation Product of the Year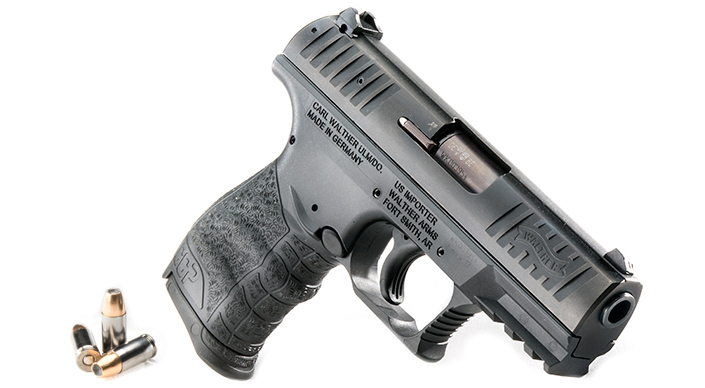 "Everyone I let sample the CCP commented on its mild-shooting characteristics for a slim, lightweight 9 mm pistol. Despite the wide variety of hand sizes, nobody complained about the controls or the way the gun handled." —Tamara Keel
Walther CCP
While not designed specifically for women—it's also a great pistol for a man—the Walther CCP is an ideal concealed-carry handgun for female shooters. Its compact frame means anyone with smaller hands will more easily achieve a proper shooting grip. The small width also makes the CCP simple to conceal and less likely to print through clothing. Yet, despite its subcompact size, the CCP can deliver nine rounds of 9 mm power while keeping felt recoil to a minimum thanks to its delayed-gas operating system and fixed barrel. These attributes are welcome in a carry pistol, particularly one that will serve the fastest-growing demographic of gun buyers in the country.

Winning Features
Remarkable ergonomics make the handgun comfortable for any shooter
"Soft Coil" delayed-gas operating system reduces felt recoil
Railed dustcover for mounting lights and/or lasers
Available in black or stainless finishes
Walther
(479) 242-8500; waltherarms.com
Caliber: 9 mm
Capacity: 8+1 rounds
Barrel Length: 3.54 inches
Overall Length: 6.41 inches
Weight: 22.2 ounces
MSRP: $469
---
Pioneer Award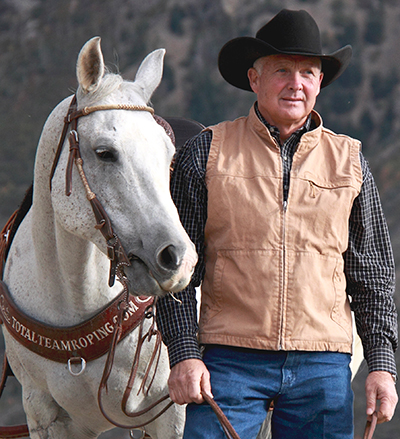 Randy Brooks
The winner of the 2016 Golden Bullseye Pioneer Award is Randy Brooks, Former President/CEO, Barnes Bullets.

Brooks grew up as an avid shooter and hunter in his native Utah, and in the 1970s took up custom-loading ammunition to help support his young family. At the urging of friend Fred Barnes, founder of the namesake component bullet company, Brooks acquired what remained of the firm after new owners had allowed it to languish. Soon the family's basement became the company workshop, where Randy, his wife, Coni, and daughters Chandra and Jessica seated bullet cores in jackets.

Brooks' development of a new dangerous-game solid won favor with gunwriters, including NRA Publications Senior Field Editor Charles Askins, who wrote, "… let me assure you, these slugs really get the job done!" Even so, the company struggled until Brooks devised the product that would forever change big-game hunters' expectations for bullet penetration and terminal performance, the all-copper Barnes X Bullet. Although it took three years of trial-and-error experimentation with homemade hand and machine tools, Brooks perfected the process for manufacturing X Bullets. Then over the next two decades, he continually improved the design and modified it to fit a host of new applications. Today's Barnes TSX and related variants are among the world's most highly regarded and oft-imitated hunting bullets.

After selling the company to Remington Outdoor Corporation in 2010, Brooks continued to develop new products, including the well-received Barnes VOR-TX loaded ammo and new projectiles intended for military use. As an Army veteran, he is proud that Barnes bullets are now serving with American troops and security officers around the globe. Brooks is an accomplished big game hunter, particularly experienced on dangerous game in Alaska and Africa. He is a staunch supporter of the NRA and the freedoms protected by the Second Amendment. Though much of his success can be attributed to lead-free bullets, he steadfastly refused to cooperate with anti-gun and media forces that repeatedly sought his validation for banning lead projectiles.
---