When I built my first AR-15 with a Del-Ton parts kit, I scratched my head as I looked at the underside and noticed the hollow grip, absent of any sort of plug or cap. I even put in a call to the company's customer-service department to ensure that I wasn't missing a part. Sad but true, Eugene Stoner didn't think to address this area of the firearm. As the years rolled by, many designs aimed to turn this empty space into a storage compartment. However, none of them were much more than a hinged trap door that did little to keep the elements out. Fortunately, the team at MagnetoSpeed thought, "Hey, there's a lot of real estate there for something useful." In 2018, the company introduced the M-Series grip system that offers a number of innovative products to stash inside that hollow space.
When purchasing the initial MagnetoSpeed M-Series grip system, consumers get the grip and the DryBOX storage insert. Installation is the same as any other grip, and no modification is needed to your rifle. The grip itself is overmolded and features an aggressive texture. Some might find it a little rough, but I work for a living, so all I noticed was enhanced controllability, even with sweaty hands. The DryBOX clicks right into place and stays put with the waterproof cap oriented upwards.

For a little space, it's amazing how much stuff can be jammed in there. The DryBOX is long enough for matches and extra ammo, yet wide enough for 2032 and 123A batteries. Now, I don't believe the phrase "dry" until I have a chance to check it out myself. I had the opportunity to work with one, so I packed it with matches, snapped the lid on and put it in a glass of water for 25 minutes. I was pleasantly surprised when there were no signs of moisture penetration. My first match lit right up.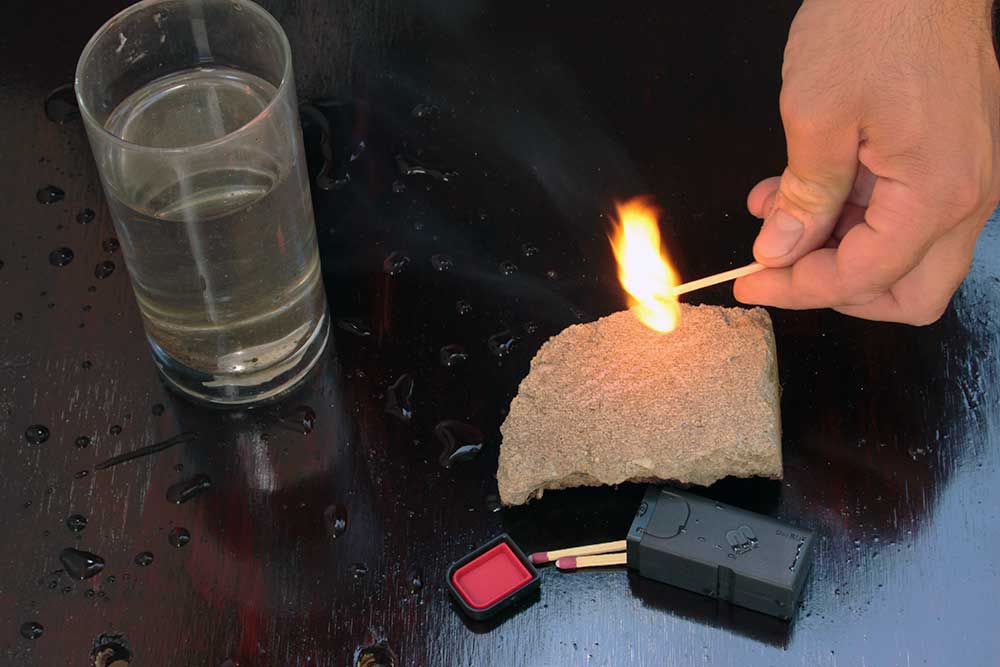 While the DryBOX is useful and innovative, it is just the beginning of this system's potential, as the M-Series is built to be modular. I learned the value of a rear bag decades ago, but it's impractical to carry one in the field. For those scenarios, MagnetoSpeed developed the quick-install MonoPOD. I found the MonoPOD to be handy, as it eliminates that heavy, bulky rear rest while still offering a third point of contact for added stability. The MonoPOD had a quick-deploy and retraction system via a simple push-button, but elevation can also be fine-tuned with a twist dial.

When using the MonoPOD, I found the round, smooth base to be a great design, as it allowed it to slide effortlessly during recoil, eliminating any bounce generated by friction. Using it on a prairie-dog hunt, I quickly saw the importance of being able to leave a rifle on target without any human interface as we had to constantly jump from the rifle, to the rangefinder, to the camera and then back on the gun to fire...all before that little rodent moved! On that trip, we were lucky enough to record more than a dozen hits, largely thanks to this device.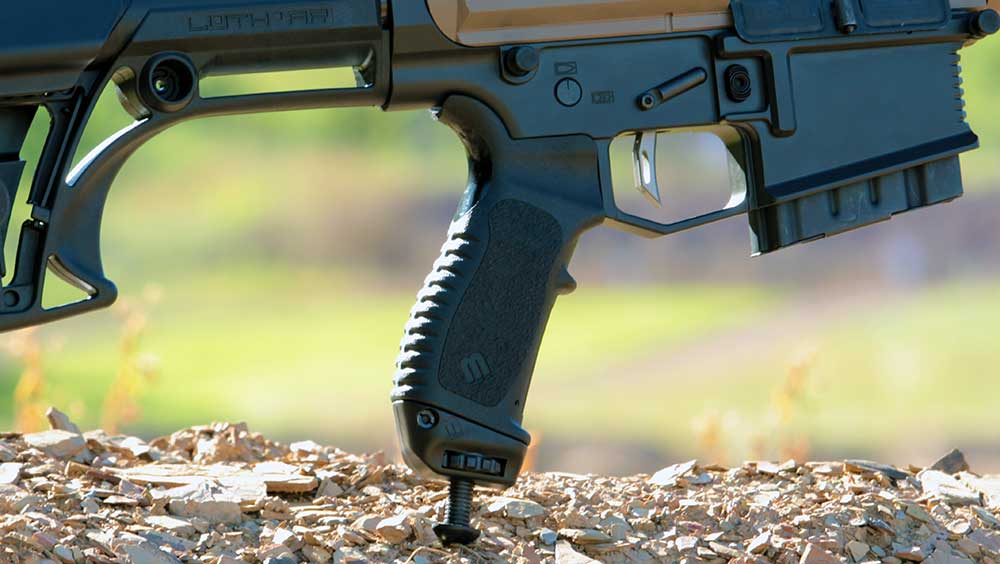 Speaking of hunting, illumination in the field at first and last light is always necessary to find your way into a tree stand, check a map or load a gun, along with numerous other daily uses. MagnetoSpeed also has a MiniLIGHT available that can be stored in this grip space. I found the MiniLIGHT to be well thought-out for both hunters and tactical rifle shooters alike. The unit has a standard white light that can be dimmed or even set to strobe.

However, the MiniLIGHT also keeps the hunter in mind with its red-light mode. Red light is much easier on human eyes at night and invisible to many animals. I liked that there were two separate buttons as well. It was nice not having to flip through a series of blinding white-light settings to get to the soft red light, and the other button could be used to blast a home intruder with the ultra-bright LED without first giving away your position.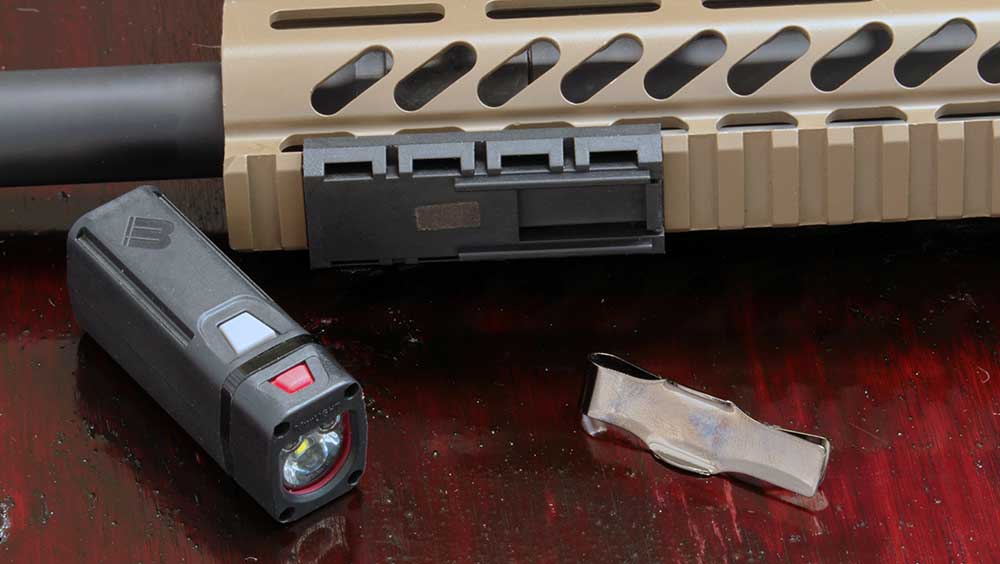 On the range, my fellow instructors and I loved being able to snap out a light to ensure an empty chamber in some of the darker indoor ranges, and more importantly show a new shooter precisely what an empty chamber looks like. The MiniLIGHT also comes with a magnetic mount to go from a Picatinny rail to palm of hand without any tools in a split second. There is also a hat clip in the box to wear it like a headlamp. Lastly, the unit I powered by a snug-fitting (read: no rattle) 123A battery. I thought this was a wise choice, as they are powerful and long-lasting. The 123A is also becoming far less of a "specialty" battery, so consumers can find it at many big-box stores today.

The final insert that is currently on the market is the M-Series MiniMAG. The MiniMAG is, you guessed it, a miniature magazine. This three-round mag fits into the grip and allows for three extra rounds of 5.56 NATO/.223 Rem. or 300 BLK. It's a neat idea if you are using a multi-caliber system like the Frontier Tactical War Lock, as it keeps ammo for the changeover barrel right at hand. I also found this to be handy in the field, as a three-round mag is legal for hunting nearly everywhere, but check your state and local laws before using it.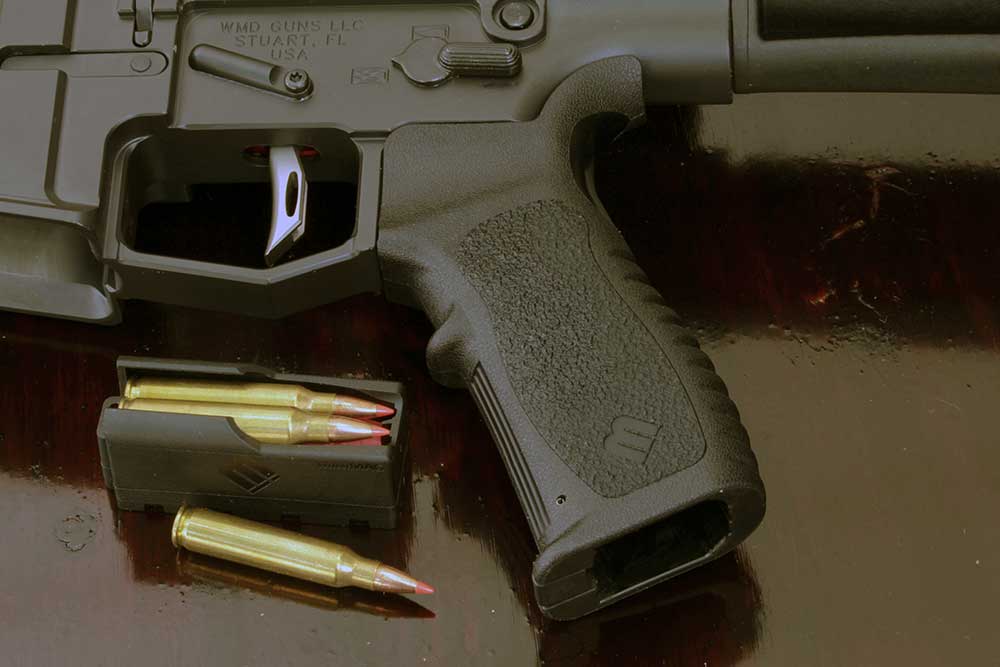 Although not as easy as with a standard mag, the MiniMag was serviceable by unhooking the 8 snaps that held the bottom of the magazine in place. After dropping the MiniMAG in the sand, I was happy to find that maintenance was possible. I was impressed that the three-round magazine functioned like any other. It locked the bolt back and even rockets out of the magazine well when released. One feature that I enjoyed was that it allowed for longer-than-standard cartridges. I found that I was able to feed 5.56 NATO rounds that measured as long as 2.275 inches. This allows a handloader to use heavier bullets and/or larger powder charges without having to resort to single loading.

The MagnetoSpeed M-Series grip system added a lot of functions to the AR-15 platform that nearly everybody can find useful. After a few months of testing, my top two picks were the MiniLIGHT and the MonoPOD. I did enjoy the DryBOX and the MiniMAG, but my particular lifestyle called for the other two far more often. Which ones will you use?