When your address changes, so does your home-security plan. A little more than a year ago my wife and I found the perfect house, with property that we could only dream of owning. Everything was picturesque, until we realized that we wouldn't be able to maneuver our monster safe up the stairs to our new bedroom. One of the challenges of getting things into the upper levels of our new home is the tight staircases that it was built with. The stairs are just large enough for one person to pass through and barely anything else. This precludes the use of any sort of stair-climbing safe movers, meaning that a replacement safe needed to be not only small, but light enough to maneuver with minimal equipment.
While this was troublesome, for years we have been talking about decentralizing our storage. Having all of our guns packed into one solitary safe was useful when we needed to search one out; however, should somebody unauthorized suddenly gain access, we would quickly regret that convenience. Spreading things out helps defend against burglary, as an opportunistic thief will only have time to concentrate on one storage fixture. However, it is also instrumental in a home invasion, as having multiple safes can put you substantially closer to a firearm in an emergency.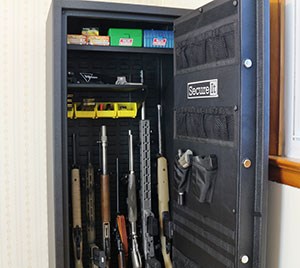 The question of how to decentralize storage became further complicated when we introduced the size and weight restrictions. After searching the internet for seemingly hours we came across SecureIt, who had the answer, literally. Its Answer 8 safe offered fully-welded construction and a highly configurable interior for the price of just one good-quality firearm and, best of all, could be carried up a flight of stairs on a hand truck by just two adults.
It's Called "Lightweight Pro" For A Reason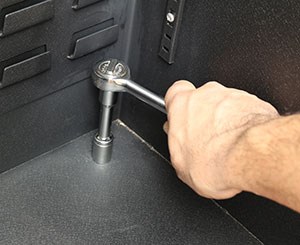 Ordering the safe was as simple as clicking through a few windows and then answering the phone when the freight company called. After coordinating the delivery, the freighters dropped it right in the garage, and we were ready to move it into position. The Answer 8 tips the scale at 299 pounds. However, the door is removable and drops the weight nearly in half. Disclaimer: Do this at your own risk, as removing doors voids the warranty. While we had it off, I was able to get a better view of the edges which are rounded to defeat whatever purchase might be established with a prybar. Smart thinking, as this is a great way to build strength without adding weight. Coupled with a total of eight one-inch bolts, the state police are likely to arrive before even a prepared burglar gets halfway through it. Along with the help of a buddy, we were able to get the unit up the stairs in two trips and promptly bolted it to the floor, setting the scene for the rest of this review.
When ordering, I opted for the "Pro" package which includes a multitude of storage solutions beyond the eight adjustable gun holders. One thing that I loved about the Answer 8 is that instead of moisture-absorbing drywall or carpet, the interior of the safe is comprised of a hook system. This allows you to set an individual height for each gun's barrel cradle. Gone are the days of having to let a carbine flop around to inevitably catch a case of safe rash or experiencing a "gunvalanche" when that unsupported precision rifle comes crashing forward. Each of these rests also features a bungee strap for further support, but I opted to leave them off as I like being able to get to my guns as fast as possible. Stock support comes from the eight included bases that are free to slide fore and aft. This allows you to set the lean angle of each firearm and helps to work around attached accessories like scopes or bipods, another troublesome aspect that must be navigated around in conventional safes.
SecureIt wants its Answer series to provide a solution for not only your guns but as much associated shooting gear as possible. Included with the Pro kit was the Rifle & Gear shelf, which I found worked great for valuable accessories like high-end scopes and bipods that aren't currently in use. Above all, I liked how it didn't stretch entirely across the safe and could be plucked out of the rear hook system and adjusted on a whim. This allows you to reposition it if you change your guns around or make room for some of the included storage bins for items like magazines, loose ammunition, or other gear.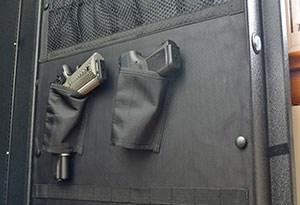 Aside from being tough as nails, the door also provides a good bit of storage, especially for handguns. The Answer 8 features a pair of stitched-in holsters that accommodate full-sized and compact pistols along with three rows of mesh netting for micros or items like documents or other fragile valuables. Down on the bottom are two oversized zipper pouches, which I feel were all but made for cash storage. Sealing the deal is a central section of MOLLE webbing that allows you to add whatever you feel fit to the system and your emergency plan.
We turned our Answer 8 Pro into a mini version of our main safe, with more than subtle undertones of being our bug-out HQ. Without much trouble, I was able to fill the safe with long guns that ranged in size from a Savage Elite Precision rifle to a Heritage Rancher Carbine and still have enough room for an optics shelf, an ammo shelf, and strategically placed bins for magazines. At the time of this writing, I couldn't think of anything to keep in the webbing, but I did opt to hang my woodland and everyday carry pistols on the door. Down the line, I plan on taking advantage of the pass-through power system that provides three 110V outlets and one 5V USB by hooking up some peel-and-stick LED light strips. However, with a setup this organized, I can likely find whatever I need in complete darkness. For more information and to get your own, visit secureitgunstorage.com.