LAG Tactical has been specializing in concealed carry holsters for several years now. I received my first one from a few years back and added it to my EDC rotation early and often. The Liberator MKII is another excellent holster you can easily add to your collection.
The Liberator MKII starts with a basic taco shell design with extremely well-molded lines. LAG claims to have invented their own machine that makes more precise molds than other manufacturers. I don't know if that story is true, but I do know the quality of the shell is top-notch, with cleanly finished edges and a perfect fit for my Smith & Wesson Shield 9mm. In addition, the gun sat snuggly inside with zero need to adjust the retention, which is a single screw under the trigger guard, a traditional placement for taco shell holsters.
A single 1.5-inch polymer clip with an aggressive underbite holds the holster firmly to the belt. A 1.75-inch option is also available. If you prefer a different clip, such as a beltless carry Ulti-clip or another fastener, they can be easily swapped out, thanks to standard hardware and hole placement.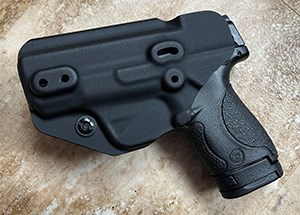 Speaking of holes, there are identical sets on either side of the shell in case you're one of those wrong-handed people. Righties and lefties can set the cant up to 15 degrees forward or back or straight up and down, your choice. Simply loosen the screws and lean the clip.
The included clip is my favorite style for everyday carry, and I like my holsters like my whiskey: straight up. So for me, the holster was set up correctly out of the box. But to be sure, I wore it as my EDC for about a week. Not only was the holster comfortable (for a full Kydex rig), but it stayed put and held firm throughout the trial period. One thing I always look for in a holster is how easily it comes off at night. Sure, a holster is supposed to stay on the belt all day, but it annoys me to no end when I get home at night and struggle to take it off. Thanks to the large clip, however, both putting it on and taking it off were easy breezy.
One aspect of the Liberator MKII did confuse me, however. Is it optic cut or not? At first glance, it appears to be, with a big notch cut near the mouth. But the notch is just a tad too small for even the tiniest micro red dots. And the LAG website doesn't offer "optic cut" as an option, so perhaps it's not intended to be. Either way, the notch is a little odd. But the holster still works great, regardless.
All LAG Tactical holsters come with a lifetime warranty and are made in the USA. At just $49.95, the Liberator MKII sits at a mid-range price point for similar holsters, a good deal for a holster that does its job well.