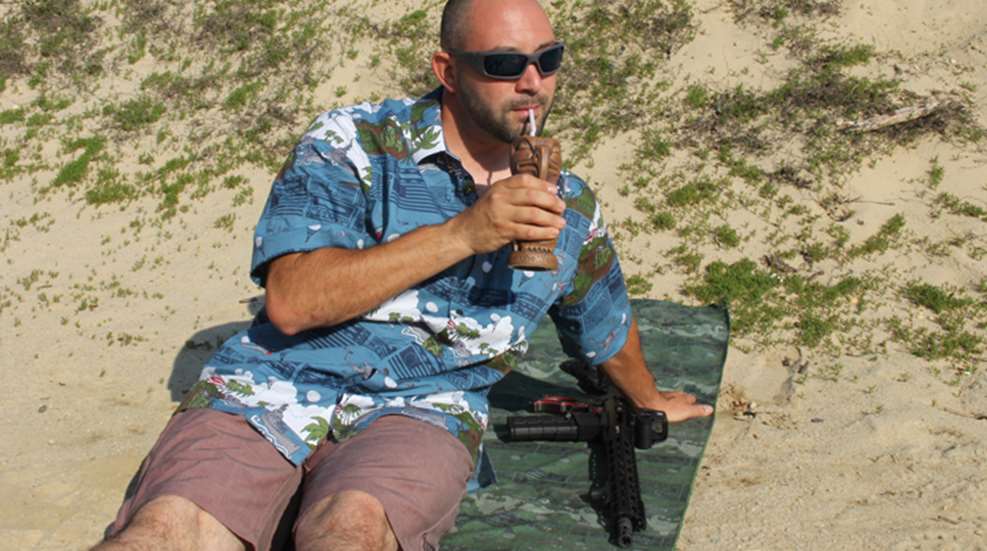 I'm not quite sure when it happened but somewhere along the line Hawaiian clothing met tactical gear [Editor's note: There was this show called "Magnum P.I." back in the day...] and the surfin' safari style was born. Now if you ask me, you folks are all playing catch-up to writers like myself and my arch-nemesis, James Tarr. We've been rockin' this gear since compact pistols fed off of single stack magazines.

Well, a few years back I was introduced to LA Police Gear and became infatuated with its "house" brand, to the point that I started retiring older gear and replacing it with much of its line. When our friends over there announced that they were releasing the Tactical Tiki line just in time for summer, I put my sample request in so fast that it might have triggered a tsunami on the other side of the globe. When my package showed up I was delighted to see that they offered far more than 2A themed shirts and I was set for a range session that was going to be a day at the beach (literally).
Shirts
The flagship of the line is undoubtedly its shirts. They come in two designs, one that pays homage to the five branches of the military and one that screams "'Murica!" as loud as the eagle that the design centers around. Each of the two patterns is extraordinarily busy so not only are they fun to wear but they help prevent printing by breaking up the outline.

I found some neat features on these shirts that made it hard to believe that they are less than twenty bucks each. These features include sturdy metallic snaps in place of plastic buttons and two pen pockets on the left sleeve. Both shirts are made of a blend that is 97 percent cotton and 3 percent spandex which makes them breathable and flexible. I tested the shirts on a 93-degree day and found them to be comfortable and completely unrestrictive in my day-to-day activities, as well as drawing from the four o'clock position and appendix.
Board shorts
The beauty of Hawaiian patterns is that you can match, or you can be disgustingly contrasted and still look great. The LA Police Gear board shorts allow you to do just that as they come in nearly the same design as the Eagle Tactical Tiki shirts but also look terrific with any of the other LAPG Tactical Tiki Shirts. I really dug the mesh pockets because they let the sand fall through as I stuffed them with my empty brass, or if they get filled with sand from just sitting on the beach like a "normal" person. These pants have a right-side zipper pocket that is good for important items like ID or money if you are taking a hike or wearing these into the water. On the lower left leg is a relatively deep pocket with a Velcro enclosure that is a perfect fit for most cell phones, just be sure to take it out before you hang ten. Lastly, these pants are made for gun owners and are built with 2" loops to accommodate a wide variety of EDC belts. I wore mine with the LAPG Falcon Shooters belt and was able to get it through without having to remove any of the hardware.
Mugs, Towels, and Morale Patches
If you really want to make a splash you can roll to the pool with matching gear, or just accent your current get-up and display a touch of 2A pride. Rounding out the Tactical Tiki line is a 5-Branches towel that comes in either blue or green. Both designs are made from a fast-drying microfiber and are big enough for a short Italian man and a carbine AR-15.

I liked that these towels were virtually weightless and after a firm wring they were nearly 100 percent dry. That's the kind of features that I like not only for my beach gear but for my hiking and camping gear as well. Aside from towels, LAPG is also offering limited edition mugs that represent the two patterns that they dreamed up for the 2A community.

Both mugs hold a full pint of your favorite beverage and thanks to their ceramic construction that beverage can be either hot or cold. I liked how they kept ice for as long as they did during this sweltering day and I was also impressed the next morning as they kept my coffee eternally hot, sort of like Sofia Vergara.

Lastly, if you like the new patterns but have a current love affair with your clothing and glassware, there are two great oversized morale patches also available to show your support of the second amendment and what LAPG is doing for us.
As summer is in full swing, LA Police Gear has done a fine job of offering us some threads and other warm-weather gear that helps us show that we love guns and support the military, even as the range comes into its "slow" season. I enjoyed my day testing this gear and the shirts are certainly going to be hung towards the front of my closet. I'm also 100 percent sure that eagle mug is in for countless hot summer nights on my porch as I smoke cigars with my wife and solve all the world's problems.
For more info and to get yours visit lapolicegear.com.