by
posted on July 3, 2018
Support NRA Shooting Illustrated
DONATE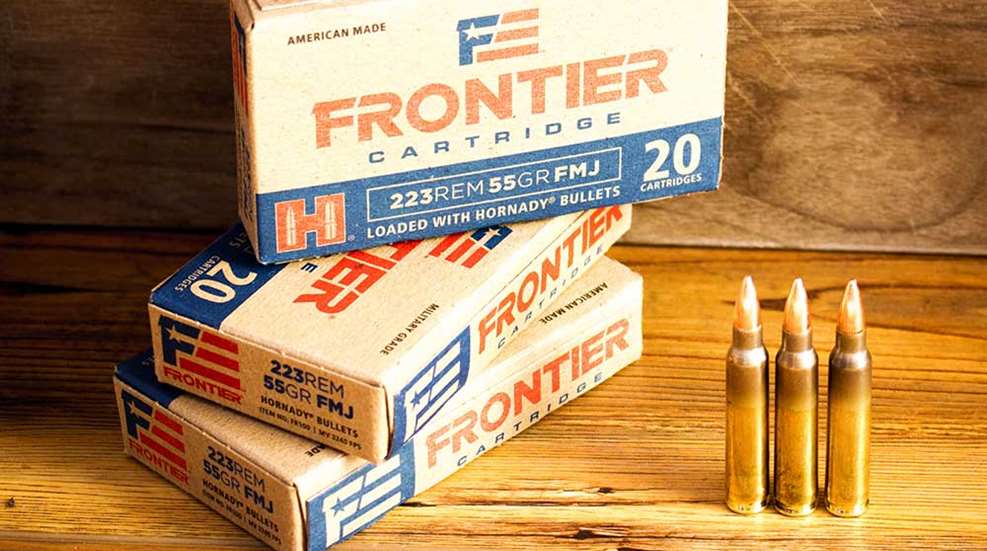 Hornady, long famous for its line of excellent component bullets, has garnered an equally strong reputation for its line of loaded ammunition, which expanded with the relaunch of the Hornady Frontier Ammunition brand. I say relaunch, because I remember my first experience with Hornady ammunition: it was a couple decades ago, I had just bought my first .300 Win. Mag., and I grabbed a couple boxes of Frontier ammunition, loaded with 180-grain Hornady Interlock bullets. The name on the box was not Hornady; it was Frontier. This was the beginning of Hornady's loaded ammunition endeavor, and I remember it being quite a while before I could get a handload to beat the accuracy of that factory load.

Hornady put its name on the box shortly thereafter, and has since produced some excellent ammunition. Many precision shooters have come to rely on it, printing groups to rival the best handloads. However, the Frontier brand name was not entirely done; Hornady would bring it back to life in 2018. The revised Hornady Frontier line is an affordable, effective, and potent series of cartridges for the .223 Rem. and 5.56 NATO, with a wide selection of projectiles that will serve for target work, plinking, hunting and self-defense.

I said affordable, but by that I in no way meant that this is second-rate ammunition. It comes in fully-reloadable brass cases; the case neck and shoulder is annealed – to keep the brass soft for long life – just like the standard Hornady ammunition. Just a quick note for the reloaders: the Frontier cases have the military primer crimp, so you'll have to remove that before reloading. It's an easy process, but if you're unaware of it, you may end up scratching your head wondering why they aren't taking a new primer.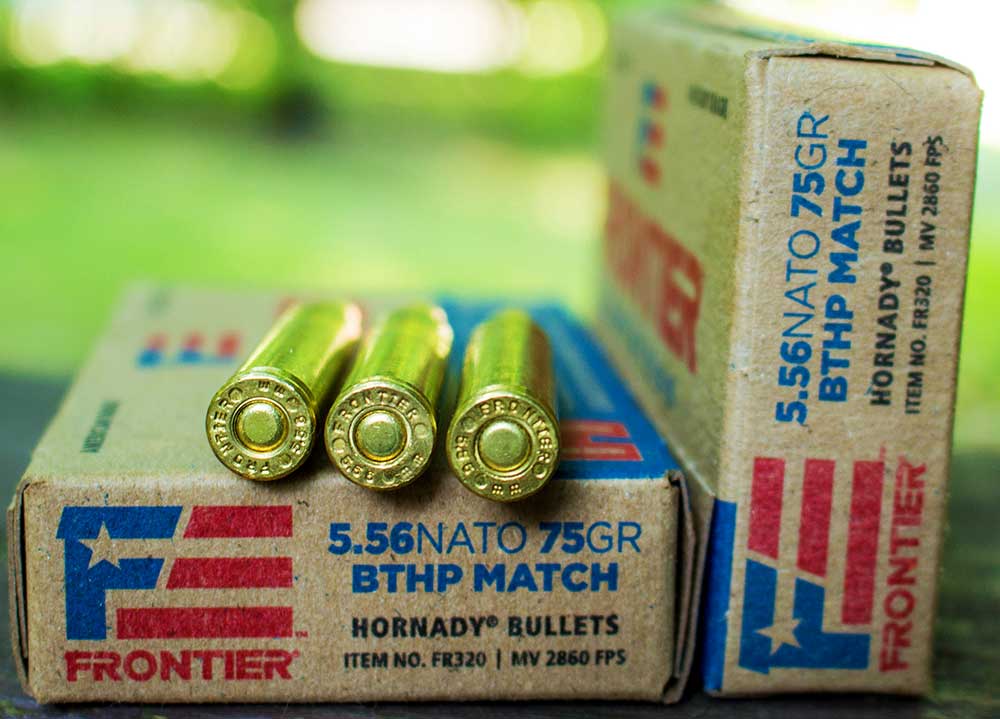 For production, Hornady has teamed up with the famous Lake City ammunition plant to make quality ammunition that is readily available to the shooting public, allowing for training, hunting and target shooting with the multitude of rifles chambered for these two similar, yet not interchangeable, cartridges. I pulled one of the Frontier cartridges apart for inspection; and as I suspected, they are loaded with a ball powder, to take full advantage of the somewhat-limited case capacity of the .223/5.56.

Think about it: Lake City has an impeccable reputation for producing excellent military brass. Hornady has a lineup of bullets that have proven themselves in many different formats. Like the blend of peanut butter and chocolate, this marriage just plain works. The Frontier line uses a selection of Hornady's bullets, including the 55-grain FMJ, softpoint and hollowpoint match, and 68-grain hollowpoint match in the .223 Rem., and the 55-grain FMJ and hollowpoint match, 62-grain FMJ, softpoint and boat tail hollowpoint match, as well as the 68 and 75-grain boat tail hollowpoint match in the 5.56 NATO.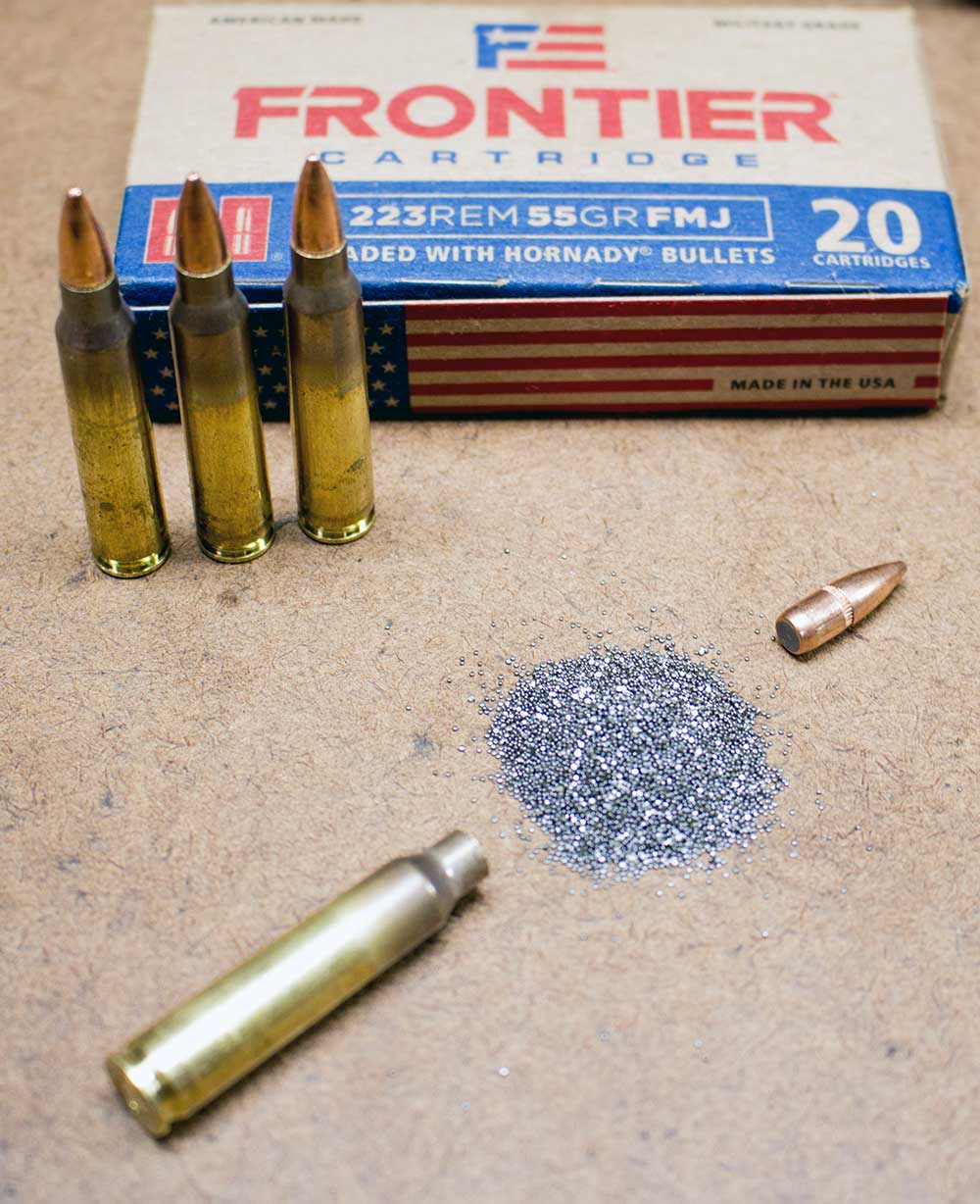 That's a bit of something for everyone, from the long-range prairie dogs, to distant steel, to coyotes across the hay lot, to home-defense AR-15s; Hornady has made it all affordable. I know that the heavier 68- and 75-grain BTHP make an excellent choice for playing the long-range target game, especially in the wind. The higher ballistic coefficient values of these bullets will definitely make life easier, as they will retain their energy downrange, and resist the effects of wind deflection much better than the 55-grain bullets will.

So how did the Frontier ammo perform? I'm happy to report that it functioned just fine in a pair of different rifles; I tested the .223 Rem. stuff in a proven Savage Arms bolt-action rifle, and the 5.56 NATO in an AR-15 that is known for its accuracy. There were no issues whatsoever with feeding or extraction; all the cartridges functioned through the magazine just fine. I found that the average velocities of the ammunition fired through the bolt rifle were 50-60 fps higher than advertised, and that which we put through the AR was 40-50 fps lower. The accuracy of the .223 Rem. stuff was more than acceptable; they ranged from 3/4-MOA to 1/2-MOA. The AR-15 ran a bit wider with the 55-grain, running at 1.5-MOA, but the 75-grain BTHP printed 3/4-MOA groups at the 100-yard mark.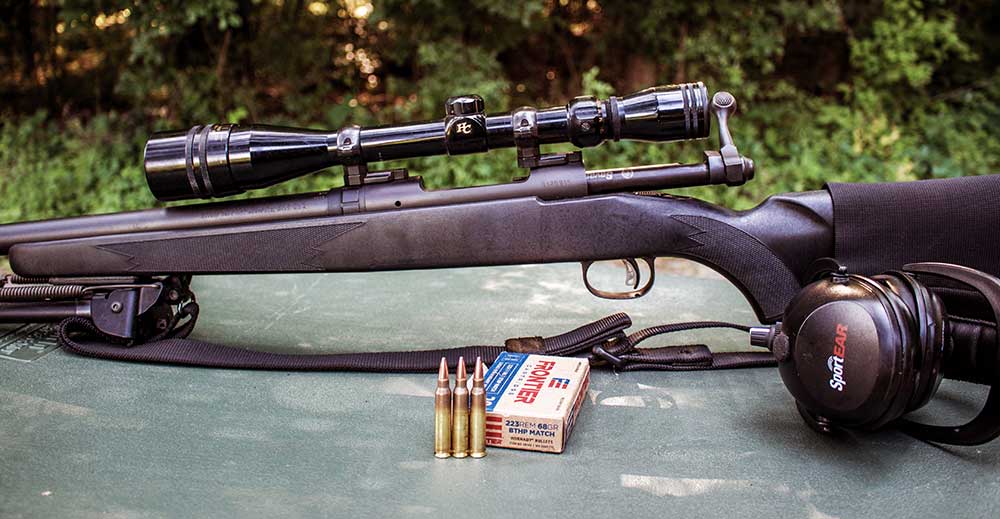 Hornady packages the Frontier line in boxes of 20, 150, 500 and 1,000 (the incredible bulk!) so shooters can try them in small quantities and then stock up until their hearts are content. The Frontier line is a sound choice for those on a budget – like much of our modern ammunition, it is more accurate and dependable than things have ever been – and will allow the shooter more time at the range or in the hunting fields without garnering those long periods of awkward silence when the spouse finds the ammo receipt. I think the combination of Lake City and Hornady – available at such an affordable price – may be one of the best things to happen to high-volume shooters in a long time.
.223 Rem.
55-grain FMJ    (G1) B.C. .243
55-grain SP    (G1) B.C. .235
55-grain HP Match    (G1) B.C. .254
68-grain BTHP Match (G1) B.C. .355
5.56 NATO
55-grain HP Match    (G1) B.C. .254
55-grain FMJ (M193)    (G1) B.C. .243
62-grain FMJ    (G1) B.C. .274
62-grain BTHP Match    (G1) B.C. .270
62-grain SP   (G1) B.C. .264
68-grain BTHP Match   (G1) B.C. .355
75-grain BTHP Match   (G1) B.C. .395