One of the complaints sometimes levied at gun magazines centers on the price tag of the firearms reviewed. Top-shelf 1911s, high-end AR-15s and the latest innovations in the firearm industry are frequent fodder for articles, leaving some to comment they cannot afford any of the firearms covered in the shooting media. Well, here's a
Hi-Point
C-9 handgun—complete with a steel lockbox and secure cable—almost everyone can afford.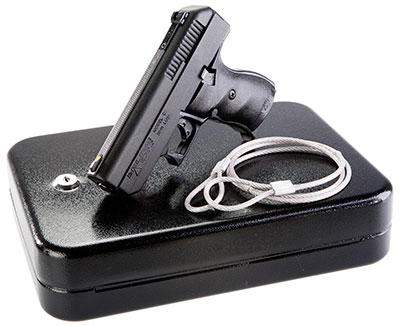 The Hi-Point C-9 pistol is a 9 mm, blowback-operated, eight-round, mid-size pistol. It's among what some call the "entry-level," "budget" or perhaps even "value-oriented" market. This is an inexpensive firearm—the MSRP for the pistol alone is less than $200, meaning the off-the-shelf price is well below two bills. In other words, this is a firearm that can be obtained for about the same price as three or four magazines for a
Coonan
,
Heckler & Koch
or
SIG Sauer
. While the C-9 is less polished than such fine firearms, it's also well within the means of any citizen wishing to arm him or herself with a handgun in a caliber ideal for self-defense.
The Home Security Pack includes the Hi-Point C-9 pistol, one magazine, a trigger lock and an 18-gauge, powder-coated steel security case that comes with a cable. Few would call it a work of art, but beauty is in the eye of the beholder, and there is a certain attraction to a firearm that doesn't cost a few week's wages.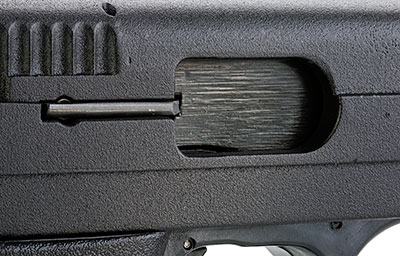 As is to be expected, there are certain trade-offs made for the price level. The finish is powder coat, not blued or parkerized. The frame is polymer, like many other handguns, but the Hi-Point curiously has removable grip panels, also of polymer construction. The slide is a zinc alloy and heavy to account for the pistol's blowback operation. It gives the pistol a top-heavy feel that can make it slightly unwieldy for some shooters. The sights are rudimentary yet functional, the trigger heavy and somewhat gritty, and the slide is stiff until broken in.
The Hi-Point C-9 has a thumb safety (right-hand only) shaped similar to that found on Ruger SR pistols, an external extractor and what Hi-Point calls a "Chamber Observation Port" to verify when a round is in the chamber. The magazine-release button is also right-hand-only. Magazines drop free, although the release needs to be fully depressed to actuate. The C-9 comes with two sets of rear sights—painted orange dots come installed on the pistol, and a aperture sight can be installed by the user—both of which are adjustable for elevation and windage. The front sight is fixed and includes a painted yellow dot.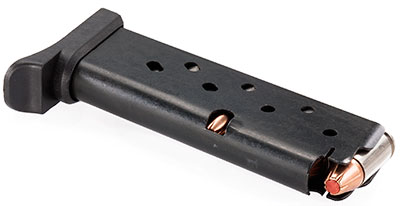 During testing, the Hi-Point C-9 consistently fired and ejected all rounds fed into it, but had initial difficulty getting all rounds to chamber. Over time, this problem smoothed itself out; however, I observed several failures of the slide to go completely into battery. As the C-9 ships with only one magazine, it was not possible to determine whether the problem was firearm- or magazine-related.
Accuracy results were obtained at 50 feet rather than the 25-yard standard protocol. The 3.5-inch barrel and rudimentary sights were difficult to keep on paper at 25 yards, and with the Hi-Point C-9 shooting rather low, group sizes at that distance were quite large. The pistol performed adequately at the 5- and 10-yard distances, with multiple magazines of inexpensive practice ammo resulting in fist-size groups at point of aim. The pistol won't win any Bullseye competitions, but it shouldn't be expected to, either.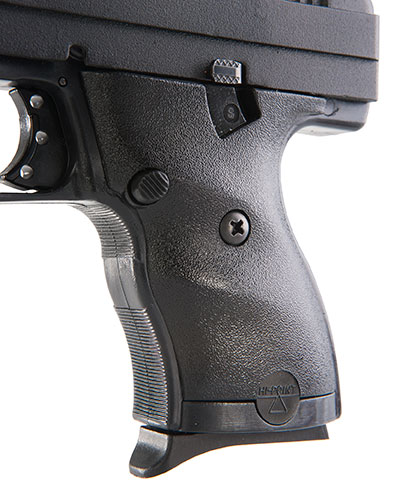 Part of the difficulty in shooting at longer ranges resulted from inconsistencies in the trigger— trigger pull measurements gave a range from 8 to 12 pounds. It did not appear to break at the same pull weight with every trigger pull, and in initial testing, group sizes were a testament to the variations in the pull weight. At close range, though, the trigger pull was less of a factor and the Hi-Point C-9 delivered solid, reliable and repeatable center-of-mass hits well within defensive parameters.
The Hi-Point C-9 isn't going to win any beauty contests. It's weighty for a handgun with a 3.5-inch barrel, and the trigger pull is long and heavy. There aren't a lot of accessories available for the C-9, and the magazines are low-capacity, single-stack and proprietary. It may take some breaking in before it runs to its fullest potential, but as with any firearm chosen for defense purposes, this should be standard-operating procedure.
An MSRP of just a bit more than $200 for the Hi-Point C-9 pistol 
Home Security Pack
, however, makes it possible for anyone to obey rule No. 1 of gunfighting: Have a gun.