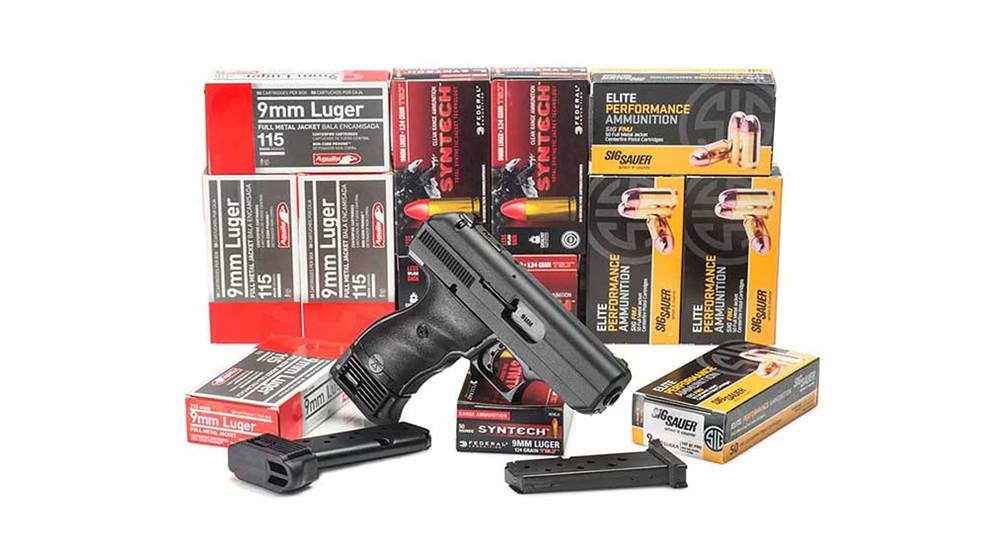 First off, we need to add that after the first 300 rounds, we brought the Hi-Point C9 to an outdoor range for some video work. Sixteen additional rounds of Federal American Eagle 115-grain FMJ were added to the round count outside of the traditional testing, with no malfunctions. We started the second round of testing at 316 rounds.
After our initial testing of the Hi-Point C9, we decided that it should be cleaned and lubricated to see if that cleared up some of the malfunctions. Some firearms do need a bit of a break-in period, and it couldn't hurt to get the C9 a little TLC (with CLP!) and check if that helped facilitate smoother operation. The C9 was taken apart for cleaning, thoroughly scrubbed, lubricated and reassembled, and we set off to the range.
Again, we focused our efforts on full-metal-jacket ammunition, figuring that most Hi-Point C9s wouldn't get a steady diet of high-end jacketed hollowpoints. For this second round of testing, we ran 115-grain Aguila FMJ, 124-grain American Eagle FMJ, 124-grain Federal Syntech TSJ and 147-grain SIG Sauer FMJ ammunition. The Syntech comprised 150 rounds, while the remainder were 50 rounds each.
It became apparent that the cleaning and lubrication regimen paid off, as only one single failure—a stovepipe on round number 436—was experienced using the Syntech ammunition. As previously mentioned, the 10-round magazines consistently failed to lock back when empty, a phenomenon not seen when using the 8-round magazines. While the good suggestion of only using the 8-round magazines was brought up in the comments to the first round of testing, in the interest of completing this test in a timely manner we opted to leave the 10-round magazines in the testing protocol.
So, to recap, we're fired 616 rounds through the Hi-Point C9 and experienced four malfunctions: Round No. 58 (Aguila) saw a failure to feed, round No. 202 (SIG) was a double feed, round No. 238 (SIG) was a nose-down and round No. 36 (Syntech) was a stovepipe. It does not appear that any one particular type, weight or style of ammunition is more or less reliable in the C9.
Stay tuned to see how the Hi-Point C9 holds up after additional rounds!