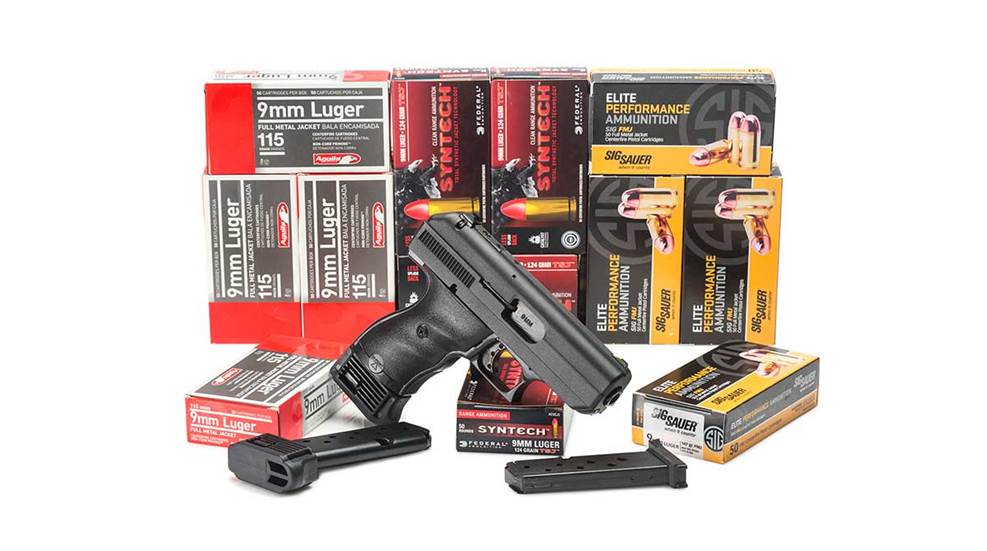 In addition to the usual hectic, busy stuff that prevents us from getting updates done faster (sorry!), there's another reason. The Hi-Point C9 has a trigger that, well, is best described as "high-round-count unfriendly." Every time I bring it to the range for another installment in our 2,000-round testing, I come away with a nasty blister on my trigger finger—even with gloves on!

As we have before, we'll start with a quick recap. After our initial testing of the Hi-Point C9, we surmised it might need to be cleaned and lubricated to see if that cleared up some of the malfunctions. That was at the 300-round mark, and we have not cleaned or lubricated it since. We put an additional 250 rounds through the C9 in this latest update, and the caveat as previously mentioned still applies: the 10-round magazines consistently failed to lock back when empty, a phenomenon not seen when using the 8-round magazines.

For this round of testing, we had 50 rounds of Aguila 147-grain FMJ, 100 rounds of SIG Sauer 147-grain FMJ and 100 rounds of Federal Premium Syntech 147-grain TSJ Training Match ammunition. We are continuing to run predominantly full-metal-jacket ammo (or equivalent, in the case of the Federal Syntech). As a reminder, this is an approximation of the "real world" ammunition likely to be purchased for use with a Hi-Point C9.

In all 250 rounds, there were no malfunctions recorded. It was noticed that the slide was getting a bit sluggish returning to battery, which indicates it is probably time for a quick teardown, cleaning and lubrication. It did continue to run, but I suspect if it doesn't at least get some oil on the rails it may start hanging up.

Lastly, to recap, we're fired 1,601 rounds through the Hi-Point C9 and experienced five malfunctions: Round #58 (Aguila) saw a failure to feed, round #202 (SIG) was a double feed, round #238 (SIG) was a nose-down, round #436 (Syntech) was a stovepipe and round #1,189 was premature slidelock. It does not appear that any one particular type, weight or style of ammunition is more or less reliable in the C9.

Stay tuned as we finish up this 2,000-round test of the Hi-Point C9!