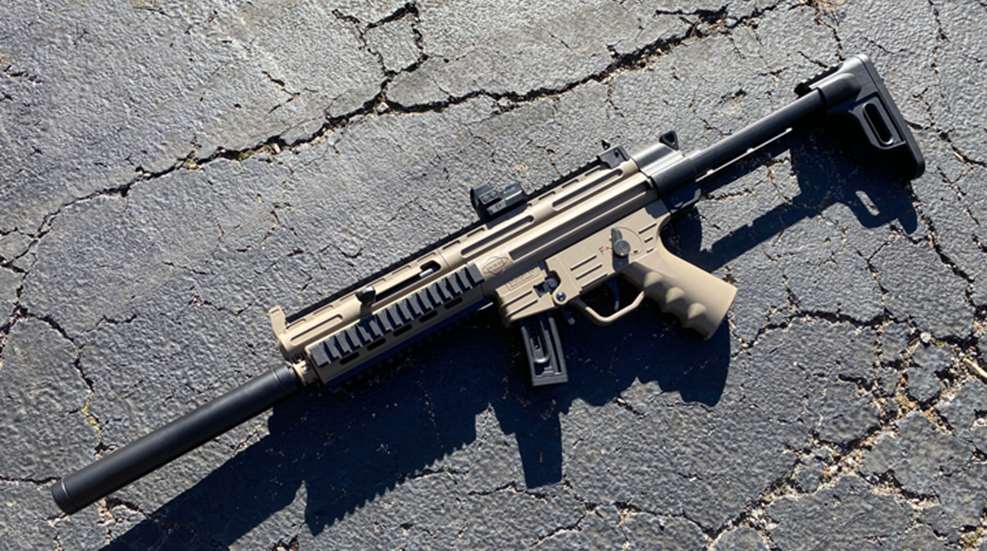 Who here wants a Heckler & Koch MP5? Raise your hand. Everybody? Now, who here wants an MP5 look-alike that shoots the ton-of-fun .22 LR? All those hands should still be up, especially when you get those same hands on the GSG-16. 
Every once in a while, you come across an inexpensive firearm that offers a lot more than you anticipated. It has more gadgets, more cool features, and is just a darn good piece of equipment that you just didn't see coming. Such is the case with the GSG-16 .22 LR from German Sporting Guns. It's a lot more than you might expect from a plinker. And it's a blast (pun fully intended) to shoot!
Let's start with the main body. The tactical look of the GSG-16 gives it a bit of robustness not typically found in .22s, apart from the converted AR-type platforms popping up. Most .22s look like hunting rifles, which is fine if that's what you like. But if you're like so many shooters nowadays, you want to have a bit of fun with your small-caliber guns and make them look like their big brothers.

The GSG-16 does exactly that, starting with Picatinny rails everywhere. The entire top of the chassis and handguard are lined with rail, which, interestingly, is screwed onto an under layer of M-Lok, so theoretically you could remove the Picatinny and install M-Lok accessories instead. This is a nice little touch not typically found on guns in this price range. One oddity of the use of rail, however, is the small piece attached to the butt end of the collapsible stock. It's unclear what you would need that for.

Speaking of the stock, it is full-on tactical and collapsible, quick to deploy, and very sturdy despite being polymer instead of metal. The rest of the rifle body is also polymer, but it's very sturdy and makes the gun super light, around 5 pounds empty. And since .22 ammo is also lightweight, a full mag adds hardly any weight. One nice touch on the stock is a spare mag holder inside the contoured shoulder pad for faster reloads.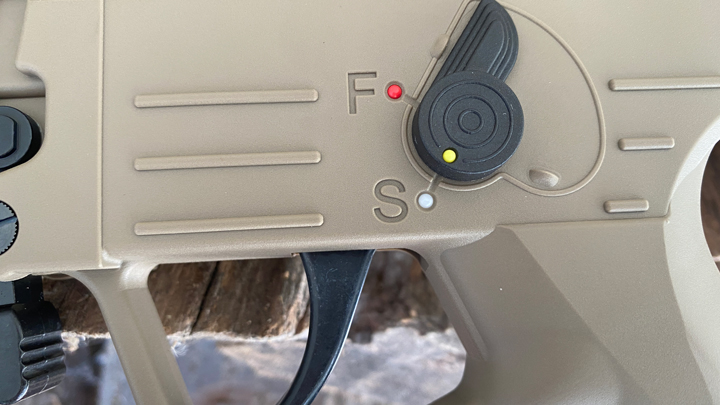 The controls were easy to use and big enough to grab with gloves on. While manual safeties may not be a big deal on handguns, they are on rifles, and the folks at GSG added big, chunky manual safeties to both sides, easy to operate with either thumb. The switches are clearly marked, and operation is firm and sure. There is no doubt when the safety is on or off.
Mag changes are easy and quick thanks to both AR- and AK-style mag releases. The primary release is AK style, but there is an AR release button right where you would expect it. Both work equally well. And when the new mag is in, the bolt slams home with the authority of an MP5-style, forward-mounted charging handle.
Speaking of mags, the folks at American Tactical who provided my test rifle also sent a GSG 110-round drum mag, so naturally I had to test both the standard mag and this behemoth. I mean, come on, who doesn't salivate over a 110-round drum mag? And, of course, I was doing this for science, so I was obligated, right? So I loaded up the drum and standard mags and headed to the range.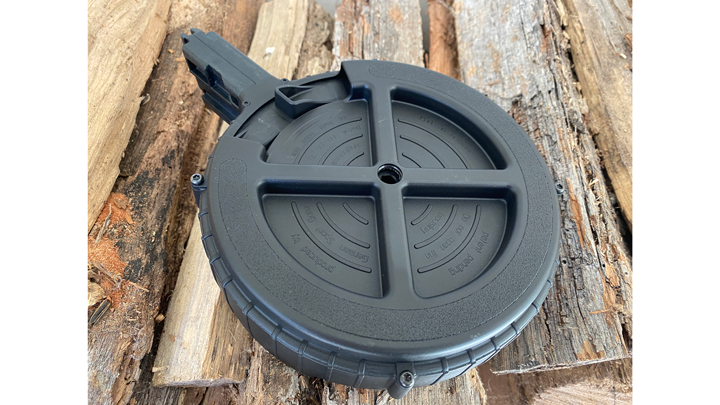 Function-wise, the GSG-16 ran like a champ. The owner's manual and the stamp on the side of the mag well both say to use only high velocity ammo, which is typical of .22s because small caliber ammo can be finicky and lower velocity rounds might not generate enough blowback power to cycle the bolt. I dutifully followed the instructions and ran it with CCI Mini Mag 36 grains that flew at 1,260 FPS and the gun ran perfectly with zero malfunctions.

Then I brought out my inner rebel and stepped down to some old Federal Auto Match 40 grain, testing how it ran slightly lower velocity rounds, which I expected to induce malfunctions. Nope. It ran just as well as the higher velocity rounds. The only malfunction was user-induced, when I didn't seat the mag properly, creating a jam. My fault, not the gun's. I never tried any sub-1,000 FPS ammo, only because I didn't have it on hand, but the action seemed solid enough with the higher velocity goods that I doubt the slower stuff would have failed.
In keeping with the tactical .22 theme, the GSG-16 features a faux suppressor that serves as the barrel shroud. A real suppressor would be cool, but at least a fake one makes it look cool. It also screws off if you don't like it (but who does that?) to reveal a cold forged barrel robust enough to serve a long life of steady use, a terrific example of fine German engineering.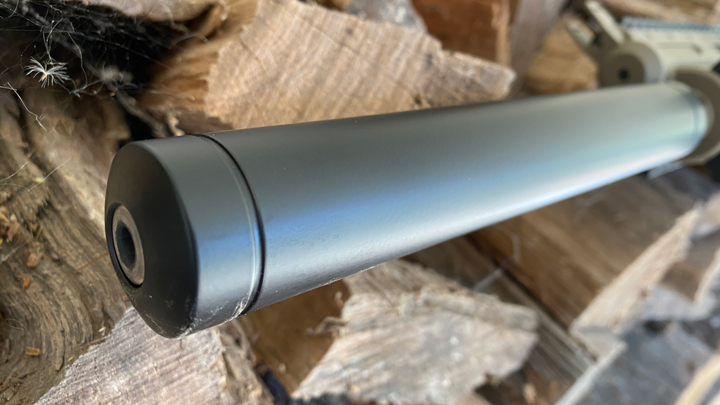 In terms of sights, you have choices. The rifle comes with a rear peep sight and black front post, but it also includes interchangeable sights for both front and rear that do not require any machining or disassembling of the gun to install. The secondary rear is still a round sight but with a smaller aperture. The front sight comes in three different post heights, two of which have yellow non-glowing dots for easier target acquisition.

I ran it with the standard sights, which were good to at least 25 yards—the farthest shot at the indoor range— before switching over to a SOUSA Optics RAID red dot that clamped right onto the Picatinny rail on top. A few shots later, it was zeroed and ready to go. The rest of the time was spent spitting rounds downrange in tight groupings from various distances, all the while finding it hard to wipe the stupid grin off my face. I was having way too much fun.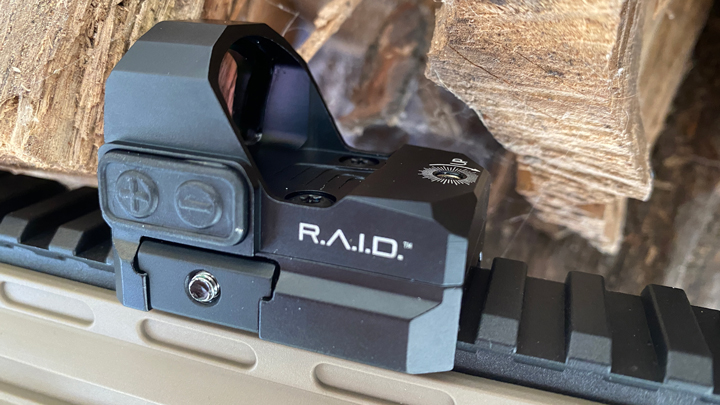 Overall, the GSG-16 is a darn fun gun to shoot. It's lightweight and easy to handle, has an easy-to-pull 5.5-pound trigger, and all the controls are exactly where they should be. The look is tacti-cool, but make no mistake: this is a serious .22 LR rifle. And at $339.95 from American Tactical, the GSG-16 is a great value in a training gun and a cool looking plinker.