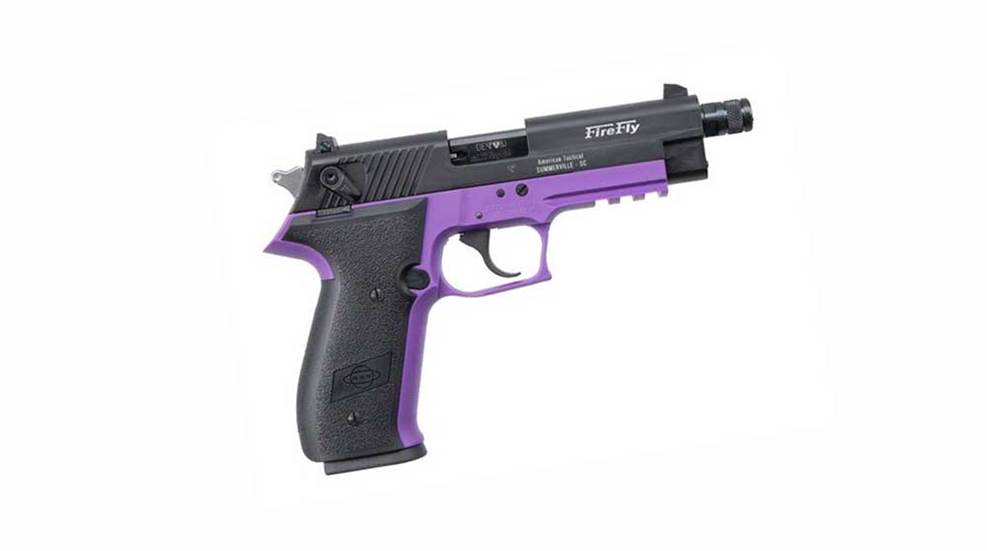 .22 LR pistols are a fun and inexpensive way to introduce a new shooter to the basics of pistol marksmanship or to keep your handgun-shooting skills sharp without spending tons on expensive, centerfire ammunition. There are few things more enjoyable than spending an afternoon pushing tin cans around on a backyard range. In addition to this, the fundamental skills of stance, sight picture and trigger press can be learned on a pistol chambered in .22 LR for much less expense than on a centerfire pistol.

To help keep the fun going, American Tactical has introduced the new Purple GSG Firefly pistol, chambered in .22 Long Rifle. Perfect for plinking or a day of varmint hunting, GSG FireFly comes in threaded and non-threaded barrel models, both of which are available now in purple. The GSG FireFly also features a wear-resistant, aluminum-alloy frame outfitted with an integrated accessory rail to attach a light, laser or other piece of gear. The slide features adjustable sights, and along with the rugged blowback system, a fixed barrel and superior ergonomic grip and form.

The Purple GSG FireFly is designed to provide remarkable accuracy, so shooters can train confidently with this rimfire-pistol platform. Additional safeties include an internal locking device and slide mounted ambidextrous safety and de-cocker. Built with the form and feel of many larger, centerfire pistols, it's the perfect pistol to learn the basics of handgun shooting. The Purple Firefly is available with either a 4-inch threaded barrel model or a 4.9-inch non-threaded barrel, The frame is constructed from a zinc alloy complete with an overmolded polymer coating, and the slide is constructed from zinc alloy. A 10-round magazine is included with the gun.

MSRP for the Purple GSG FireFly is $269.95, and more information is available at americantactical.us.