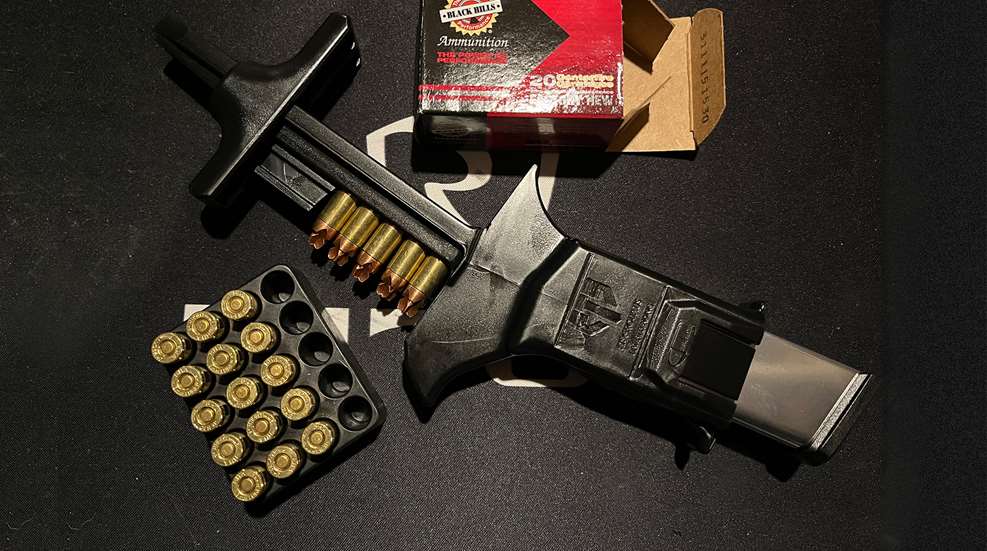 Universal rule: everyone hates loading magazines. It's a royal pain in the…thumbs, especially if the magazines are brand new and the spring inside is fresh and not broken in. The first few rounds might be okay, but it gets harder and harder until your thumb starts screaming at you. The solution? Speedloaders.
Speedloaders aren't new. There has been a multitude of them on the market for years. Some of them are terrific, others not so great. Some gunmakers even include one with each semi-automatic gun they ship because they know how hard magazine loading can be, especially on a new gun. Each company has its own take on the "best" way to load magazines fast.
Elite Tactical Systems (ETS) brought out their version of the speedloader several years ago and have been making little improvements on the design along the way, including a rifle version.
What's different about ETS's speedloaders?
First, they are two pieces. Most speedloaders are only one piece, with everything contained in a neat little package, which is very convenient. But those are for loading one round at a time. ETS took a different route because they had a different goal. Rather than load one round at a time like an Uplula or other smaller loader, they choose to load the rounds even faster by tying a string of rounds together and loading them all at once.
How does it work?
The condensed explanation is the slide part of the speedloader grabs the rounds by each rim, lining them up evenly, then the plunger goes on top and is pushed down, stuffing the rounds into the magazine. Sounds pretty slick, eh? It is.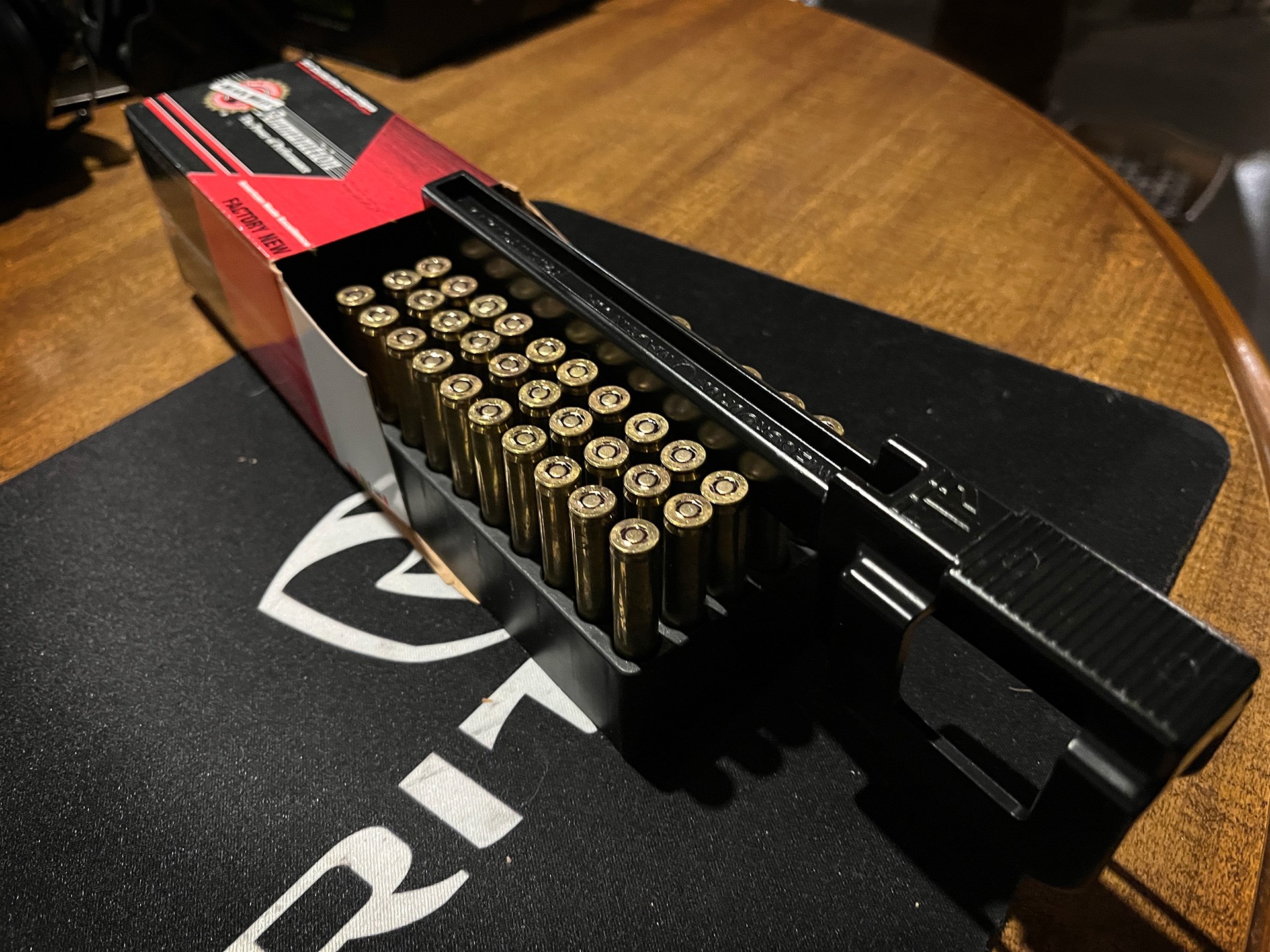 ETS sent me both the rifle and pistol versions to try. Like many of our readers, I own a multitude of pistols with a variety of OEM magazines, along with some aftermarkets (including one from ETS) and an AR. So I tried the loaders on an assortment of interfaces.
First, I tried the AR on Lancer, Magpul, and ETS magazines, since they all have slightly different feeder lips, thinking this might test the speedloader's adaptability. I attached a Magpul magazine first, opened the new ammo box, lassoed a row of rounds with the speedloader slide, and took the plunge (ha!) by shoving the plunger down. Presto! Ten rounds instantly loaded into the magazine, easy as that. I repeated the process two more times, topping off the 30-round mag in under a minute. Next, it was Lancer and ETS time. To my surprise, the speedloader worked flawlessly with all three magazine brands, with no hiccups.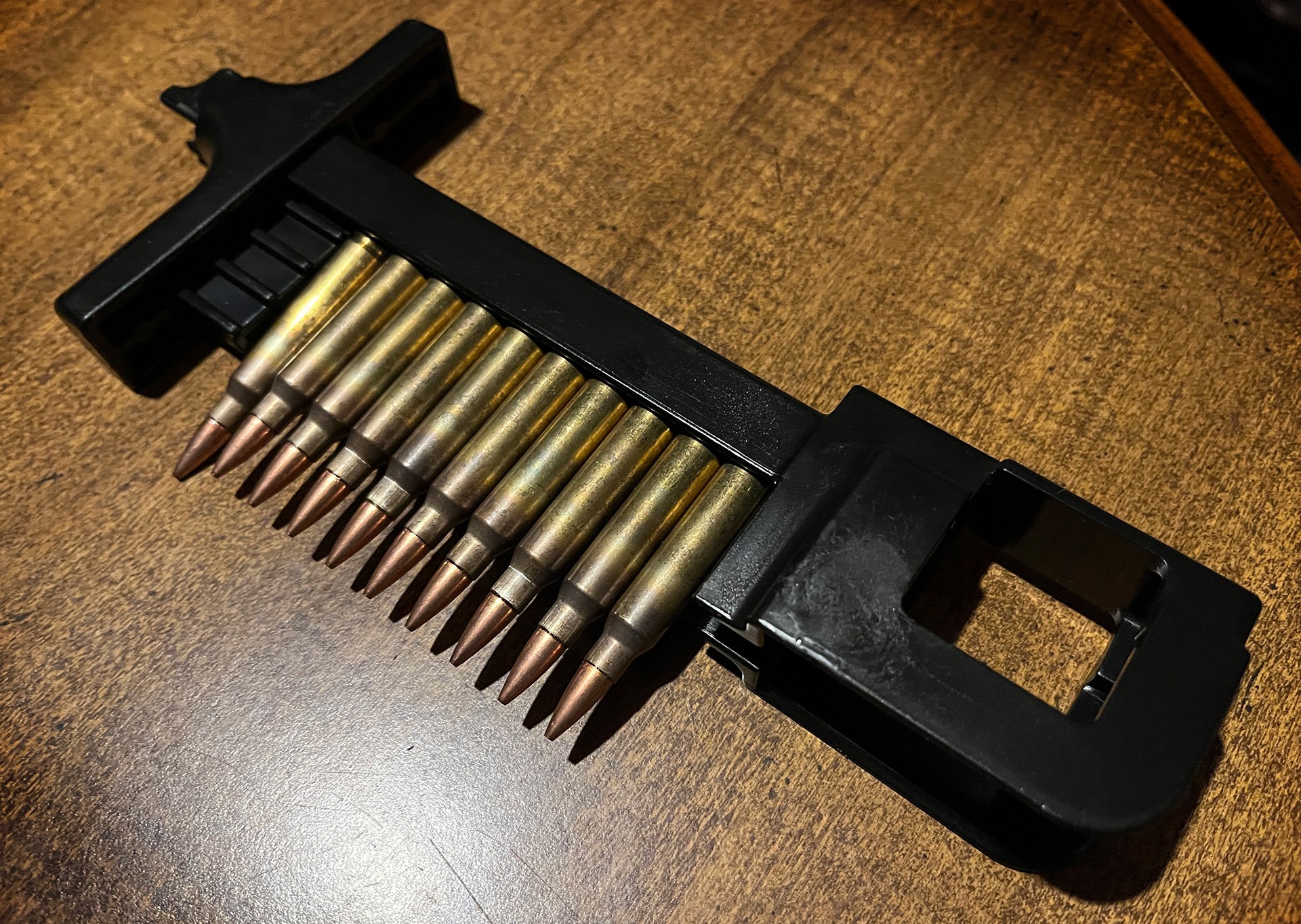 Now it was time for the pistol version. You can get it in .380, 9mm, and .45 versions. Mine was 9mm since that's mostly what I own. I tried it on Glock, Walther, ETS (for Glock), and Springfield magazines. Unlike the rifle version, which was super simple, I struggled with the pistol variation. It easily fit the ETS magazine (duh!) and the Glock OEM but struggled with the Walther and Springfield. They were tough to align inside the collar, causing a few glitches and stoppages in the loading process. I eventually figured out it was user error – not shoving the mags up high enough until they clicked – but it was not obvious until I dug in a bit. I also didn't follow ETS's instruction to turn the slider over, so the rounds face up, a detail that makes all the difference. Again, my fault. Eventually, however, the speedloader did work with everything I tried.
Overall impressions
Aside from a small learning curve, the ETS Speedloaders are easy to use once you get the hang of it. They are certainly fast! You can load a pistol or rifle magazine in under a minute. The only drawback that stood out to me was the need for the ammo to be in a neat row in a box. If you have loose rounds, the loader isn't as efficient because you lose the benefit of grabbing ten rounds at once. But loading the slider round by round is still easier than loading a magazine.
For a mere $29.99 each, the ETS Speedloader is worth the price of admission, a solid option for what ETS claims is the world's fastest speedloader.