by
posted on August 28, 2020
Support NRA Shooting Illustrated
DONATE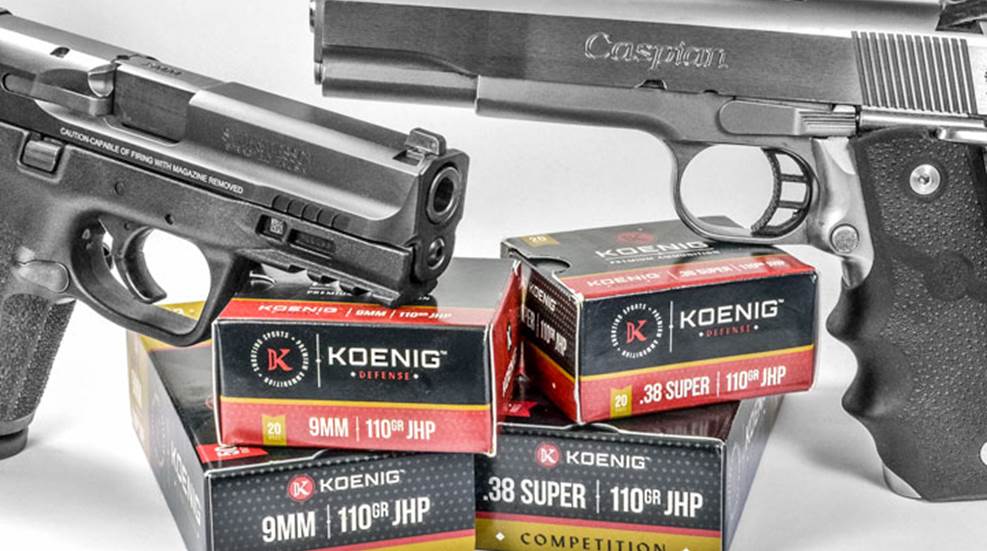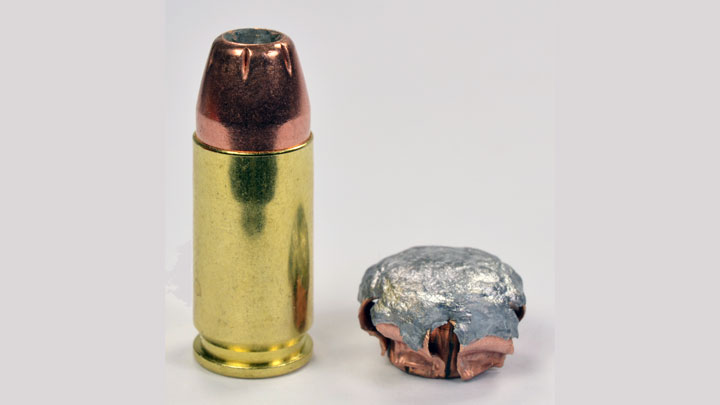 If you've heard of Doug Koenig, you know he's one of the winningest competitive shooters in the U.S. If you haven't heard of Doug Koenig, now you have. Koenig is a champion shooter with an impressive resume of wins. He has won the Bianchi Cup Championship an astounding 18 times. And that's just the tip of the iceberg for his list of winnings, which add up to more than 70 National and World Championships. You don't get that record of winning without lots of skill, lots of practice, and accurate ammunition.
Koenig's match winning ammo is now available to consumers. Doug has his own line of competition ammunition in 9 mm Luger and .38 Super. Both rounds use 110-grain JHP bullets. In addition, Koenig's ammo line includes a defense round in both calibers.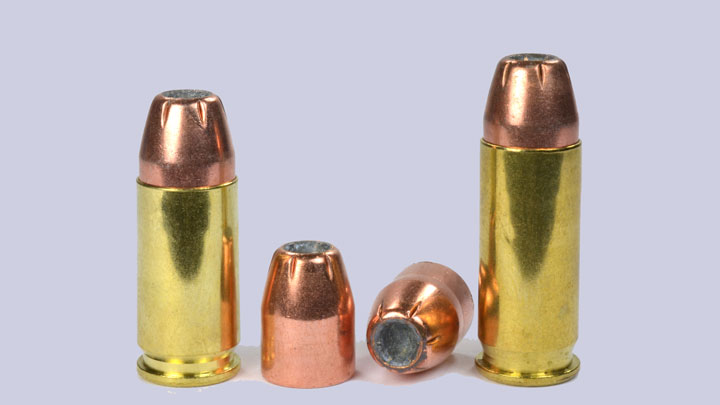 Why a 110-grain bullet? That weight is common for .38/.357-caliber revolver bullets, but nearly unheard of in a semi-auto 9 mm/.38 caliber. Doug has had very good accuracy in his .38 Super pistol with 110-grain revolver bullets, and it's hard to argue with success. If you're working up an accurate load, and you find something that works, that's what you use regardless of whether it's a bullet traditionally used in your caliber or not. That's the story here.
I picked some up to try out. Both the 9 mm and .38 Super use the same .355-inch bullets. The 9 mm ammo measured 1.064 inches overall length, and the .38 Super measured 1.200 inches overall length. The powder charge of the competition ammo weighed 5.4 grains for both calibers. The one 9 mm bullet I pulled weighed was 110.2 grains. The one .38 Super bullet I pulled weighed was 109.8 grains. To my eye, the bullets look like Hornady's 110-grain .357 bullet, except without the cannelure. The .38 Super ammunition uses traditional semi-rimmed cases.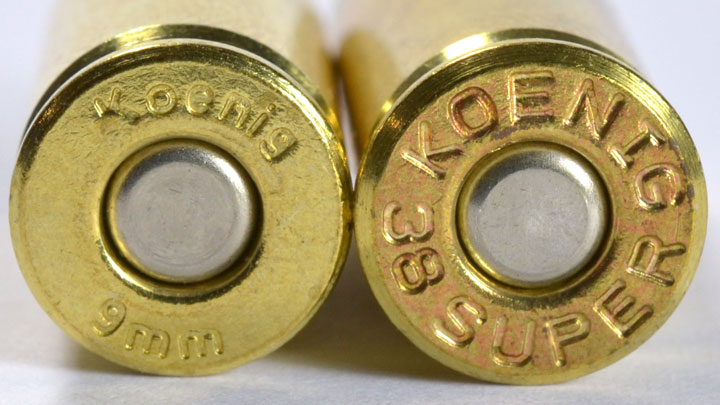 Accuracy was tested in a hybrid wide body Para Ordnance frame with a Caspian slide and 5-inch Kart barrels (1:16-inch twist). I use the 9 mm Luger and .38 Super barrels in the same gun. The gun was mounted in a Ransom Rest and fired at 25 yards for accuracy.
All the rounds proved to be very accurate. The 9 mm Luger competition load averaged 1,225 fps from my 5-inch barrel. Average five-shot group size was 1.24 inches. The aggregate 25-shot group measured 2.09 inches wide. The .38 Super competition load averaged 1,178 fps, and five-shot groups averaged 1.29 inches. The aggregate .38 Super 25-shot group measured 2.37 inches. My gun is not a match-grade gun and I expect better built guns would produce better groups.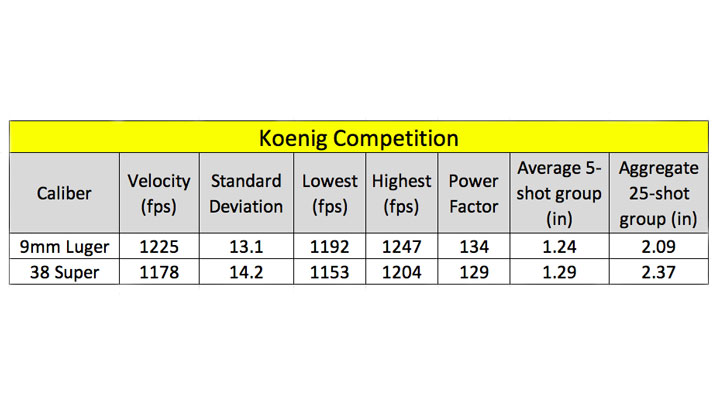 Koenig's defense ammunition also proved accurate. An eight-shot group of the 9 mm load was only 1.38 inches. A 10-shot group with the .38 Super ammo was 2.70 inches. The defense ammo was a little over 100 fps faster than the competition ammo. The 9 mm defense load clocked at 1,332 fps from my 5-inch barrel. Velocity of this round was also recorded in a Smith & Wesson M&P9 with a 4-inch barrel because many defensive 9 mm pistols have shorter barrels. It clocked at 1,281 fps from the 4-inch barrel. That's still a lot of speed, and produces 401 foot pounds of muzzle energy. The speed of the defense .38 Super round was 1,292 fps. All ammo fed, extracted and ejected flawlessly.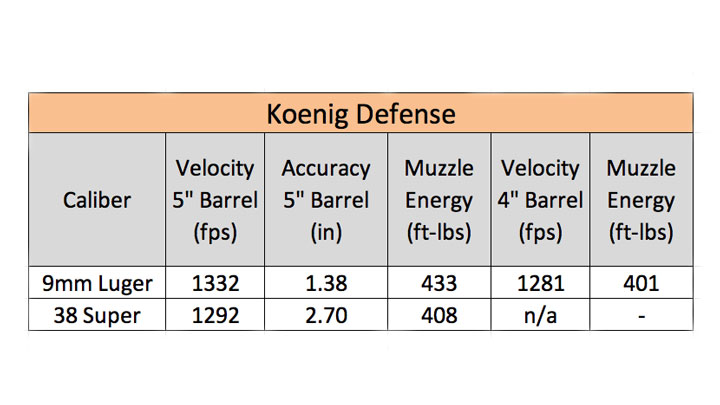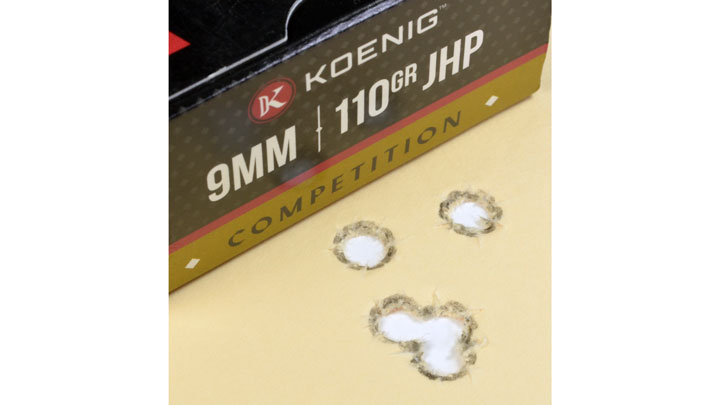 Both of the competition loads make Minor power factor. The 9 mm produced a 134 power factor from my 5-inch barrel, and the .38 Super produced a 129 power factor from the same barrel length. Some competitors will be using 9 mm pistols with shorter barrels, for example in Production division. The 9 mm competition round produced 131 power factor from my 4-inch M&P barrel. Every barrel is different, so it would be useful to chronograph it from your gun to make sure it meets your needs if you are competing in a sport with a required minimum power factor.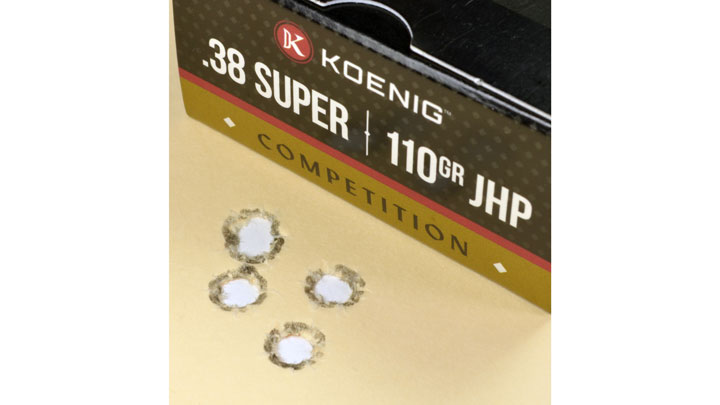 A 110-grain bullet can also work for defense, its merit defined by its terminal performance. Bullet expansion and penetration of the defense load was examined by shooting 6-inch wide water jugs. A 9 mm round going 1,271 fps from a 4-inch barrel penetrated into the third jug, leaving a dent in the back. This is average penetration for most handgun hollow point rounds, the range of which runs from two to four jugs of penetration in my tests, but ballistic gel would be required for a more reliable indication of terminal performance. Its expanded diameter was .560 inches at its widest. It weighed 102.1 grains, and there was no core/jacket separation. 
Accurate ammunition is required by competitors and desired by non-competitors. Koenig's competition ammunition was very accurate in my gun, makes a 125 power factor for sports that require it, and ran reliably.
Koenig's defense ammo was faster than their competition counterparts, producing more energy. This ammo was also accurate and reliable feeding, and if you're looking for a high-speed defensive round, the 9 mm version qualifies. The .38 Super version is a little slow for its caliber, where speeds could be much higher with this bullet weight, so it comes out about the same as a 9 mm Luger. As a consequence, it has less recoil than many self-defense .38 Super rounds which might be desirable for some individuals. 
Some .38 Super competition shooters, especially those running double stack pistols, use rimless .38 Super Comp brass in their guns for the best feeding reliability. We'll have to stay tuned to see if Doug offers the .38 Super in rimless case in the future.
Koenig's 9 mm competition ammo retails for $29.99 per 50 rounds, and the .38 Super is priced at $33.99 per 50 rounds. The 9 mm defense ammo retails for $19.99 per 20 rounds, and the .38 Super defense is priced at $20.99 per 20 rounds. You can buy it at Atlanta Arms in Covington, Georgia (770-788-5200). Their website is atlantaarms.com.