by
Shooting Illustrated Staff
posted on March 21, 2020
Support NRA Shooting Illustrated
DONATE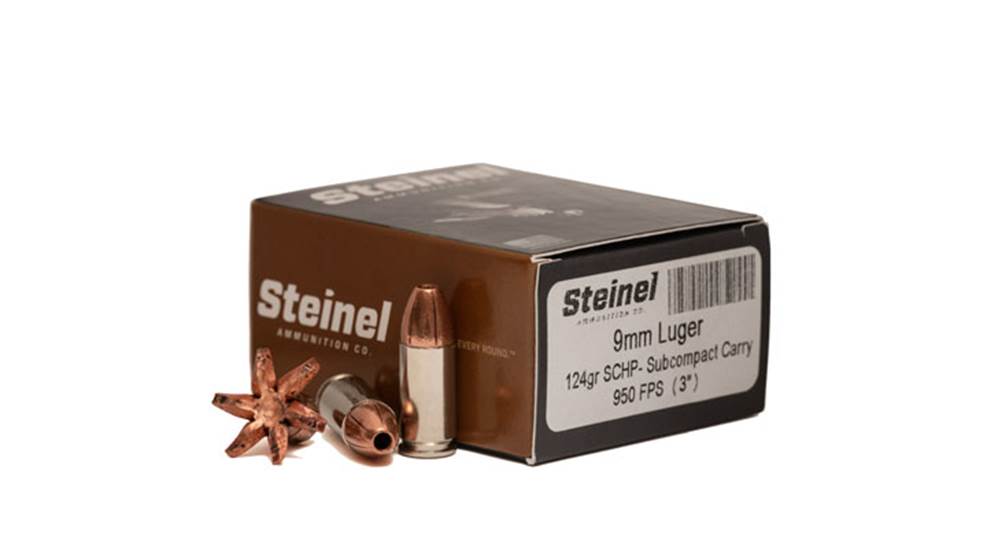 Steinel Ammunition Company is known for creating rounds for hard-to-source, hard-to-find ammunition for military surplus, as well as creating premium hunting and target ammunition. Now the company has designed a new 124-grain Solid Copper Hollow Point (SCHP) in 9 mm for everyday defensive carry use in subcompact pistols.

"This 9 mm Subcompact Carry round is our first mainstream round we've added to our product line-up," Andy Steinel, president of the company, explained. "Although we have come to be known for our premium military surplus rounds, we figured, even though we all love to go to the range and shoot these amazing classic firearms, we also carry defensive firearms every day. So why shouldn't we have the same quality ammunition in our EDC as we do in our fine military collectibles?"

The Steinel 9 mm Subcompact Carry load is perfectly suited for any 9 mm firearm, regardless of barrel length. However, its performance is optimized for the shorter barrels in subcompact and compact-sized pistols. The new premium SCHP bullet takes the standard cup-and-core design and pairs it with modern CNC and EDM technology to produce a premium SCHP bullet designed for defensive carry.

Steinel Ammunition's 9 mm Subcompact Carry bullets are made from premium individual components like Maker Solid Copper Hollow Point bullets with new nickel-plated casings from Starline along with Hodgdon powder and CCI primers. This combination of components allows the bullets to expand to a diameter of 0.706 inches when fired from a 3-inch barrel at 960 FPS. When fired from a 4.7-inch barrel, the SCHP bullet in the round expanded to a diameter of .857 inches with 1,050 FPS velocity.

The new 9 mm 124-grain Subcompact Carry SCHP round from Steinel Ammunition has an MSRP of $19.99 for a box of 20 rounds and more information is available at steinelammo.com.