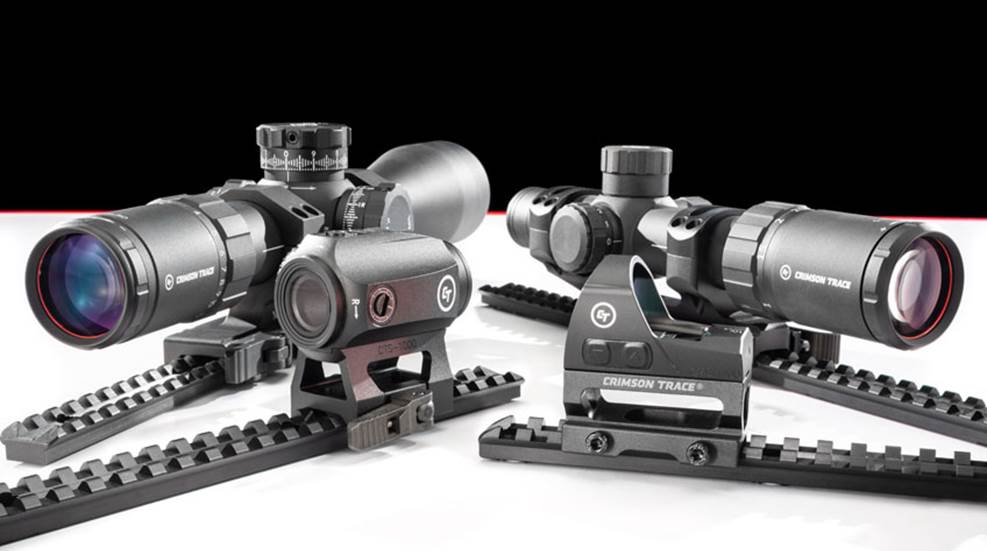 In the early 1990s, laser sights were considered mostly a gimmick. Out in Oregon, a man named Lew Danielson was of a different opinion. A shooter who operated a high-tech tooling company, Danielson became interested in handgun lasers and was smart enough to recognize their potential. He and several others started a company called Crimson Trace, and in 1994 began offering a custom laser conversion for Glock handguns. The company has become a force to be reckoned with in the firearm industry, and to the surprise of many, has now entered the optics market.
Danielson—now retired—made his vision a reality. Not only did he bring reliable laser sights into existence, he also changed people's perception of lasers from an accessory to a necessity. The question to be answered now is whether Crimson Trace can move the needle in the world of optics the way it did with lasers. They face strong competition, but with a complete-focus mindset, the company is dedicated to offering a full spectrum of products that, as it advertises, will take the miracle of human eyesight to even greater levels of higher performance.
I've used Crimson Trace lasers for many years and have even offered them as a best alternative when it comes to target-focus shooting. Anxious to see if Crimson Trace did its homework and brought the same level of manufacturing excellence to the company's new and comprehensive line of optics, I had an opportunity to check them out. I spent a few weeks working with several examples of the new product line at Gunsite Academy. Here's an overview of what I got to try:


CTS-1000 Red-Dot Sight
Those who run tactical carbines will be excited about the Crimson Trace CTS-1000. I mounted it on a Mossberg MMR and put several hundred rounds through the rifle before I headed to Gunsite. While there, I shot it a lot more. This is a wonderfully compact, 1X red-dot sight that weighs only 5.9 ounces. It has 10 illumination settings, runs off a single CR2032 battery and has an incredible nine-year battery life.
The CTS-1000 also comes with a pre-installed, quick-release Picatinny rail mount, configured at the proper height to ideally align your eye behind the center of the sight when mounted on an AR-15-style carbine. Like with the company's CTS-1400 (more on this sight follows), it has 100 MOA of adjustment in 1-MOA increments. The 2-MOA dot is just about the ideal size for close-quarters and intermediate-range engagements, and this sight should be perfect for tactical applications. It won't set you back a full paycheck—suggested retail is $299.


CTS-1400 Reflex Sight
I got to run this sight on a shotgun, but the real testing occurred when I returned home and mounted it on one of the new Steyr Scout Rifles in 6.5 Creedmoor. Yes, I know, a red dot mounted to a rifle chambered for such a long-range-capable cartridge seems foolish. However, keep in mind the mission of a scout rifle—it is intended to be the one rifle you can use to solve almost any problem. I wanted to see two things: First, how it worked for snap shooting, and second, if the included mount would ensure a return to zero.
The sight worked well for snap shooting, though I must admit I prefer a scout scope on a scout rifle. That's a personal preference, but a matter of fact was how well the sight returned to zero. Granted, we're dealing with a 3.25-MOA aiming point, but I could not discern any shift in point-of-aim or point-of-impact after removing and reinstalling the sight multiple times.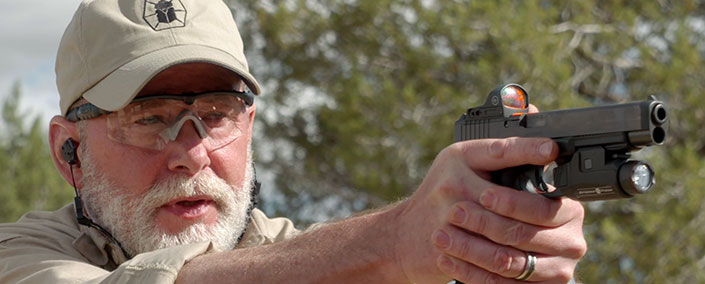 The CTS-1400 has a wide field-of-view; the sight window is almost 1.25 inches wide. It operates off a CR2032 battery—all Crimson Trace Electro-Optics have a "Batteries-for-Life guarantee"—measures 2.3 inches long, 1.5 inches wide and 1.6 inches tall. It has a range of adjustment of 100 MOA in 1-MOA increments, and is only a light 2.9 ounces. An optional high-rise mount is available to replace the low-mount base included. Suggested retail is $499.


CTL-5108, 1-8x28 mm Riflescope
If I had to pick my favorite new optical sight from Crimson Trace, this would be it. This is partly because my mind mostly operates in the general-purpose arena; I don't get lip-quivering excited about specialty tools. For the majority of shooting done by most rifle shooters, a magnification range of 1-8X is about optimum. It allows for fast and dynamic close-quarters work, and will permit reach out to about the marksmanship limit of most long-distance rifle shooters. The CTL-5108 riflescope is an example of an optimally designed, general-purpose optical sight.
Because of its 34 mm tube, this is not a lightweight optic; it tips the scales at 24 ounces. But, it's not overly large. The scope measures only 10.9 inches long. Its first-focal-plane reticle might seem a bit odd for one with a low-end magnification of only 1X, but the unique SR1-MIL reticle helps with that. At 1X, you have a large, illuminated circle that surrounds the three-prong, mil-graduated reticle at center. Up close, you simply place that big, red circle on the target and squeeze the trigger. As you increase the magnification, that circle disappears and the mil-graduated aiming point in the middle increases in size to allow for precise shots at moderate distance, or for calculated precision shots at extended range. It's a great reticle design, and I suspect the more familiar you get with it, the more you'll like it.

The CTL-5108 is loaded with high-end features, and the first you might notice are the self-leveling indicator lines that run longitudinally, fore and aft of the adjustment saddle. These are there to help you get off to the right start when leveling the scope in the rings. No, they won't allow exact leveling, but they will get you pretty close.
It's built with high-quality, fully multi-coated ED glass, a single-piece tube and is fully waterproof, fogproof, vibration-proof, recoil-proof and has been nitrogen purged. Eye relief is set at 3.5 inches, and there are 35 mil of elevation and windage adjustment in .2-mil increments. Field-of-view at 1X is 105 feet at 100 yards. It is a fantastic sight for tactical applications, 3-gun competition and for hunting coyotes, feral hogs and most non-dangerous game. With all these features, at $1,400 it actually seems a bit underpriced.


CTL-5318, 3-18x50 mm Riflescope
I only got to fondle this riflescope for a short time, but while using a similar Crimson Trace MOA-based CSA-2416 riflescope, I worked with Gunsite Instructor Corey Trapp and whacked a few steel plates out past 500 yards. The view was clear and crisp, and the adjustments and illuminated MR1-MOA reticle were spot on and responsive. However, when I returned home, I had to review one of the new Sauer 100 rifles in 6.5 PRC, so I mounted the CTL-5318 riflescope on it. I zeroed the rifle with three shots, and the next day entered a local 300-yard benchrest match.
Like all new Crimson Trace riflescopes, the CTL-5318 has the leveling reference marks on the main tube, is a first-focal-plane scope and is built with premium, fully multi-coated, Japanese ED glass. The CTL-5318's MR1-MIL reticle—which has 11 day- and three night-illumination settings—is glass etched and is as crisp to the eye as a cold wind. The turrets are exposed and incorporate a zero stop, and there's also a second-rotation indicator. The eyebox is large, and the scope has a European-style focus allowing for fast and easy tuning while in the field. It's built on a single-piece, 30 mm, anodized-aluminum tube and is waterproof, fogproof, nitrogen purged and O-ring sealed. Lens coatings also help resist scratches, oil and debris.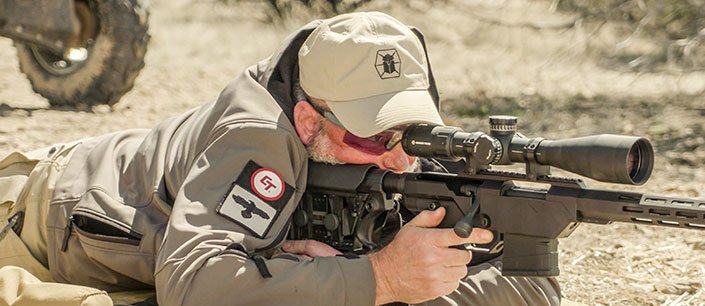 The CTL-5318 weighs 30 ounces, measures 14 inches long and has 40 mil of elevation and 20 mil of windage adjustment delivered in .1-mil (10 mil-per-rotation) increments. This is a high-end optical instrument and is priced accordingly—suggested retail is $1,799. Based on my experience, you'll get your money's worth. The scope helped me to get a second-place finish in that benchrest match.
I was impressed with every new Crimson Trace optical device I had the chance to work with, which was only a handful of the 17 models the company is offering in its initial foray into the optics world. Yeah, I messed with some of the others, just not enough to offer a firm opinion. However, given the quality of the optics I did use, I cannot imagine anything in the line will disappoint.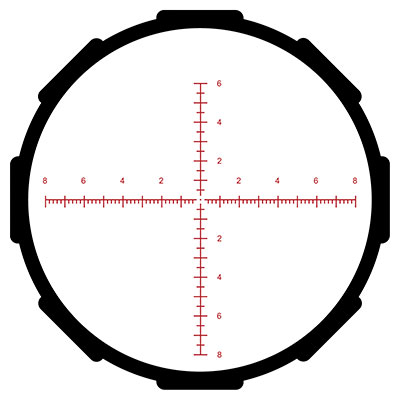 New optics companies seem to materialize out of thin air all the time. Many just want a small piece of the big retail pie. Crimson Trace has entered the arena with a carefully crafted plan to offer optical sighting solutions for any situation a shooter might face. This is just the beginning of a new chapter for the company, and it has clearly stepped out yards ahead of some that have been operating in this market for a long time.
My only reservation with the new line of Crimson Trace optical sights would be the lack of second-focal-plane options. But, I have a feeling this is just the beginning of a lot more to come from the company that in 1994 changed the world of firearms by the induction of a red beam and a little bit of electricity. The future looks bright for Crimson Trace Electro-Optics. The company clearly has complete focus of where it wants to go in the optics marketplace.