Hang around the firearm industry long enough, and you'll see products you never thought you needed. Some of them you really don't need after all–total duds, even though they looked like a good idea at first. Others look intriguing, but you can't see how you'll use them. And then there are the few "oddballs" that end up being some of the best purchases you ever made, right up there with fiber-optic sights and a lighter trigger.

When Clinger Holsters sent me its V3 No Print Wonder, I wasn't sure at first what to do with it. Right out of the package, it looked…odd. The design is a smorgasbord of Kydex, leather and steel that almost looks like a prototype that is clearly still in need of some tweaking that will come later as the engineers figure out which one material will work the best for the entire holster.

Not that I haven't seen or used hybrid holsters before. I own my fair share of rigs from CrossBreed and other companies that mix and match materials, but the way Clinger "frankensteined" this holster together seemed a bit over the top. That is, until I played with it a little and read the directions. Yes, I'm one of those guys who actually reads the directions every once in a while, just to throw everyone off.

And it's a good thing I did, because I learned that this holster is way more than a standard inside-the-waistband rig. It's three versatile holsters in one. The core of the holster is a taco-style Kydex shell that wraps the gun and triggerguard safely in a hard-sided enclosure. Metal belt clips attach one soft leather wing and one hard Kydex wing. It wasn't until I put it on that I discovered how well these two densities worked together. The front, soft cow skin allows for easy installation on the belt, while the stiffer rear wing acts like a claw to push the pistol's grip closer to the body–thus the "no print" in the name.

But this is no one-trick pony (although it's an impressive first trick). For the next act, you can remove the clips, flip the holster over and attach the screws on the other side of the leather wings to make–drum roll, please–an outside-the-waistband holster! While this may not be a pure OWB because the clips are designed to work best as an IWB, it brings the gun close to your body and holds it firmly as you move around. And the conversion process is super simple. You just need a screwdriver.

As the old commercial said, "But wait! There's more!" The Clinger V3 No Print Wonder has two more tricks up its Kydex sleeve. The first is that the entire holster–either as IWB or OWB–can be flipped around for either righties or lefties by simple repositioning the screws and leather wings on the other side of the taco shell. Holes are pre-drilled for easy conversion.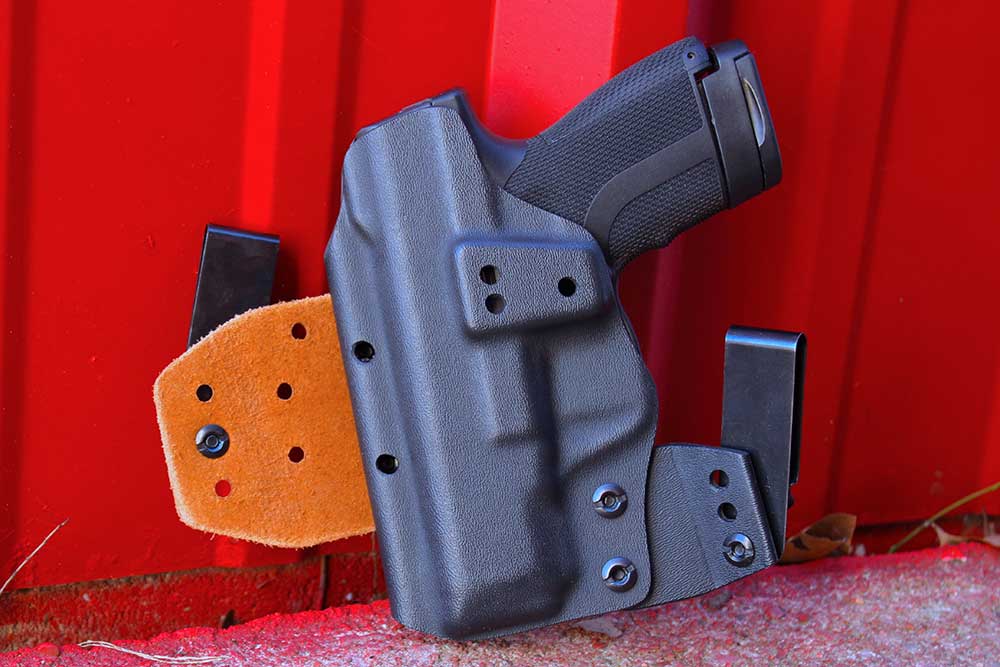 The fourth and final act for the No Print Wonder is that it becomes an entirely different holster by removing the wings and installing the optional belt clip ($7 extra) to convert to either a single point strong side holster or appendix carry, with holes drilled for flat or 15-degree cant. Clinger also sells this version by itself as the Stingray.

Two retention screws live just below the trigger guard, making adjustment easy and convenient, no matter the configuration. The cant is also adjustable by moving the clips on both front and back wings.

I wore the holster for several weeks as my EDC IWB and found it extremely comfortable and easy to install and remove. Of course, any two-clip holster requires a bit more work to get in and out of the waistband, but the clips slid easily over my leather gun belt and felt secure all day. Drawing and reholstering were easy and didn't require me to adjust my draw stroke at all.

At an MSRP of $49 ($56 with the optional single point belt clip), the Clinger V3 No Print Wonder is really three holsters in one–kind of a buy-one-get-two-free special. It's well worth the minimal investment for a top-quality Kydex, leather and steel hybrid.