I know, I know. AKs don't need optics. AKs aren't accurate enough for optics. Why spend more on an optic and mount than you spend on the rifle? Any time the idea of putting optics on an AK-47-style rifle comes up, there's a host of naysayers and doubting Thomases.
Well, for starters, not all shooters have perfect eyesight, and for shooting at distances beyond across-the-room lengths, having some sort of magnified optic really helps. Not all AKs are so inaccurate they won't benefit from some sort of assistance. And, in general, you want to spend at least as much on the optic as on the rifle itself, really more when it comes to long-range pursuits. Of course, if you've got a standard 7.62x39 mm AK, you're not likely to be taking 1,000-yard shots, right? Well, at 4X maximum magnification, you're unlikely to be using the scope at that distance anyway, but it should help all but the most eagle-eyed shooters at 100 yards.


One of the biggest selling points for the AK-47-style rifle is robustness. While accuracy might not match the AR-15-pattern rifle, few would argue the AR is tougher than the AK. It follows logically, then, that any optic under consideration should be equally robust, and this scope certainly qualifies. It is waterproof (3 feet for 1 minute), fogproof (from -20 to 140 degrees Fahrenheit) and shockproof, and while we wouldn't recommend pounding nails with it, you could. If your goal is to put together a rock-solid platform built to withstand nearly anything life can throw at it, this is a great choice of scope for that end.
When it comes to features, you might be tempted to think this is an area where a lower-price optic might suffer—and you'd be incorrect. The AK Optics 1-4x24 mm scope offers all the goodies you'd expect of a more-expensive riflescope: illuminated reticle, subtensions for longer range, a 30 mm main-tube diameter for greater light transmission and a textured magnification ring for rapid adjustments. Bushnell didn't dial back on extras when producing this scope.
The reticle itself is worth a quick look. Specific to the 7.62x39 mm round, there are three chevrons that correspond to known distances (and the bottom post brings the total subtensions to four). The chevrons and the center dot can be illuminated for faster acquisition, with 11 levels of brightness. Battery life is 50 hours continuous for the highest setting and 150 hours for the lowest, but even if you leave the power on, don't despair—there's a spare battery in one of the turret caps (and you can always use the reticle without power).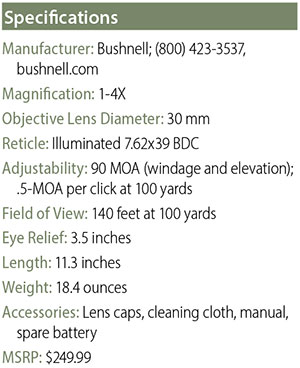 There are really two main questions to ask of a scope on the range. First, does it attain and retain zero, and second, are adjustments repeatable? The easiest way to answer both questions is to shoot a "box" or "square" drill—by changing windage and elevation by the same amount of clicks, fire a group in one section of a target, then move, predictably, in a square. If, for example, a group is fired dead-center, elevation changes that move point-of-impact (POI) up 6 inches, then windage changes move POI 6 inches to the right, using the same number of changes to bring elevation down and windage left should result in the last group fired sitting directly on top of the first.
The Bushnell AK 1-4x24 mm scope was installed on a VEPR in .308 Win. for testing (I happen to own one with a side mount) and zeroed on Shooting Illustrated's 50-yard range. With the large, tactile windage and elevation knobs, making changes to center the reticle were quite simple (apart from the confounding math resulting from breaking MOA clicks down at 50 yards rather than 100…). Once zeroed, the aforementioned "square" drill was performed satisfactorily, confirming the repeatability of the scope's windage and elevation adjustments.
Whether you've got a customized AK you'd like to shoot at distance, or simply want greater range on your go-to rifle, Bushnell's 1-4x24 mm AK Optics scope is a fine choice. A reasonable price, illuminated reticle and robust nature make it attractive for many reasons. And, most importantly of all, it just plain works. You just can't argue with that.