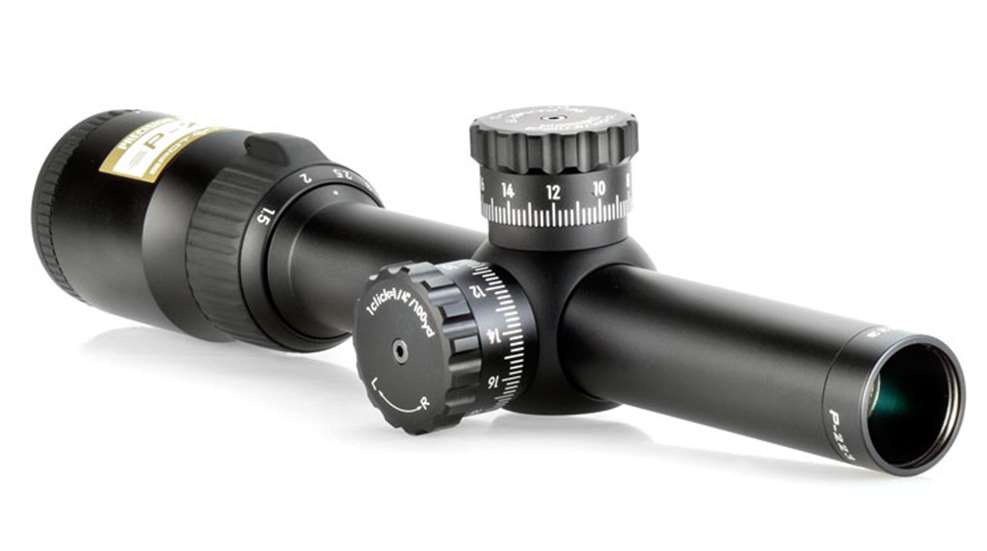 I'll admit it. I've fallen into the "optic trap." There are more than a couple of, well, let's just call them lapses in judgment in my ol' pile of no-longer-used optics. Oh, sure, when you're looking to equip a new rifle with glass, but you don't want to spend a small fortune, those optics sure look appealing, with their MSRPs in the double digits and such. Then you put them on your shiny new rifle, take them to the range to sight them in, and realize why they were selling for such low prices.

With scopes like the Nikon P-223, though, there's simply no reason to fall into this trap any longer. For not much more than a bargain-basement scope, you can equip your rifle with a quality optic from a company known for good glass. There's no need to put up with poor light transmission in a scope that just won't hold zero when, for only slightly more money, there are much better options.
The P-223 line from Nikon is, obviously, aimed at the AR-15-family of rifles, with Ballistic Drop Compensation (BDC) reticles designed for common .223 Rem. loads. The P-223 scope reviewed here came calibrated for use with 55-grain, polymer-tip projectiles, and has open circles that correlate with 200-, 300-, 400-, 500- and 600-yard distances when zeroed at 100 yards. It's a useful aiming system for holdovers, but for a 1.5-4.5X scope, something faster—like an open circle—should be part of the reticle.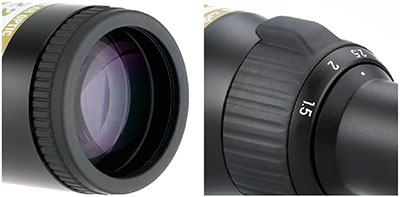 Everything else about the P-223 scope was exemplary, though. From mounting (using a Nikon M-223XR mount) to zeroing, the entire process was about as painless as it could be. Rough-sighting the scope alignment through the bore at about 5 yards gave a point-of-impact low and slightly left at 50 yards and required minimal adjustment. Had I been more inclined to do the math, it would have taken fewer rounds to dial the scope in—hardly a fault of the P-223, mind you—but even with less-rigorous attention to mathematics, dialing the Nikon in was simple.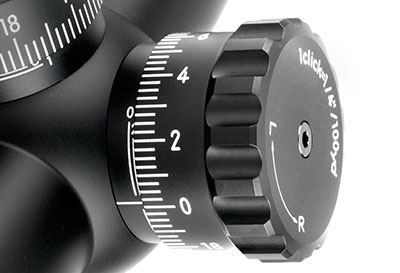 Making adjustments on the exposed turrets proved to be an exercise in easy. Both windage and elevation have clean, clear marks indicated, with 1 click translating to .25-inch at 100 yards (roughly quarter-MOA; I reiterate my point about attention to mathematics). With duplicate shots at each adjustment, the scope was calibrated to dead-center within eight rounds, which was four rounds (two adjustments) too many, had I been paying attention to converting the 100-yard shift to 50-yard. Suffice it to say, the turrets and scope were spot-on, regardless of how one approaches quasi-complex calculations.
Once dialed in, the P-223 did everything it was expected to, with no surprises. Running a simple box drill (center, then shift POI up, right, down and finally left to match up with the initial rounds on target), the adjustments are spot-on and repeatable. If you're a shooter who prefers to dial the elevation when shooting at different distances, the P-223 will change quickly and easily. Here's the best part—the turrets have an adjustable cap that can be set to zero at a given distance, then changed at will. If you zero at 100 yards, set the turrets to zero, then change your zero to 200 yards. All you need to do to return your zero back to 100 is dial the elevation back to the zero mark. It sounds harder than it is, and it sounds easy.
Changing magnification is also simple, with an oversize, rubberized power ring allowing fast transition between settings. Fine focusing is accomplished with the same type of ring on the eyepiece, although no adjustment was needed in testing. 
If you're in the market for a fast-handling, low-magnification scope with crystal-clear glass and a price point that won't break the bank, the Nikon P-223 fits those criteria well. Whether you're looking for an optic to get you started in 3-gun competition or to top a carbine for some long-range assistance, the P-223 1.5-4.5x20 mm is a great option, all at a price far less than a case of ammunition.