Before you scream, "Not another article about the 1911!" understand the
Browning
1911-22 Compact isn't just another 1911.Yeah, you've heard that before, but honestly, this one isn't. It is about as unique as 1911s get. Even if you're not a 1911 disciple, this pistol is special. Coming into 2011, every firearm manufacturer building 1911s was looking for a distinctive way to celebrate the pistol's 100th anniversary. Even some companies that did not regularly produce variations of "Old Slabsides" contemplated participating in the centennial. This included Browning, and rightly so. After all, the company is named after the man who created the pistol.
A decision was made to take a different route and employ some proportional design techniques similar to what John Browning did when he designed the .380 ACP cartridge. Proportionally speaking, the .380 ACP is 78 percent of the size of the .45 ACP cartridge—in practically every dimension. As a result, Browning's answer to the 1911 anniversary was a baby 1911, 85 percent the size of a full-size 1911. And that's not all. The company decided to chamber the new diminutive pistol in .22 LR, resulting in the 
Browning 1911-22 Compact.
This project began in 2008, and I was lucky enough to test one of the first Browning 1911-22s when it was introduced in 2011. It was a very cool little gun (except its trigger, which was deplorable). I almost bought it, but was told a Commander-size version was in the works. Being the Commander devotee I am, I decided to wait, and I'm glad I did. After several months and more than 500 rounds, the 1911-22 Compact has become one of my favorites, and the trigger breaks crisply at 3.75 pounds.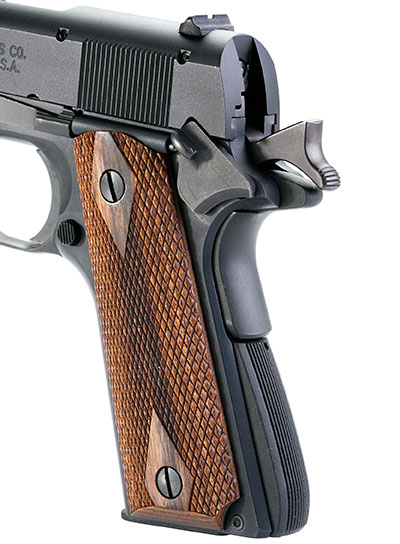 The
Browning 1911-22 Compact 
pistol's slide and frame are aluminum, along with some steel parts like the barrel and magazine, springs and other internals. A steel breechblock is pinned inside the rear of the slide. The pistol fieldstrips just like a 1911, and it is operationally, cosmetically and proportionally identical to a Commander-size 1911 in nearly every aspect—right down to the hammer/sear angle. It might be the cutest truncated 1911 ever made, and the fact it only weighs 15 ounces is another plus. The major differences are size and the addition of a magazine-disconnect safety, which prevents the pistol from firing without the magazine inserted.
Sheriff Jim Wilson,
Gunsite Academy
 Instructor Il Ling New, Dave Starin and I pushed 200 rounds through the
Browning 1911-22 Compact
. The only problems occurred when Starin allowed his thumb to apply slight pressure against the slide, which caused a malfunction, and again when New failed to fully depress the grip safety. Not to blame the Gunsite instructors, but these were operator-induced stoppages. Still, they need to be noted, because some shooters prefer to ride the slide with their thumb, and some might find the diminutive grip safety difficult to depress fully without conscious thought.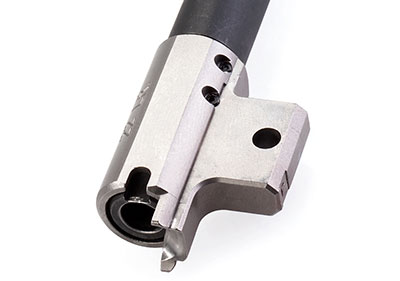 Back at home, I ran another 300 rounds through the
Browning 1911-22 Compact
—125 during accuracy testing and the rest while testing a variety of loads for reliability. Three of 13 loads would not cycle the action: the 33-grain
Remington
CB-22, the 40-grain
CCI
Quiet-22 (both operate in the 700 fps velocity range) and the 31-grain CCI Shotshell. The other 10 loads tested functioned flawlessly through the pistol and yielded muzzle velocities ranging from less than 800 fps to nearly 1,200 fps.
Even though the shotshell load wouldn't cycle the action, it performed great on target. Patterns from the
Browning 1911-22 Compact
at distances of 6 and 7 feet averaged roughly 5 inches with a predominate amount of shot contained in the center of the target. On average, 30 pellets were contained within a 1.5-inch center cluster. This load makes the little Browning great for the trail where venomous reptiles live.
As for accuracy, at 21 yards from a rest, the
Browning 1911-22 Compact
averaged a bit more than 2-inch groups across five different loads—not bad considering this involved the firing of 25, five-shot groups. It's also comparable to what I've found to be the average accuracy for duty guns when fired from a rest at 25 yards. Why did I test at 21 yards? Well, 21 yards is 85 percent of 25 yards, which is the distance we usually test duty-size handguns like a 1911 Commander.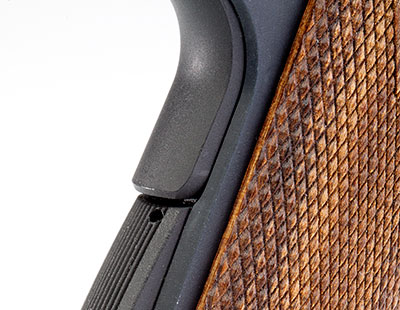 Complaints? I've got two.
First, the sights. Though proportional in size for the 
Browning 1911-22 Compact, which
 represents a 15-percent size reduction, they are small. If you have normal vision this shouldn't be a concern; however, if you have aging eyes like me, you might struggle. The front sight is only about 0.1 inch high and wide, and the rear notch is slightly less. Since I'm buying this pistol, I plan on painting the front sight and making the rear notch wider and deeper.
My second complaint has nothing to do with the
Browning 1911-22 Compact
and everything to do with holsters.
Browning
should have worked with a company like
Galco
prior to the 1911-22 Compact's introduction to ensure the availability of holsters. Though none are currently being mass produced, I discovered holsters for the Colt Mustang or SIG Sauer P238 will work, but they're just a tad short. So, I contacted Mike Barranti of
Barranti Leather
, and he made two fine leather holsters for me. If you pick one of these pistols up, call Barranti for sure.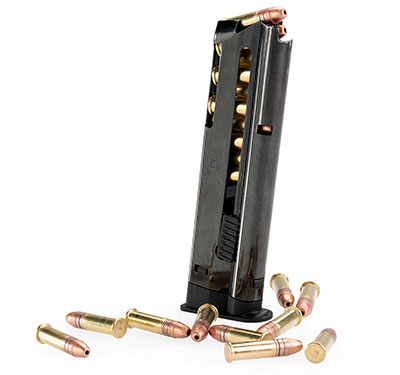 But why might you want one? I can think of several reasons: It makes a great around-the-barn gun that can be used on vermin and snakes. It could also be used on small game. Plus, it's a perfect training platform for any new shooter or youngster looking to carry or shoot a 1911. Most importantly, this little pistol is a lot of fun to shoot.
In fact, the 
Browning 1911-22 Compact
might be the most fun pistol I own, and I've been carrying it around the range here at Shadowland every day. I know it'll be with me when I head to the field, too. That sounds just like a 1911 to me, so maybe I was wrong and this is just another one of the greatest pistols ever made.