In the beginning, there was the 1911—a 5-inch-barreled, semi-automatic pistol weighing 39 ounces. It operated in the single-action-only mode, had a lever that locked the slide and its magazine held seven rounds of .45 ACP ammo. Next came the Commander, essentially the same pistol but with a 4.25-inch barrel. And finally, there was the Officer's model. It had an even shorter barrel and shorter grip. Nighthawk Custom felt a marriage of these three handguns would produce the ultimate personal-protection pistol, and the company calls this creation the T3.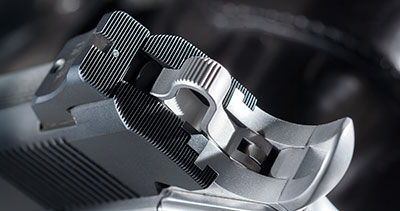 The T3 is built with a Commander-length barrel and slide, but with a grip-size like an Officer's model. This is a steel pistol weighing 39 ounces with a fully loaded, seven-round magazine inserted. Some find the shorter Officer's model grip uncomfortable where the bottom interfaces with the meaty part of the hand. To correct this, Nighthawk installed a uniquely contoured mag well on the T3, which looks cool, fosters faster reloading and increases grip length by about .22 inch.
The standard T3 comes in two finishes: carbon or stainless steel. The carbon-steel version has a black Nitride finish, and the stainless model is hand-polished to a velvety sheen. Heinie SlantPro Straight Eight night sights are standard on both models. These are high-profile sights with a tritium-dot front sight and a single, centered tritium dot in the rear sight. The non-snagging rear sight has a wide notch and the sights are easy to see in any light.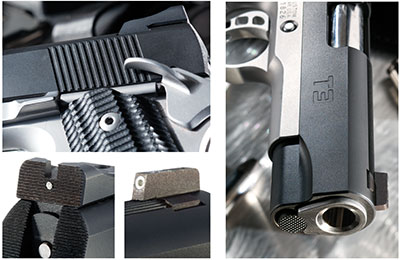 Expertly executed horizontal serrations on the rear of the slide are also standard at 40 lpi. The mainspring housing has the same checkering treatment. While the rear slide serrations are mostly an aesthetic augmentation, the serrations on the mainspring housing provided a tactile surface without that sharp-checkering bite. For high-volume shooting, you'll appreciate this not-so-common approach. It's also less abusive than standard checkering to the lining of cover garments.
Nighthawk claims the serrations on the top of the slide reduce glare. I once thought this a legitimate feature, but have since learned otherwise. I believe these to be mostly decorative. I also believe that—if executed properly—there's nothing wrong with some cosmetic enhancement on a 1911. The top slide serrations undeniably add a distinct look to the T3, and given that they're impeccably executed and do not detract from operation, let's call them titillating and leave it at that.
Control wise, the T3 is fitted with a skeletonized Nighthawk trigger, which broke crisply at exactly 4 pounds. A sublimely contoured extended thumb safety, Nighthawk's dished and smoothed slide stop and an extended magazine release round out the buttons and switches. The T3 is also fitted with Nighthawk's extended grip safety, which has a raised section at the base to help with deactivation. An indicator of an impeccably built 1911 is how well the grip safety is fitted to the pistol. If, when depressed, you can feel any edges or corners, it's sinfully wrong and often an indication of the overall quality of the pistol. The T3's grip safety felt as though it was molded to the frame—it was plainly without sin.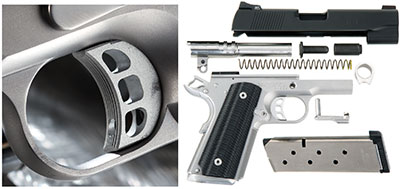 This smooth feel extends to the entire pistol. It is a carry/fighting pistol, and as such, there should be few sharp edges. There is only one on the T3 and it is appropriate. The single point of sharpness is, as it should be, the front sight, which needs to be sharp to enable it to be seen crisply and to allow for its aggressive use when ripping the pistol from the grasp of a bad guy wanting to take it from you. Apart from that, the T3 is as smooth as a baby's bottom—Nighthawk even recesses the slide-stop-pin hole on the right side of the frame and then bevels the frame around it.
Finally, the company cut and crowned the barrel to look as though the barrel and bushing are molded as a single, seamless unit. Does this do anything to help the pistol shoot better or be more reliable? It's doubtful. However, like the expert fitting of the grip safety and the perfection of the line work, it's yet another illustration of the acute attention to detail that goes into every millimeter of the Nighthawk T3.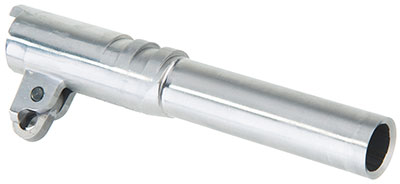 Looks, as they say, are not everything, which is undoubtedly why my wife agreed to marry me. She quipped, "It's what's on the inside that matters." And, while life is too short to carry an ugly gun, if you're going to trust your life to a pistol, the inner workings are what you should focus on. This is where many folks make mistakes when selecting a carry gun. They get caught up in appearances and disregard the operating system.
Your first indication the T3 is put together right can be felt and heard. When you retract the slide, it's almost inaudible, and its movement over the disconnect is nearly unperceivable. What does it feel like to operate the slide on the Nighthawk T3? Drag a homemade biscuit through warm molasses and you'll get the idea. For city folk who might not get this analogy, imagine the smoothness of hollandaise sauce dripping from a forkful of eggs Benedict.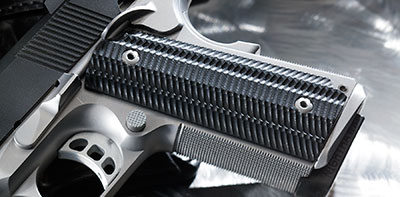 The silkiness of slide operation, in conjunction with Nighthawk's proprietary method of fitting the barrel to the slide and the slide to the frame, combine to allow you to feel something else. All similarly sized 1911s should recoil the same when shooting the same ammunition, right? That's what I thought, but it's not what I felt. When I shot the T3, which is slightly lighter and shorter than a full-size 1911, I expected slightly exaggerated recoil. Nope.
Perplexed, I asked Shawn Armstrong at Nighthawk if the company used stiffer springs to reduce felt recoil, and if so, how did the pistol still run flawlessly regardless of the ammo used? Armstrong grinned through all the hair on his face and said, "Barrel and slide and frame fit influence how a pistol unlocks. We have a way of doing it that enhances accuracy and reduces felt recoil. It is a secret." My hopes of solving the conundrum with a technical explanation lost, you'll just have to take my and Armstrong's word for it.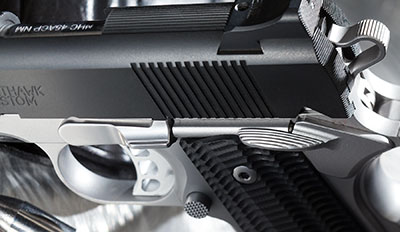 There's no question the Nighthawk T3 is a fine pistol. It is undeniably one of the finest I've held, fired or lusted after. Nighthawk is the only 1911 builder I know that uses only fully machined external and internal parts. The assembly of these parts by two skilled hands creates more of a masterpiece than a machine. I pushed 300 rounds through the T3 and my only complaint was that it costs more than I'm getting paid to write this article. Nighthawks are not cheap, but neither is a Bentley.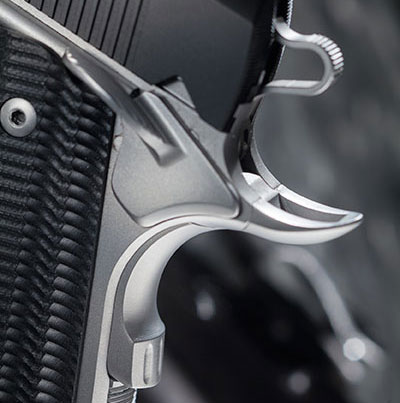 You may be wondering what, or more importantly, who Nighthawk is? That, as they say, is the rest of the story. There are three things you should know about Nighthawk Custom. First is where Nighthawk came from. Second, who is driving the bus and third, who builds these custom pistols.
Four equal partners teamed up to start Nighthawk in 2004. Two were former Wilson Combat employees—one was a salesman and another, Mark Stone, specialized in banking and business. Early on, Nighthawk struggled to get quality parts, develop its brand and get out from under Wilson Combat's shadow. Roadblocks were everywhere. The ATF was slow to issue proper licensing, suppliers were slow to send quality parts and cash flow was even slower. Soon, the original four partners dwindled to one. The remaining man in charge (Stone) believed in paying his bills on time, delivering what was promised and hiring good people. That business ethic kept the wheels on the bus, and though many thought Nighthawk would fold; the company hung on until it could establish a line of trust with suppliers, dealers and customers while delivering consistently accurate 1911s of unwavering quality.

Moving to the desired level of quality was a slow process, but the in-house production of high-quality machined parts made it happen. That helped attract new talent, and Nighthawk has since grown into a 17,000-square-foot facility with 48 employees.
Nighthawk Custom operates under the premise that it must build the best 1911s in the world and its customer relations must equal its pistols in every way. This mindset has propelled the company to the forefront of 1911 manufacturing. Part of this success comes from the humbleness and eagerness of Stone to learn all he can about 1911s and how a personal protection pistol might be used.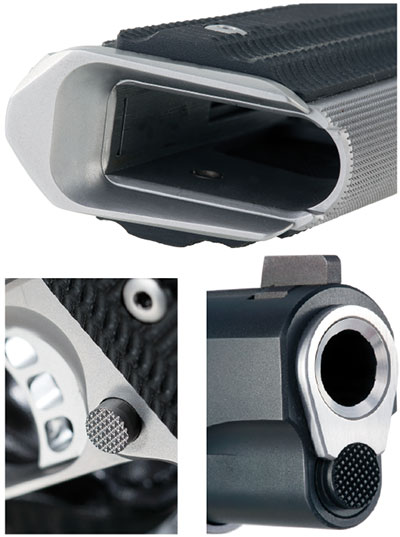 I spent four days at Gunsite with Stone and Armstrong shooting Nighthawk Custom pistols. Neither stood around with their hands in their pockets, bragging about their guns while watching me shoot them. They got on the line, paid attention and learned. Afterward, I asked if they'd absorbed anything to help them make better 1911s. They both agreed they had, and when I asked Stone what the most important thing he learned was, he said, "I learned I didn't know enough." Coming from a man who runs one of the most highly regarded custom 1911 shops in the word, this was a staggering surprise. Ultimately, it means that Nighthawk pistols will only get better.
In the meantime, you can order your own current example of protection-pistol perfection in the form of a Nighthawk T3. If you're not completely satisfied with the base package, just tell Nighthawk how you want it—the company is called Nighthawk Custom for a reason. After all, the notion of a truly perfect 1911 is, like the notion of the perfect anything, which is different for everyone.
Your 1911 will be right, and this is another thing you need to know: At Nighthawk, they operate on the premise of one man, one gun. Only two hands—a single pistolsmith—will work on your T3, no matter if it's the standard package or built to your specifications. If it's not right, it's not just Nighthawk's name on the line, it's that singular pistolsmith's, too. Just like you and me, that guy has a job, and he needs to keep it.