On paper, the Nighthawk Custom Ladyhawk 2.0 is an impressive gun. In our First Look shortly after the gun's announcement in January 2018, we noted both the expected high-end 1911 features packed into the pistol and its unique aesthetics.

With rose-gold TICN accents and eye-catching obsidian, abalone and zinc grips, the Ladyhawk 2.0 certainly has the looks to be a "girl gun," and it's an update to one of the original pistols built specifically for women. But does it hold up to the hype? Is it worth upgrading to the Ladyhawk 2.0 for daily carry? I got my hands on a Ladyhawk 2.0 in 9mm to see.

It arrived as all Nighthawk Custom guns do, in a signature green pistol case and complete with a test target, bushing wrench, and other goodies. The pistol itself comes in a soft bag, much like a fine pair of shoes. It's everything you need to head to the range except for a couple boxes of ammunition and your eye and ear protection.

First things first – the gun is absolutely gorgeous in person. All of the descriptions, photos, and even videos of the Ladyhawk 2.0 don't really show how pretty the rose-gold accents and how striking the composite stone grips are.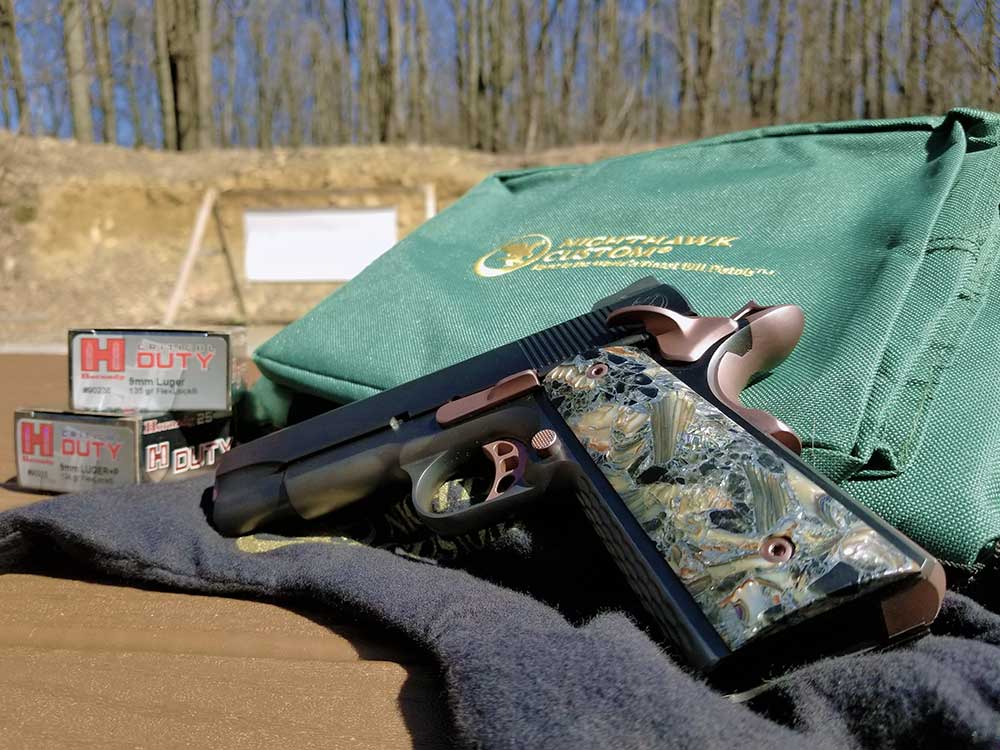 Because of the special material used for the grips, they are as thick as standard 1911 grips and have a shiny, glossy finish. Given that one of the features of the original Ladyhawk were textured, thin grips that were easier for small hands to use, I was skeptical. Sparkly isn't enough for the girl who wants it all; the gun has to shoot well too.

With that in mind, I took the Ladyhawk 2.0 to the range with Hornady Critical Duty 9 mm in both 124-grain and 135-grain weights, as well as some of my custom 124-grain 9 mm competition ammo. I shot a total of about 250 rounds, but it didn't take nearly that long for me to realize that the gun is, in fact, comfortable and fun to shoot, whether you're a fan of slow, accurate group shooting or fast and furious blazing away. The only issues I ran into were a small number of failures to feed or go into battery, across all of the ammunition types I shot. They were intermittent enough that I did not feel there was an inherent problem with the gun, though I'd want to shake it out a bit more if I were to carry or compete with it. 

The slightly under 4-pound trigger is short and crisp, exactly as I'd expect for a high-dollar 1911. The light weight of the trigger pull definitely requires attention to keeping your finger off the trigger until you're ready to shoot. You'll also want to, as always with 1911s, be very careful about using the (nicely fitted, with a positive click on and off) manual safety when not shooting. That trigger makes the gun incredibly easy to shoot though, almost literally point and bang to land shots on target.

The Heinie Slant Pro Straight Eight night sights are one of the best choices in factory sights I've seen. At speed, they were quick to follow and line up. I had no trouble feeling confident in the sight picture presented as fast as the gun returned to horizontal after recoil. At the same time, I didn't have to struggle to shoot very precisely with them. I fired single-hole groups at 3-5 yards with ease, and was plinking a steel target at 200 yards consistently – a statement both about the sights and the Ladyhawk 2.0's own superior accuracy.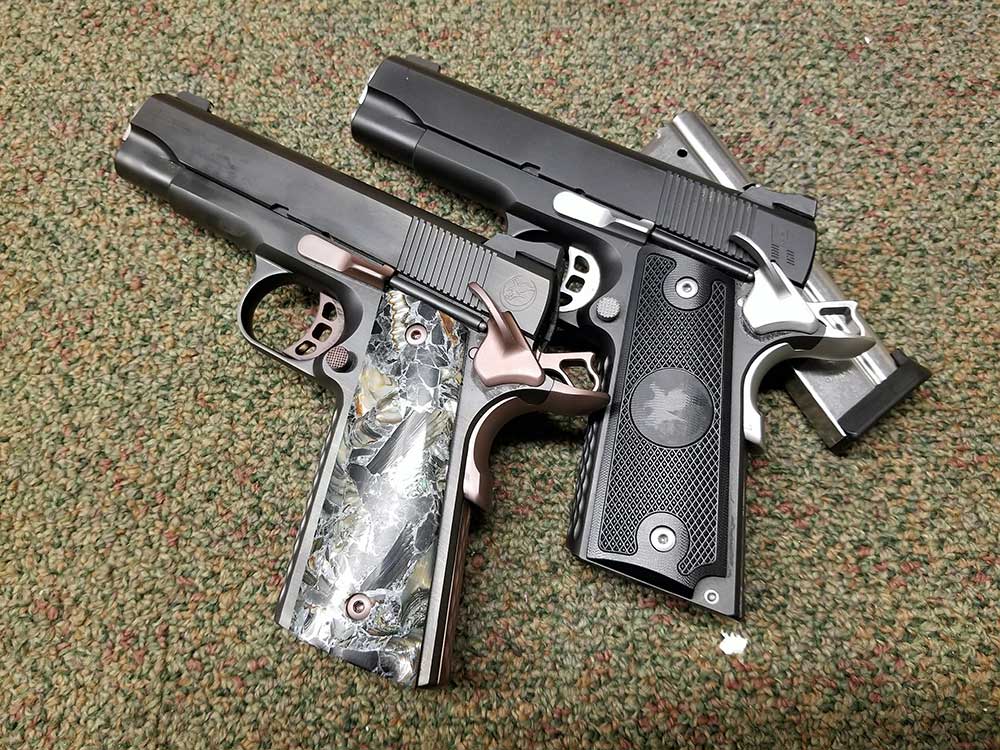 Still, one of my fears was that the special grips, while beautiful, would be too large for my small hands or too slick for fast shooting. I was wrong. Nighthawk put the frame on a diet to slim it down, then added aggressive texture on the front strap and mainspring housing. Between the two, the grip felt almost as skinny as the original Ladyhawk, and I had no trouble maintaining a firm grip at speed.

Speaking of the original Ladyhawk, I had a chance to shoot one side by side with the Ladyhawk 2.0. They shot very similarly but the Ladyhawk 2.0's looks definitely put it over the top. Worth the $4,695 MSRP? I asked the owner of that original Ladyhawk and she told me that while she's not quite tempted to upgrade herself, she would definitely recommend the Ladyhawk 2.0 to anyone looking to buy a gun like her original.