I have a saying that typically fetches me some nasty looks from fellow competitors, and that is: "The match starts at the gun store." This saying speaks to a person's ability to pick out the best firearm for the job; one that hits the top of a given class without landing the competitor into the next. Acing "production" requires running a gun that performs at the "open" level without putting you into that category, sort of like how wrestlers do all that they can to get into the next-lowest weight class. While many factors can push you into open, the easiest way to get there is with a gun that retails for more than $2,500. So for $2,499, I bring you the Bergara Premier Competition Rifle.
Bergara isn't even shy about what it has done—the manufacturer bills the gun as being "as close to custom as it gets," firing a shot over the bows of match directors all over the world. This ultra-heavy-barrel, bolt-action rifle is built on Bergara's signature Premium action that features a two-lug floating bolt head. This push-feed system draws ammo from a detachable AICS-style magazine, with a 10-rounder coming standard. While conducting my first status check, I was stricken by the sheer craftsmanship of the action, as one finger was all that was needed to lift the bolt handle and the bolt slid to the rear without any rearward influence.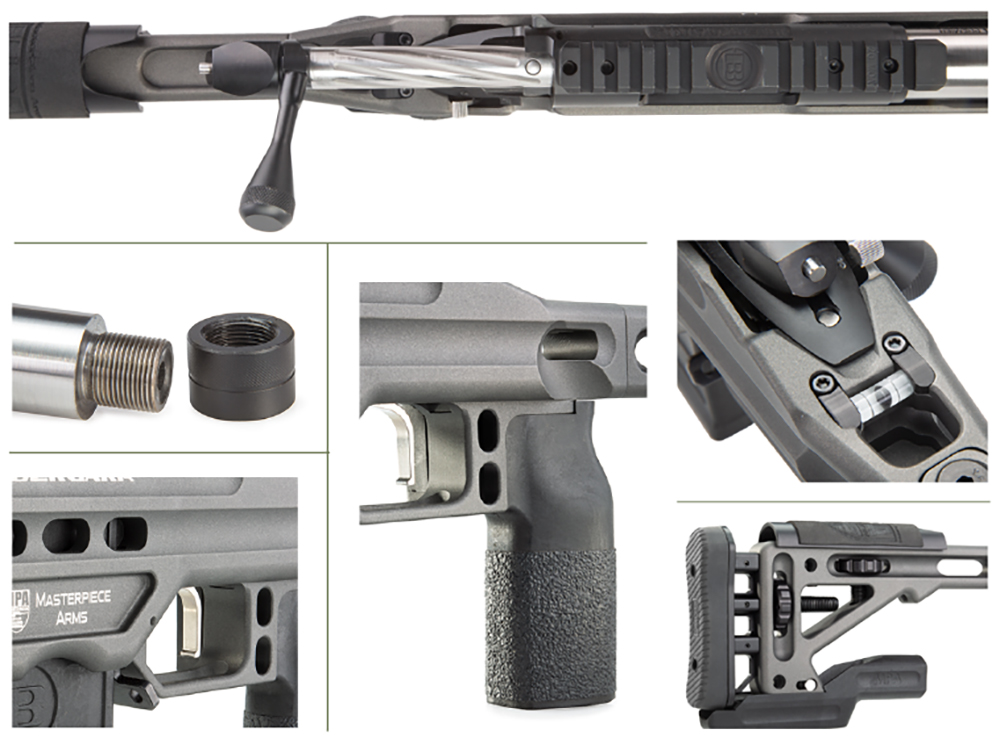 Equally refined is the TriggerTech Primary trigger that is used to get the party started, also standard with the Premier Competition. Inscribed on the unit is a weight range of 1.5 to 4.0 pounds, but my Lyman Digital Trigger scale told me that it could be dialed down to less than a pound and up to just a tad over 3. I found that regardless of where the weight was set, the trigger was devoid of any take-up and broke like the thinnest piece of glass imaginable. Aside from being light and crisp, I appreciated the flat trigger bow, which makes it less dependent on trigger-finger position. This goes a long way toward helping to accommodate a wide range of hand sizes and shooting styles.
Although the action is considered to be the heart of most rifles, in this case, it's only fair to think of it as serving one of Bergara's renowned barrels. The Premier capitalizes on the company's greatest strength and incorporates a meaty, yet balanced, stainless steel launch tube. The extra mass of the barrel is intended to soak up recoil, making the rifle softer to shoot and allowing for shooters to better spot their impacts. It also takes far more rounds to warm up all of that extra steel, so there will be less POI shift during the long strings of fire that are common to practice sessions and advanced stages.
At first glance, this gun is going to appear muzzle heavy, but upon closer inspection you will find that the barrel tapers as you approach the muzzle end, leaving its balance point just forward of the magazine. The addition of a robust Sightmark Latitude 10-40X scope put even more weight directly over this point, and I found that I could accurately fire this package offhand—an extraordinarily tough feat for rifles that are built primarily for supported shooting.
Barreled actions are worthless unless they are affixed to a proper stock, and Bergara spared no expense in this department. By utilizing a Masterpiece Arms Comp Chassis, it gave customers features like an ARCA/Swiss rail, integrated sling points, an adjustable Picatinny bipod mount and even a night-vision bridge for those who might want to participate in the growing number of low-light matches. I enjoyed the fact that it was also removable, allowing the end-user to reduce the gun's weight
a bit and/or adjust the balance point if needed. This stock also features an adjustable cheek
riser as well as an adjustable length-of-pull ranging from 13.6 to 15.1 inches. Although the adjustability was appreciated, I didn't like the associated looseness that came with it, but most would agree that the problem resolves the moment the rifle is shouldered.
While we're talking about the rear of the rifle, I found one of its most prominent features to be the Ultimate Bag Rider. This hooked piece of plastic is built to accommodate a rear bag when it is within the grasp of a marksman trying to maintain steadiness while shooting prone or off of a barricade. Also aiding unorthodox shooting positions is a built-in bubble level to ensure that your rifle isn't canted before you press the trigger.
The Bergara Premier Competition Rifle comes chambered in either of the Creedmoor calibers (6 mm or 6.5 mm) and I wound up with the former for our testing. Although this cartridge is tough to source these days, I was able to round up three different loads, all featuring a 105-grain projectile. I tested the rifle's accuracy from a bench using a Caldwell front rest and rear bag to make use of the PCR's bag-riding properties. The fore-end fit lock-and-key into my rest, and the contour of the buttstock quickly made sense the moment I squeezed my rear bag. From this position, I was able to meet the gun's sub-MOA guarantee with most of my groups and found recoil to be next to non-existent. If desired, I could have spun a muzzle brake onto the end of the barrel, as it comes threaded in 5⁄8x24 but, as previously stated, there wasn't any need. While shooting, I took note of the unique pistol grip
that is relieved to encourage a 90-degree trigger-finger position while providing a shelf on the right-side for the thumb. I found the grip to be built predominantly for right-handed firing. However, lefties will find that same shelf will accommodate their thumb if they shoot in the classic "thumb-around-back" style.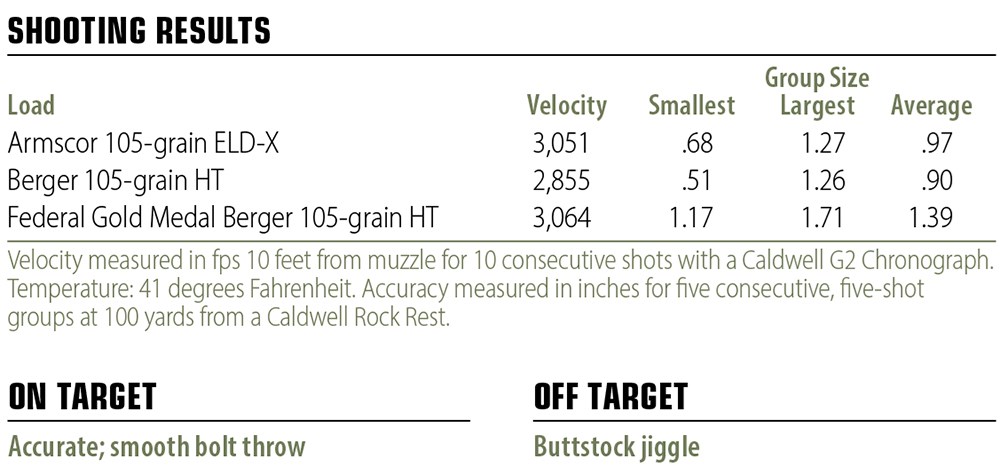 Bergara's new Premier Competition Rifle delighted me across the board, and provided exceptional accuracy and unparalleled shootability. Meeting the sub-MOA guarantee with factory ammunition only tells me that this rifle could be ridiculously accurate with a properly-tuned handload. Regardless of which ammo you decide to run, the Premier Competition Rifle's outstanding balance ensures undisturbed delivery, and, through a good optic, you are likely going to be able to spot the impact and correct, if needed. I would recommend this rifle to shooters looking to make the most out of their target-shooting sessions, varmint extermination excursions or for those looking for top-tier kit to compete in a lower-tier division.