With a company history spanning nearly 500 years—the longest of any extant gunmaker—Beretta has dabbled in practically every class of firearm. While the company also produces carbines (like the ARX100) and handguns (including the M9), to me, its shotgun line remains the hallmark. From handcrafted over-unders to über-reliable semi-automatics, Beretta arguably builds shotguns as well or better than anyone in the business. That is why I was so intrigued by its re-entrance into the home-defense shotgun realm with the Beretta 1301 Tactical in 2014—a noticeably compact, lightning-quick, 12-gauge semi-auto.
"We decided the time was right to jump back into the market," says John Tamburino, tactical product manager for Beretta USA. "Tactical shotguns are making a bit of a comeback, especially in law enforcement, and we saw an opportunity to take advantage. As 3-gun came along, we introduced the 1301 Competition [in 2013], and the 1301 Tactical is a big brother to that with ghost-ring sights and other accessories."
Power Under the Hood
Upon opening the box, I was struck by the Beretta 1301 Tactical's diminutive footprint. Sporting an 18.5-inch barrel and a highly compact, standard-shape stock, length-of-pull is only 13 inches and overall length is just 37.8 inches. That's about as compact as a non-NFA shotgun gets. For perspective, the 1301 Tactical is nearly 2 inches shorter than the original, standard AR-15's overall length. As I've discussed in my shotgun column, such dimensions offer key advantages, including: ease of maneuverability within the home, lower likelihood of an adversary grabbing the barrel and avoidance of telegraphing one's location from behind cover.
"That's one of the biggest selling features of the 1301 Tactical," says Tamburino. "We had law enforcement in mind with the length-of-pull. If you're wearing gear or a vest, you want that maneuverability and it offers a very compact design for building entry."
It also shaves the gun's weight to a mere 6.35 pounds, well beyond a pound lighter than the aforementioned AR-15. Thus, the Beretta 1301 Tactical is as lively in the hands as any shotgun I've tested, reaching target with blazing speed. Handling characteristics are further improved by aggressive checkering on the fore-end and semi-pistol grip. I found it functional, despite forgetting my shooting gloves on a sweat-inducing July afternoon.
Rounding out the handling considerations on the Beretta 1301 Tactical is an ergonomic groove running along both sides of the fore-end. It affords solid purchase and feels appropriately positioned for the off-hand fingers.
However, you don't need a physics degree to see the disadvantage to a firearm of such svelte dimensions: recoil. The impulse is reduced by the gun's gas-operation, rather slim recoil pad (likely chosen to avoid increasing length-of-pull) and back-bored barrel. In my estimation, you can slap as many recoil reducers on a shotgun of this weight as you want, but it's still going to kick—and the 1301 does so with noticeable strength. Yet, given my tastes in home-defense shotguns, I'll compromise on recoil for a more-compact firearm every time. If it bothers you, I suggest one of the many fine aftermarket recoil pads, such as those from Limbsaver, Pachmayr or Kick-Eez.
Adjusting fit can also assist with recoil management, and the Beretta 1301 Tactical is nicely equipped to do so. A stainless steel plate within the stock and corresponding techno-polymer fiberglass spacer may be used to apply cast-on (for a left-handed shooter) and adjust drop to 55 or 60 millimeters. Further drop and length-of-pull may be added with the 1-inch and .5-inch spacers provided.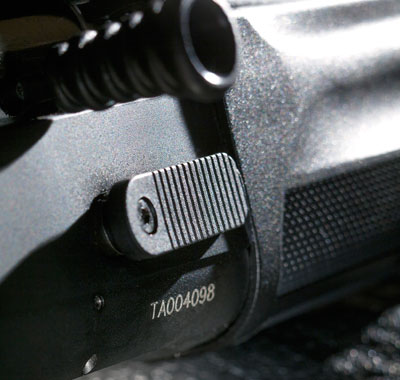 Gas it Up
Now, onto the fun stuff. The heart of the Beretta 1301 Tactical is Beretta's BLINK gas system. Already found on Beretta's field and clays guns—notably the A400 line—the design ranks among the industry's most reliable, in my opinion. There are only so many semi-automatic systems to which I'm willing to trust my life, and Beretta's is one of them. In fact, under stress I suspect I'm more likely to short-stroke a pump-action than experience a malfunction with a BLINK-equipped Beretta.
"We stayed with what's tried and true to us," explains Tamburino. "The BLINK system offers reliability and really fast cycling—up to four shells in under a second." Beretta says the 1301 Tactical's cycling rate is 36-percent faster than any shotgun on the market—a difficult claim for a gunwriter to test—but I will say the 1301 certainly shot as fast as I could pull the trigger.
For my initial reliability test, I put a 75-round torture test through the Beretta 1301 Tactical ranging from 2 3⁄4-inch, 7⁄8-ounce low brass to high-brass buckshot, with no malfunctions observed. I declined to punish myself with harder-hitting 3-inch shells, but its chamber is so-equipped, and I'm certain they'll cycle as well.
Perhaps the most unique aspect of the cross-tube gas piston's design is what Beretta calls its "self-cleaning" capability. The piston's elastic seal is texturized, affording it the ability to scrape gunpowder residue from the gas cylinder during travel. Following my test, inspection of the piston area revealed noticeably little fouling. Beretta hasn't eliminated the need for regular shotgun maintenance, but this system may forgive an occasional lack of discipline—always a good thing in regard to a shotgun kept for defensive use.
The BLINK System incorporates an innovative bolt assembly as well. The rotating bolt head features two locking lugs, which secure it tightly to the chamber for a strong lock-up. "The locking design found on AR-15s come to mind when you see it," Tamburino notes. "It provides a little more accuracy to the gun, as does the cold-hammer-forged barrel." Beretta's unique shotgun barrel-manufacturing process—combined with the use of "Steelium," a proprietary tri-alloy steel—also results in one of the strongest on the market. So, how did it perform?


On the Track
Testing was conducted at a distance of 15 yards. I began with a 1 1⁄8 ounce, No. 7 1⁄2 Remington Gun Club Target load—admittedly a stretch for the Beretta 1301 Tactical's fixed cylinder choke at such range. As expected, all five shots completely obscured my 10-inch target, but I was impressed by the patterns' uniformity.
I then tested two of my favorite buckshot loads: Federal Premium Personal Defense and Hornady Critical Defense. Results were nothing shy of outstanding. I shot 10 rounds of the Hornady load, which consistently placed its eight 00-buckshot pellets just under 4 inches of one another. One pattern was an impressive 3 inches.
The Federal test proved remarkably similar, perhaps owing to the two loads' comparable wad designs. Despite having one more buckshot pellet than the Hornady shells, the Federal load averaged 4 inches; the largest pattern was 4.5 inches and the tightest was 3. Each option, paired with the Beretta 1301 Tactical shotgun, packs a tight, fight-stopping punch at indoor distances.
To get on target, I opted to use the Beretta 1301 Tactical's standard ghost-ring sight. It's a subjective matter, but I consider a ghost ring an ideal setup because it offers speedy target acquisition and the necessary precision for longer-range buckshot targets or the use of slugs. The removable front sight is flanked by wings to protect it from damage, while the rear aperture—winged as well—is fully adjustable for windage and elevation. Both buckshot loads tested initially printed high and right; a quick adjustment with a dime got me zeroed in. As noted, the 1301 is highly adjustable, but I found the line of sight to be ideal out of the box. Fitting off-the-rack shotguns to the average shooter's dimensions is, in my experience, one of Beretta's strong suits.
Just forward of the rear aperture is a seven-slot Mil-Std 1913 rail for attaching an optic. I'd like to see an additional rail on the fore-end for easy attachment of a weaponlight or vertical foregrip, but there are other ways to secure accessories.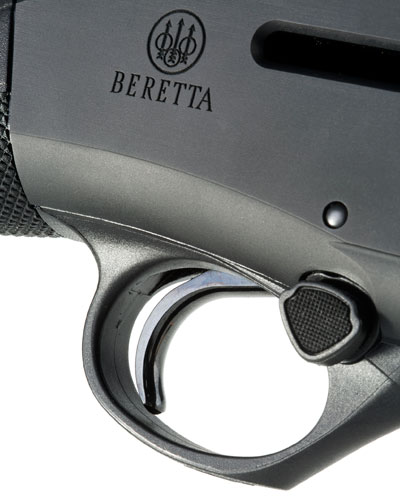 Smooth Shifting
In terms of loading and operating the Beretta 1301 Tactical's controls, this shotgun is as smooth as any I've tested. The loading port is wide and polished, allowing shells to slide into the magazine with ease. There are several ways to unload the gun, but the fastest route is less-than-obvious: Simply lift the shell carrier and press the back-half of the bolt-release button—a shell practically flies out of the magazine tube and into your hand.
Alternatively, shells can be released onto the carrier via the bolt-release button or carrier-stop button (located behind the carrier) and cycled out of the chamber with a tug on the bolt handle. Lastly there's always the old-fashioned method of depressing the blade-like magazine-release button at the entrance to the tube. I cannot recall a shotgun that can be unloaded in so many ways.
Standard magazine capacity is 4+1 shells, but two-round extensions are available. Beretta ships shotguns with the magazine plug in place. I strongly urge you to remove it on any shotgun meant for home defense. Unscrew the fore-end cap, depress a notch within a small slot on the side of the magazine tube and the entire assembly slides free. Remove the plug and replace the spring.
The Beretta 1301 Tactical's trigger broke cleanly, but did have a discernible degree of take-up. The trigger guard is enlarged compared to prior Berettas—easing operation with gloved hands—and contains the enlarged safety button.
Additional controls, including the bolt handle, reversible safety and bolt-release button are textured and generously oversize. This is one of the most pleasing aspects of the 1301 Tactical—anyone with a modicum of shotgun experience will find the controls operate intuitively from the moment the gun is acquired. There's just no need to hunt for them, which is crucial when speed is a priority and motor skills are affected by stress. In the same vein, the bolt handle is further improved by an outwardly expanding, cone-shaped design. Unlike many oversize handles, which are merely an enlarged, cylindrical shape, the 1301's unit helps ensure the finger remains snug.
Simply stated, the Beretta 1301 Tactical is a well thought-out setup with out-of-the-box features often relegated to aftermarket purchase. Particularly in its price range, you'll be hard-pressed to find a more home-defense-ready semi-automatic shotgun.
Specifications
Manufacturer: Beretta; (800) 929-2901
Action Type: BLINK gas-operated, semi-automatic shotgun
Gauge: 12; 3-inch chamber
Capacity: 4+1 rounds
Stock: Black synthetic
Receiver: Anodized aluminum
Barrel length: 18.5 inches
Choke: Fixed cylinder choke
Sights: Ghost ring; Mil-Std 1913 rail for mounting optics
Trigger Pull Weight: 4 pounds, 15 ounces
Length of Pull: 13 inches
Length: 37.8 inches
Weight: 6.35 pounds
Accessories: .5- and 1-inch stock spacers
MSRP: $1,075