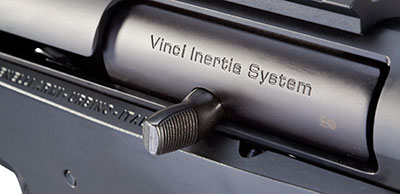 "New" shotgun introductions are often just updated spins on existing designs, but every once in a while something entirely different comes along—the Benelli Vinci's entrance in 2009 is a fine example. There's simply never been a shotgun with the Vinci's unique, modular design, which includes a trigger group/forearm module—essentially a lower receiver—that contains the trigger group, loading port, shell carrier, fore-end and magazine tube; a barrel/receiver module containing the bolt assembly, steel receiver and barrel; and the buttstock module.
Initially introduced as a field/waterfowl gun, the design intrigued me for its potential for use in home-defense applications.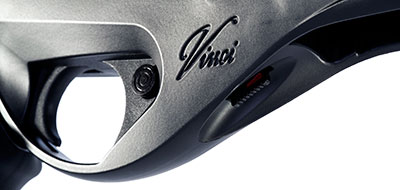 According to George Thompson, Benelli's product manager, only "minor modifications" proved necessary during early production to streamline reliability for defensive purposes. This is a gun that just runs. I put more than 7,500 rounds through one of the field models, with loads ranging from 1 1⁄8-ounce (1-ounce loads are not recommended) to 3-inch magnums, and experienced only three feeding failures. More recently, I put 200 shells through the Vinci Tactical—low-brass birdshot up to high-brass buckshot and slugs—without a failure. 
Like most Benelli shotguns, the Vinci is inertia-operated. The bolt's two-lug, rotating head is the same as found in the company's other semi-autos, save for a key operational difference: Its rearward spring and corresponding guide rod compress against a plate entirely within the receiver rather than extending into the buttstock. Thus, the buttstock may easily be swapped for another. After removal of the trigger group/fore-end module, a simple twist releases the stock.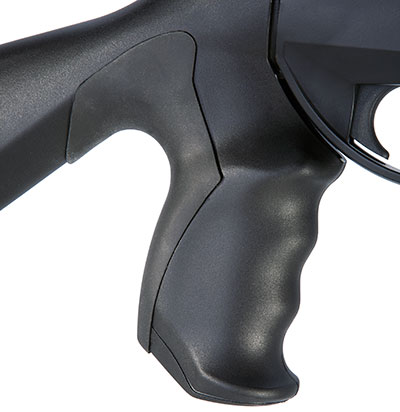 Vinci Tacticals are available with pistol-grip stocks or—for an additional $200—fully adjustable, non-pistol-grip ComforTech stocks with recoil-reducing bells and whistles. Additional stocks are available at a cost of $400 for ComforTech or $169 for a pistol-grip version. 
Personally, I'd opt for the pistol grip and decide later whether to purchase a ComforTech stock as well. Not only is it less expensive, it offers certain tactical advantages. Namely, I find a pistol grip provides better control while reloading with the off hand—but this is merely my preference.
The pistol grip on my test gun proved a well-made, ergonomic design that provided firm purchase. Despite the gun's light, 6.7-pound heft, recoil with high-brass loads was surprisingly gentle—I credit a good recoil pad and the spongy-yet-solid pistol grip for sopping up kick and vibration.
As alluded to, the modular system affords easy barrel swaps and—glory be—by far the fastest, no-tools-required installation of an extended magazine tube you'll find. Once the trigger group/fore-end module is free from the gun, the standard (3+1) magazine may be slid from the fore-end with the press of a button and replaced with an extended tube. Five- and seven-shot magazine assemblies are available for $349 each.  
The most surprising result of my range test was the excellent quality of the Vinci Tactical's trigger. According to Benelli, the shotgun's trigger group—a design borrowed from the Benelli R1 semi-automatic rifle—is not updated from the field model. Curiously, however, my Tactical test gun had only a modicum of creep (nearly all shotguns have at least some) and broke at a clean 4 pounds, 10 ounces; the field version in my safe has discernible creep and breaks at the same weight. Every time I took aim with the Benelli's ghost ring sight, the trigger break was an accuracy-enhancing surprise. It's quite possibly the best semi-auto shotgun trigger I've tested.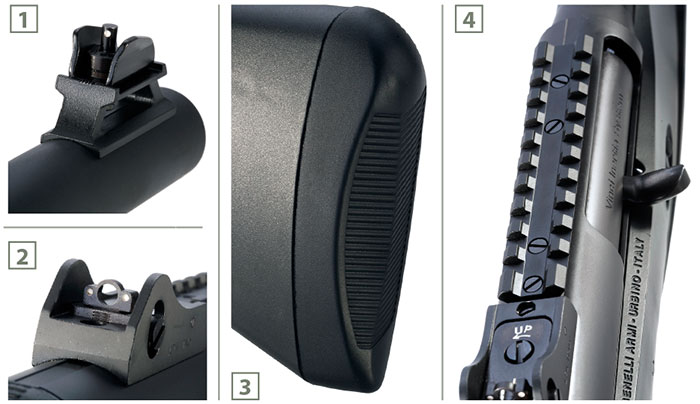 On paper the Benelli's cryogenically treated barrel paired with an improved-cylinder Crio choke was likewise impressive. Modified and full chokes are also included, but some may be disappointed that a cylinder choke must be purchased separately. At 15 yards, a 1 1⁄8 ounce, No. 7 1⁄2 Remington Gun Club Target load produced uniform patterns averaging 9 to 10 inches in breadth. A Federal Premium Personal Defense load of nine 00-buckshot pellets and a Hornady Critical Defense load of eight 00-buckshot pellets each consistently produced 4- to 4.5-inch patterns—I'm curious how tightly they may have performed with a cylinder choke. Still, those patterns are quite good, particularly for home defense.
Fast reloads were achieved thanks to a beveled, recessed loading port and an ample bolt-release lever. The release lever has front and back portions—pressing either part releases the bolt and chambers a round from atop the carrier. 
Aesthetically, the Vinci Tactical is as great a departure from tradition as it is internally—but what a fine-handling shotgun. The sweeping grooves across the fore-end may look a little odd, but they're wonderfully ergonomic and lend the Vinci a lively, shootable feel.
That may not be enough to satisfy those who prefer a more mainstream appearance, but do looks really matter when it comes to home defense? The Vinci Tactical is a customizable, solidly patterning, reliable shotgun with a great trigger. That's good enough for me.