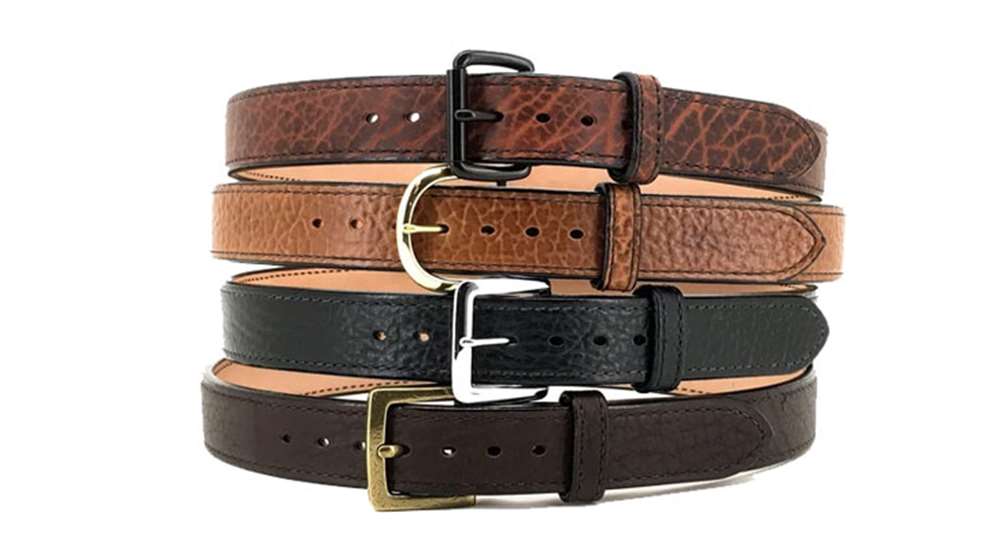 Carry belts are one of the most underrated yet most important tools in a CCW setup. While it may not be a first-thought item when setting up your kit, it's just as important as holsters, mag carriers and other equipment. Your EDC kit literally hangs in the balance when it comes to belt selection, which is why it's an essential consideration. 
If you're in the market for a belt, Beltman makes one of the best gun belts in the business. The company's belts are about as customizable as a belt can get, and the material from which they are made are some of the most exotic leathers available: elephant, shark, alligator, American bison, horsehide, and the standard bullhide.

The width of a gun belt is a crucial choice, too, as holster clips and belt-loop straps that hold gear to the belt typically come in three sizes: 1.25-, 1.5- and 1.75-inch variations. Beltman offers each size in most leathers to perfectly secure EDC items, provided they all use the same belt-width dimension.
I went with a standard 1.5-inch horsehide belt, which has a number of benefits for everyday carry. The belt's leather color availability changes based on material, but for my horsehide belt, I had five colors from which to select (four shades of brown and black).

I also added a few special options, including an internal stiffener, which only cost another $10, and double stitching that slightly ups the belt's durability and, to me, just looks cleaner. Customers can also add a variety of bucks in a wide-range of colors (brass, silver and a matte black) and designs (square, round, or roller-style buckles). The color and buckle selections are included in the cost of the belts, which range anywhere from $69.95 to $399.95 (hey, gator, elephant and shark ain't cheap!).
All belts come with seven holes spaced ¾ of an inch apart, and Beltman sizes its belts slightly differently than most companies. Using Beltman's prescribed measurement method, my belt fit perfectly at the middle notch, meaning I could spare to lose or gain a few pounds and I'd still be fine.
Another unique service Beltman offers is a belt-shortening service so you can keep yours in working order (excluding the no-buckle belt). So whether the quarantine time helps you add or lose weight, your belt, at least, will still fit. 

On that note, the belts are made in the U.S., so no need to worry about receiving an inferior, foreign-made product. The cost for belt shortening is $20 and includes labor and return shipping of the belt back to the customer. Turnaround for the shortened belt is typically one or two business days after Beltman receives the belt.
For those who don't want to go to the hassle of "building" a belt on Beltman's website, the company also offers "Quick Ship" belts. To order a custom gun belt from Beltman, visit thebeltman.net.