When you get right down to it, the firearms of today are created using methods that were first introduced in the Industrial Revolution many, many years ago. There have been numerous improvements on those methods, such as modern production lines, "just in time" sourcing of parts and computerized milling of interchangeable parts, but the pace of innovation in guns has moved at the speed of a factory, not Silicon Valley. 
This is not true of electronics, where Moore's law (the number of transistors on an integrated circuit doubles every two years) means that the computers of today are almost obsolete by the time they hit the showroom floor. This means that anything which uses modern electronics is going to improve by leaps and bounds, rather than the slow, methodical pace of a factory floor. The phone in your pocket right now is far more powerful than the one you had four years ago, however, the pistol in your holster is more or less the same as it was 30 years ago.
Thanks to this speed of innovation in the electronics world, what was once outrageously expensive and overly bulky can now be easily purchased and easily mounted on your firearm. We're used to seeing red dot optics on pistols, and holographic sights are a staple of the modern service rifle, and now it has now shown up in low light and night vision devices, and Armasight is a leader in bringing more-affordable and effective night vision to American gun owners. One of the latest products to capitalize on this fact is the CO-LR Gen 3 Pinnacle clip-on night sight from Armasight, designed to work with an existing medium to long range optic. 
A Company That's Been There, Done That
Armasight is one of the leaders in bringing high-quality low light optics to armed citizens, and the Gen 3 Pinnacle packs a lot of great features into one easy-to-use package. I get easily confused by complicated, techno-babble driven instruction manuals, yet I had the sight on my rifle and was up and running less than half an hour after I opened the box. The Pinnacle attaches on a Picatinny rail in front of your existing visible light optic. The CO-LR is designed for use with up to 10x power optic, and it worked as designed with my Leupold Patrol 6HD 1-6x low power variable optic. The only issue I ran into was with using the rubber hood that's included in the box which screens off the light of the optic from others around you and preserves your night vision. The hood included with the optic was obviously designed to work with high-power optics which have large objective lenses. The front lens on the Patrol 6HD, on the other hand, is just 24mm across, which meant the hood had problems staying attached to the optic. A quick field-expedient modification with a rubber band solved that problem, and the Pinnacle worked just fine with my low powered variable optic.
Using the CO-LR Pinnacle Gen 3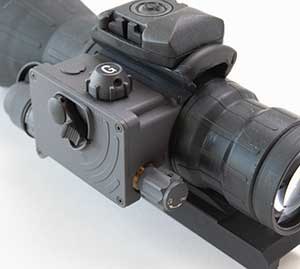 Operation of the CO-LR Pinnacle is simplicity itself. There is a focus ring to make sure the image is sharp, and a dial that controls the amount of amplification the scope produces. On top of the unit is a remote control device which can be removed for support hand operation, and the power switch has three positions: "On," "Off" and "Standby," which are all self-explanatory. Also included with the optic is an IR Illuminator that attaches via Picatinny rail to your rifle. Think of the illuminator as a flashlight which your optic can see, but you can't. The illuminator is adjustable for power and size of beam, and made the view inside the optic even clearer when it was in use. With the optic and illuminator dialed in and mounted on an APF Armory AR-15 chambered in .300 BLK, it was now time to put the CO-LR to the test out in the field. 
Which brings up an interesting question: just why does the average armed citizen need night vision gear anyways? First off, "Because I want one, and I can own one," is a very valid answer to this question. There's an inherent cool factor to night vision, and that's more than reason enough to own something if you can afford it. 
Secondly, night vision (as well as thermal optics) are absolutely terrific for hog hunting and nocturnal predator hunting. Feral hogs are a huge problem in the Southeastern United States, and eradicating them benefits farmers and the average citizen alike. Which brings up another relevant point, as chances are, the AR-15 or AR-10 you have in your gun safe would be just dandy for hunting hogs, with very little modification.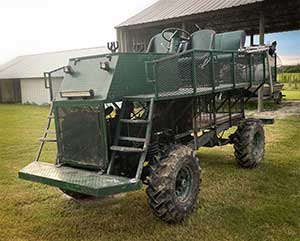 With that goal in mind, I contacted Gator Raiderz outfitters of Arcadia, Florida, and set up a night hog hunting. They have hundreds of acres of land, and finding a passel of hogs took us less than a half hour. A few minutes (and one round of Federal 150-grain Fusion JSP ammunition) later, and I had a very nice meat hog to take home and process into free range, organically grown, locally sourced, antibiotic-free pork products. 
If you're looking to get into the night vision game, but don't know where to start, a optic like the CO-LR Pinnacle Gen 3 or it's medium-ranged cousin, the CO-MR, or any one of a number of clip-on night vision optics from Armasight would be great place to start. It's a fact of life that at the end of every day, night is going to fall. However, that's no reason to stop enjoying the shooting sports.