Aklys Defense was started by Joe Meaux in Baton Rouge, LA. Meaux, a school teacher turned firearm-design expert, and his team created a line of sound suppressors that are CNC-machined in-house at their shop. The company was founded in January 2015 utilizing Meaux's previous design and manufacturing experience coupled with new, state-of-the-art manufacturing capabilities as well as research and development capacity. It manufactures firearms, components and muzzle brakes, as well as a full line of suppressors. Offerings include the Kopis (.22 LR), Pilum (9 mm), the Hawker (9 mm, .45 ACP), Orion (.30-caliber), Hades (.50 BMG) and the innovative modular KSG-SS 12-gauge shotgun suppressor.
The Kopis .22-caliber suppressor is rated for .22 LR (full-auto), .22 Mag., .17 HMR and .17 HM2.  Its mono-core  is manufactured from 7075-T6 aerospace aluminum and then finished in Type III hardcoat anodized black. The outer barrel interface mount is manufactured from nitrided steel. The threads are the common 1/2x28 tpi. The diameter is just 1 inch, and the suppressor is 5 inches in length. It is a real featherweight, weighing in at just 2.4 ounces. The suppressor can be easily disassembled for cleaning with no special tools, breaking down into three pieces. Like any suppressor, use CLP or a water-based solvent for cleaning to prevent damage. The tested suppressor  was well machined and finished, and the Kopis can also be had as the Kopis TI (Titanium).

According to Aklys Defense, the Kopis using standard ammunition has approximately a 36- to 38-dB reduction in sound, and testing with a Ruger 10/22 yielded sound levels around 118 dB with subsonic ammunition. Subsonic CCI, Remington and Winchester ammo and supersonic Remington Thunderbolt and Winchester M-22 ammunition were used. All ammunition was also tested in a Ruger SR22. There were no malfunctions with either the rifle or pistol with any of the ammunition tested, either suppressed or unsuppressed.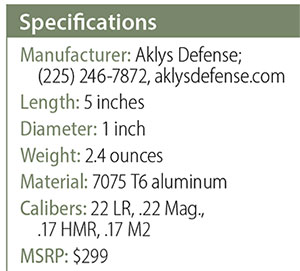 If you are looking for a good .22 LR sound suppressor, the Kopis is a great choice. Aklys Defense has achieved a real milestone by manufacturing the most-lightweight rimfire suppressor on the market today. It will fit all 1/2x28 tpi rimfire .22 pistols and rifles. The Kopis, with its ease of disassembly for cleaning and maintenance, and rugged yet simple, lightweight construction should give you many long years of service.