The long-range, precision rifle has gone through some changes over the past decade. There was a time when a precision rifle had to employ a bolt-action; nothing else was even considered suitable. With the universal acceptance of the AR platform, however, all that has changed. "Platform" refers to multiple-caliber platforms including long-range calibers such as .308 Win, .300 Win. Mag. and .338 Lapua Mag. The .300 Win. Mag. has been a favorite of snipers throughout the world, primarily with bolt actions, but a new generation of precision semi-automatic rifles have come to fruition. One of those is by Montana-based NEMO (New Evolution Military Ordnance) Arms in its Omen Match Rifle.


This rifle is without a doubt AR-based, using gas operation though a direct-gas-impingement system. The rifle feels and looks just like a standard AR-type rifle on steroids, with the main difference being it uses a side- rather than a top-charging handle.
Starting with the lower receiver, the Omen is manufactured from a billet of 7075 T6 aircraft-grade aluminum. The rifle accepts a standard Mil-Spec trigger group and pistol grip, however, the trigger chosen for this rifle by NEMO is the Geissele SSA-E Match two-stage trigger. The stock is the proven Magpul PRS (Precision Rifle Stock), which has an adjustable buttplate as well as a cheek riser. The bolt catch is built very strong to contain this extremely heavy bolt-carrier group. The magazine catch is standard AR-style and located on the right side of the receiver, while the trigger guard is integral to the lower receiver. There is an adjustment screw to tighten the fit between the upper and lower receivers. Both receivers are hard-coat anodized with a woodland camouflage-type pattern.


A proprietary .300 Win. Mag. magazine is designed and manufactured by NEMO Arms, and the rifle ships with two 14-round models. A 10-round version is available for locales that demand it or to keep ammo costs down. Both sizes of magazine are manufactured from high-impact polymer and are double-stacks—which makes for rather large boxes—but do not look awkward in the gun. They are extremely well-made and sturdy.
The bolt carrier is nickel-boron-coated and quite unique. Built into the rear of the magazine is a spring-loaded plunger responsible for reducing felt recoil and keeping the shooter on target with minimum flinch. The rifle's bolt-carrier key is properly staked in position, and its cam pin is the POF-USA Roller Cam. The firing pin utilizes a spring—a safety modification to prevent slam-firing with soft primers—sometimes caused by the inertia of the firing pin setting off the primer when the bolt closes. The bolt is also nickel-boron coated and uses a McFarland-type one-piece gas ring. Inside, the modified extractor has an extractor spring and buffer, utilizing a rubber "O" ring to enhance extractor tension. In addition, the firing pin retainer pin is a machined pin rather than the typical cotter-type pin.


The upper receiver is also manufactured from a billet of 7075 T6 aluminum. There is no forward assist, cartridge-case deflector nor ejection-port cover. The freefloat handguard is designed and manufactured by NEMO Arms and has removable rail segments of Mil-Std 1913 rail. This enables the end user to install only rail sections that will be used. A continuous rail adorns the top of the rifle. The gas system uses an improved straight gas tube, which feeds a gas block that contains a valve with four positions (fully open, hotter ammunition, overgassed with suppressor and run with suppressor normal). The gas block is held in place by two locking bolts.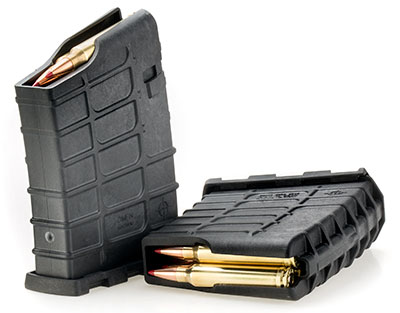 Manufactured from 416 stainless steel, the Omen's heavy barrel is fluted and sports an IonBond finish. According to NEMO Arms, the typical barrel life is 1,000 to 2,000 rounds, depending on how it is maintained. The company also claims an effective range up to 1,800 meters, but that is a combination of rifle, ammo and a properly trained long-range shooter. The muzzle brake used is the NEMO Arms F1 muzzle brake.
The optic I chose to test the rifle was the US Optics LR-17, which I consider to be an ideal scope for this caliber rifle. I have shot other .300 Win. Mag. semi-auto rifles and was curious to see what sort of difference the recoil-reduction system on the bolt carrier makes. Recoil was not much different from the Noreen Firearms BN36 fired in the same caliber. During testing, there were no malfunctions with the four types of ammunition tested. The best accuracy was attained with Black Hills 190-grain BTHP.
If you are looking for a semi-automatic.300 Win. Mag. and your budget allows, the NEMO Omen is an excellent choice. The company also offer other calibers including 7.62 NATO (.308 Win), 6.5 Creedmoor, 7 mm Rem. Mag., .338 Win. Mag., .300 BLK, 5.56 NATO and .458 Win. Mag.