by
posted on October 20, 2010
Support NRA Shooting Illustrated
DONATE
John Amos Nosler, the tall, stately and innovative founder of Nosler, Inc., died of natural causes at his Bend, OR, home on Sunday, Oct. 10 at the age of 97.
Considered one of the shooting industry's true pioneers, Nosler developed the famous Partition bullet in the late 1940s. Its concept and design served as the cornerstone of the company founded in 1948, and it continues to influence the premium bullet category and ammunition industry 62 years later.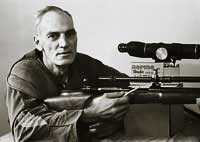 Born April 4, 1913 in Brawley, CA, Nosler's life story is rooted in pure American entrepreneurial exuberance.
At the age of 19, Nosler gained the attention of Ford executives by developing a new type of crankshaft the company eventually incorporated into its assembly lines.
In 1946, after experiencing a bullet failure on the hide of a mud-caked bull moose while hunting in Canada, Nosler began a pursuit of the product design that would ultimately become his life's work. Armed with perseverance and dogged determination, he created a bullet that was different from anything being produced at the time. He called it the Partition bullet, and its two sections allowed improved penetration of the target and expansion after impact for the first time in ammunition manufacturing history.
One year after his initial Canadian moose-hunting failure, Nosler is said to have returned to British Columbia armed with his new Partition bullets, where he and a partner killed two moose with two shots.
Today, Nosler bullets are considered the gold standard among many shooters and hunters worldwide.
In recognition of his contributions to the shooting sports industry, Nosler was the unanimous choice for the inaugural NRA Golden Bullseye Pioneer Award in 2007, marking a personal highlight of a long and productive career. Today, his son Bob Nosler presides over the company as president and CEO. Other family officers include Bob's son John R. Nosler, who serves as the company's vice president and general manager, along with Bob's wife Joan who also serves as a vice president.
A memorial service for Mr. Nosler is scheduled to take place Saturday, Oct. 23, at the Riverhouse Convention Center in Bend. The family suggests those wishing to remember Nosler donate to the National Rifle Association Foundation—John A. Nosler Endowment.