The LWRCI R.E.P.R MkII pictured above is an evolution of the company's rapid-engagement, precision-rifle platform designed to meet the evolving needs of the military.

Military and law-enforcement doctrine during the 1980s and '90s took a highly-segmented approach to weapons and their respective applications. Submachine guns such as the MP-5 were for close-quarter battle, long shots were to be taken using bolt actions or maybe an old M14 and carbines such as the M16 or M4 were used for everything in-between. This mindset came to a screeching halt after 9/11 when our troops became engaged in the sustained combat of two major wars. The same gun that would be used to clear a building might be employed minutes later against an enemy several hundred meters distant, a fact that rendered the subgun mostly obsolete overnight. These same realities forced a rapid evolution of long-range rifles as well as snipers found themselves working in complex urban environments.  

Jack Carr, author and former SEAL sniper, relayed the following experience regarding sustained combat operations as a sniper team leader in Najaf, Iraq.

"We had access to vehicles - Bradleys, Abrams, up-armored HMMWVs - so we brought a lot of our weapons into the city. We started taking long shots with our .50s but, as the fight got closer, we traded them for our .300s [bolt-action .300 Win. Mag. rifles]. When we really got into the fight and were clearing buildings and then using them as overwatch positions, we went to the auto-loading 7.62 Mk 11s. We kept the bolt-action weapons with us in case we needed them, but the workhorse became the Mk 11s [developed by Knight's Armament] because of the intensity of the fight and the sheer number of enemy forces."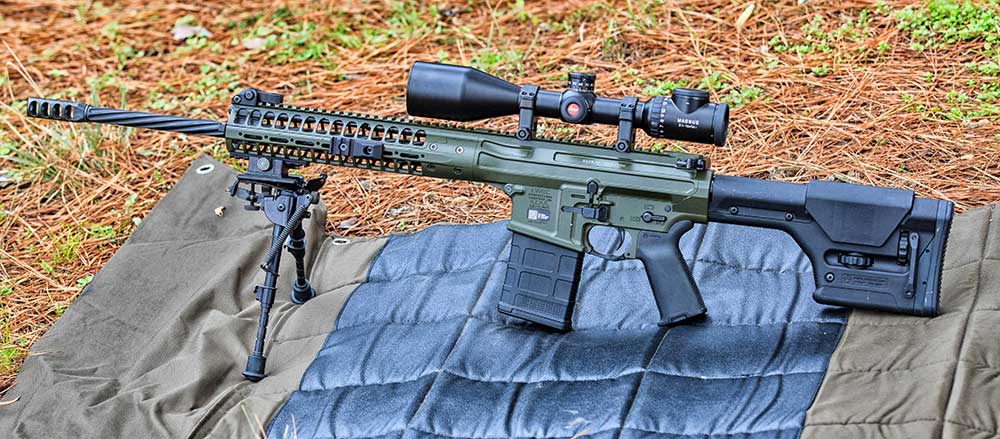 This evolution happened not in a manner of years or months, but in days and hours. The LWRCI R.E.P.R. MKII is a rifle specifically-designed to meet that evolved role, a rifle that can handle business from the muzzle out to hundreds of yards. R.E.P.R. is an acronym for Rapid Engagement Precision Rifle, which is a pretty apt description of this firearm and its purpose. This piston-driven, semi-automatic 7.62x51mm carbine delivers long range accuracy from a mobile and versatile platform, capable of functioning in a variety of roles and environments. The MK II is the second evolution of this system, new in 2017 and designed to compete in the military's Compact Semi-Automatic Sniper program, which seeks a replacement for the current-issue M-110.

The LWRCI R.E.P.R. MKII is built from an AR-10-sized action, making it perfectly proportioned for the 7.62 NATO cartridge. The lower is fully-ambidextrous from a controls standpoint, allowing the safety/selector, magazine release and bolt catch to be operated from either side of the receiver. One of the attractive features of the R.E.P.R., and most LWRC products for that matter, is the use of high-quality components made by third-party manufacturers as part of the package. The trigger is a Geissele SSA-E two-stage, a premium upgrade that comes standard on the R.E.P.R., and breaks right at four pounds. The polymer grip is a Magpul MOE and the receiver comes with and accepts Magpul LR/SR detachable box magazines. The R.E.P.R is available in black or a variety of Cerakote colors (FDE, Patriot Brown, Tungston), including the Olive Green model that we tested, for an additional $100.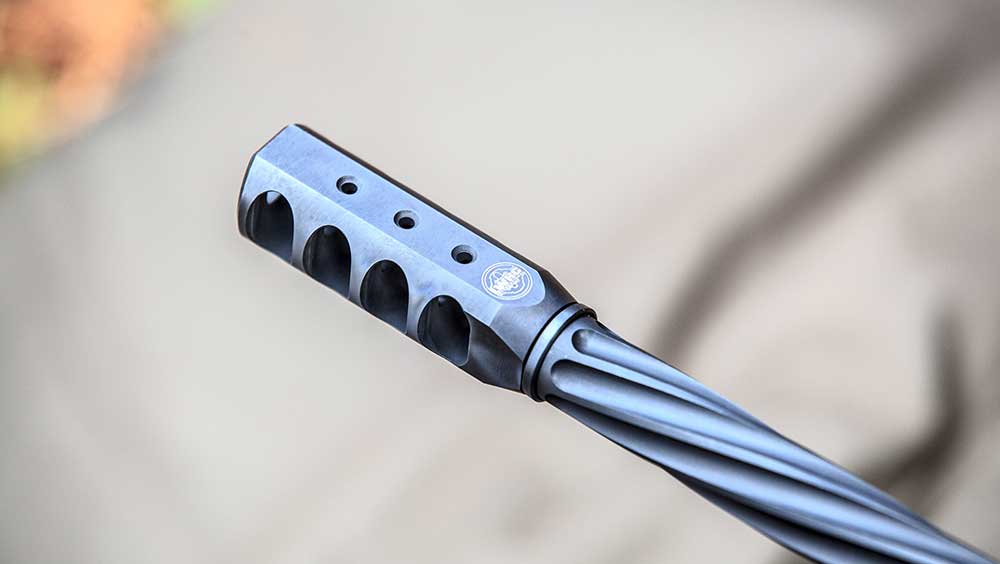 The buttstock, another upgraded item that comes standard on the R.E.P.R., is a Magpul PRS. The PRS provides lockable adjustments for length-of-pull, height of comb and even buttpad cant. Using these adjustments, the end-user can custom-fit the stock to their particular comfort level and to ensure that their eye is perfectly-aligned with the chosen optic. These are very important factors in long-range rifle accuracy that are often ignored.

The LWRCI R.E.P.R. MKII is available in three barrel lengths: 12.7-, 16.1- and 20-inch all of which are fitted with LWRCI's proprietary Ultra muzzle brake (barrels are threaded 5/8x24 TPI). The spiral-fluted barrels, which are made of a fairly-heavy profile, are cold hammer forged and use a 1-10-inch rifling twist. The barrels are black-nitrided inside and out which significantly hardens the surface, helps reduce wear and resists both corrosion and copper fouling. Our test rifle was fit with a 20-inch barrel which gave it an overall length of 41.25 inches and a weight of 10.4 pounds. For an all-around rifle, particularly since I often shoot with a suppressor, I would personally prefer the more compact 16.1-inch barrel.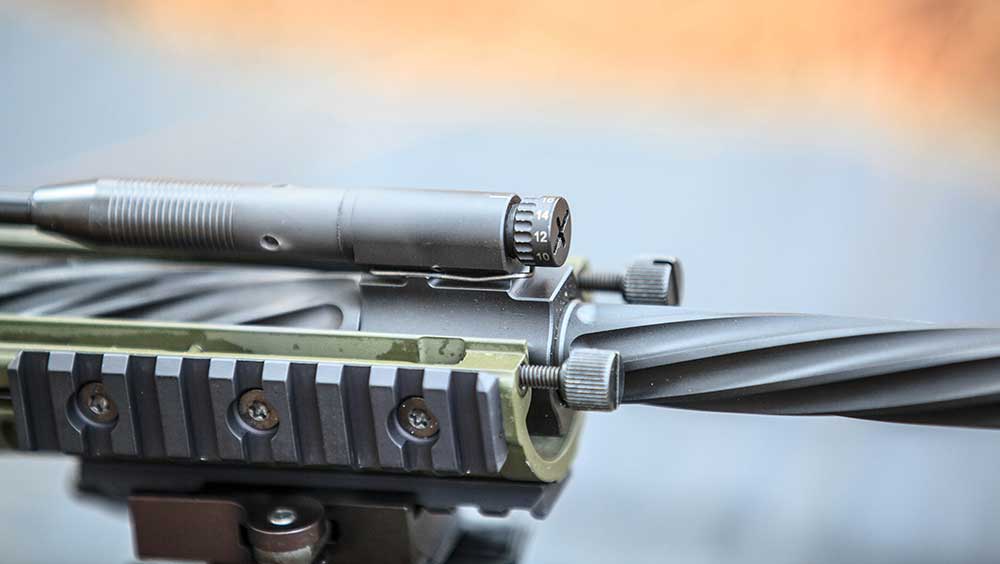 Unlike traditional uppers, the LWRCI R.E.P.R. MKII uses the company's Monforge configuration, which acts like a "monolithic" AR upper without the added weight. Rail panels can be affixed to various areas of the forend using Torx screws in order to facilitate the mounting of accessories such as lights or bipods. Our test gun came equipped with two such rail sections. The full-length uninterrupted Picatinny rail runs the length of the receiver and forend, allowing for broad flexibility when it comes to mounting optics. A set of high quality flip-up sights is provided as well; they are excellent and use-a turret-style rear that gives the user four apertures to choose from. It is under this mounting rail, though, where the LWRC magic happens. LWRC was one of the first manufacturers to offer a short-stroke gas piston version of the AR, replacing Eugene Stoner's weight-saving direct-impingement design.

Without belaboring a topic that has been handled at-length in the past, we will briefly explain the differences between the two systems. Traditional ARs vent propellant gases from the barrel rearward by way of a gas tube. The bolt carrier key fits over the gas tube and, when the gases reach the end of the tube, the bolt carrier group is thrust rearward and the action is cycled. The benefits of this system are its light weight and lack of moving parts while its shortcomings are a tendency to foul the chamber with hot propellant gases and sometimes-finicky reliability when gas system lengths are altered or suppressors are added into the mix.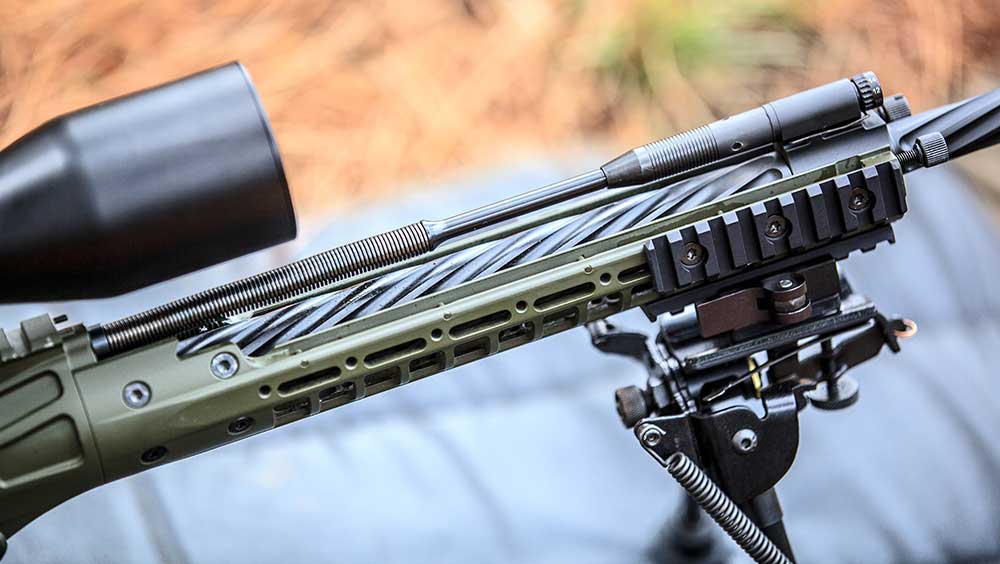 LWRC's answer to the direct-impingement "problem" is a short-stroke gas piston that cycles the LWRCI R.E.P.R. MKII's working parts mechanically rather than by venting gas back inside the receiver. This system adds some weight but keeps the inside of the action cleaner and cooler. It is also generally a better and more-reliable solution when barrels and gas systems are shortened. To further advance this cause, the gas block on the R.E.P.R. is "tuneable," which allows the user to control the flow of gas into the piston system. If, for example, a suppressor is mounted on the rifle, the gas block can be adjusted to ensure that the bolt carrier is not over-gassed, a condition that can lead to double-feed like malfunctions due to the bolt carrier reciprocating too quickly.

This type of rifle is destined to be shot using a bipod so, in lieu of traditional bench rest testing, that's how we shot it. After obtaining a 100-yard zero with the Leica Magnus optic that we mounted for our range testing, we fired a handful of groups before moving to the prone position. With both Speer Gold Dot Law Enforcement 168-grain and Hornady Black 155-grain A-MAX ammunition, all of the groups were right at 1 MOA. Despite being right-handed, the ambidextrous controls were convenient to use since it made magazine changes easier to accomplish. Recoil was a mild as expected on a heavy rifle like the LWRCI R.E.P.R. MKII.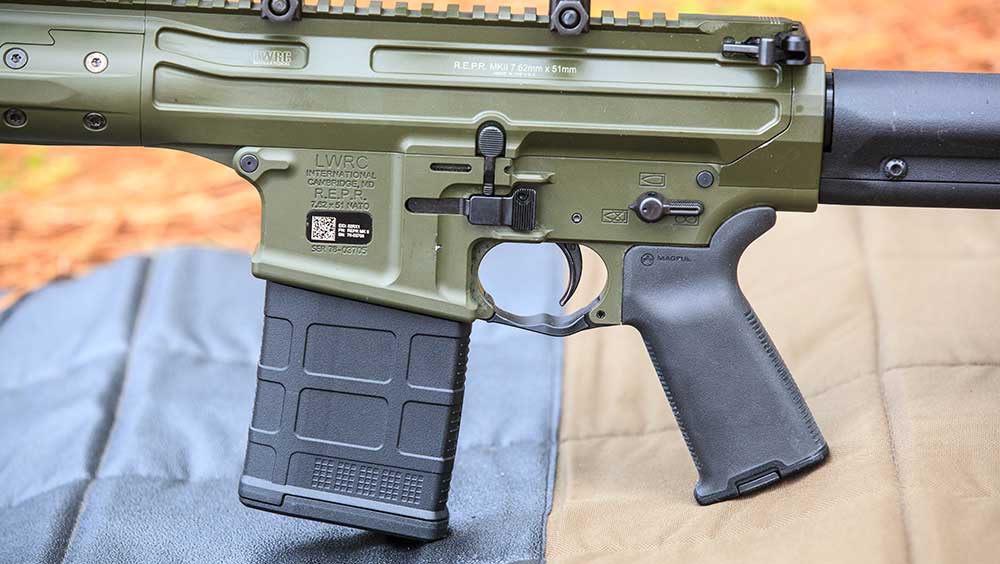 With a basic 300-yard zero established, I dialed the required elevation into the Leica and started banging away at a steel popper at 325 yards. Palm-sized groups didn't require much concentration and I quickly became a fan of the two-stage Geissele trigger. I wanted to shoot the barrel hot and see whether the groups opened-up since, what good is a semi-auto otherwise? Mag after mag produced the same downrange results—hit after hit after hit.

Reliability was 100 percent, as-expected and, even after putting a few boxes of .308 downrange, the bolt carrier looked extremely clean, almost unfired but for some oil marks—far cleaner than it would have on a traditional AR-10. Without a doubt, this system will help prevent fouling-related stoppages. It's probably for this reason that LWRC chose to produce the R.E.P.R. Mark II without a receiver-mounted forward assist. The utility of a forward assist for addressing malfunctions is a debate unto itself; I've written an entire article on the subject elsewhere. Using the forward assist to ensure that the bolt is in-battery when the rifle is stealthily and slowly loaded, however, is not up for debate. Given this rifle's potential role, I would prefer it with a forward assist; file it under "nice to have." It's worth noting that neither the Mk-11 (SR-25) or M-110, both of which have seen significant combat service, uses a forward assist.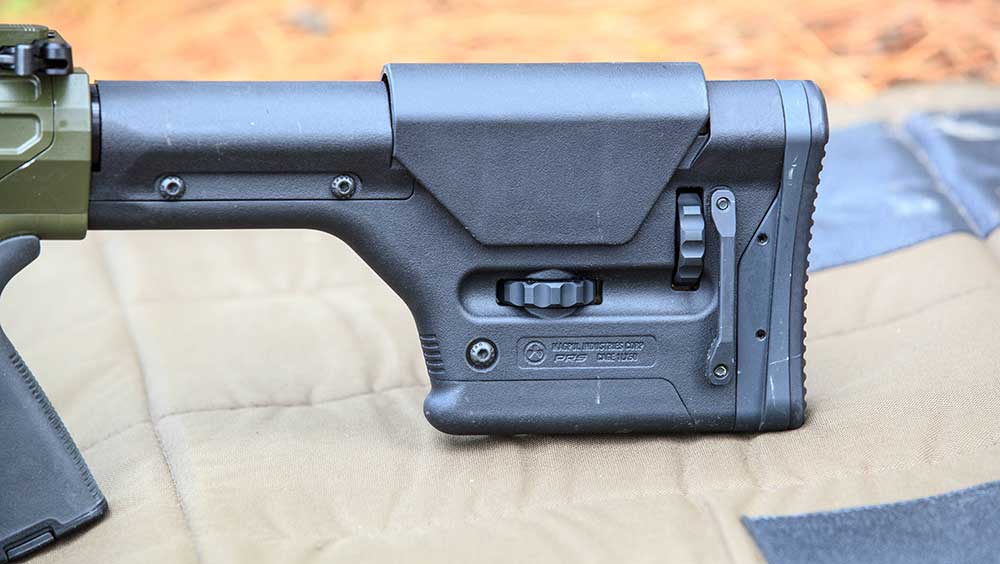 The LWRCI R.E.P.R. MKII is a versatile, mobile and effective precision rifle that is capable of sustained accuracy. Thanks to its short-stroke gas piston system, that accuracy is couple with excellent reliability. Add-in the adjustable gas port and you have a rifle that can be tuned to work with a variety of ammunition types either suppressed or not. This is a premium rifle with premium components but the performance is there to back it up. The original R.E.P.R was a great tool for an evolving precision shooting role; the MkII is even better. 

LWRCI REPR Mark II Rifle Specifications
Manufacturer: LWRCI
Caliber: 7.62x51 NATO
Action type: Semi-automatic, Short-stroke gas piston operated
Capacity: 20 rounds, accepts Magpul LR/SR magazines
Barrel: 18 inches (tested) cold hammer forged, black nitrided, threaded 5/8-24 TPI
Rifling: 1:10-inch Twist, Right Hand 
Sights: Rail-mounted flip-up adjustable aperture, Picatinny rail for scope mounting
Trigger: Geissle two-stage,4 pounds, 2 ounces
Stock: Magpul PRS Adjustable  ev
Length: 41.25 inches
Weight: 10.4 pounds
Suggested Retail Price: $4150 ($4,250 as-tested)