I'm a big fan of watching how great ideas form out of random bits of other ideas. Someone in northern Italy gets the idea to put tomatoes and cheese on top of crusty flatbread, and presto! The pizza was born. Thomas Edison gets the bright idea to combine his electric light bulb with a strip of the newly-invented celluloid film and a ratchet mechanism to advance the picture, and now we can go to the movies on Saturday night. The Daniel Defense DDM4 V7P is another one of those happy results that form from a number of great ideas.

Pistol-style ARs with arm braces are increasing popular, and Daniel Defense has combined its rock-solid AR platform with the flexibility and power of the .300 Blackout round, a LAW Tactical folding-stock adapter and an SB Tactical pistol-stabilizing brace. With all these combined, Daniel Defense has a small, easy-to-handle pistol that still packs the wallop of a full-power rifle round.

The lower receiver of the Daniel Defense DDM4 V7P has a slightly-flared magazine well for easier and faster reloads, a comfortable, textured pistol grip and, in a nice gesture to cross-eye dominant and left-handed shooters like myself, it also features an ambidextrous safety selector. Attached to the back of the receiver is the LAW folding stock adapter that swings out to the left of the receiver, dramatically shortening the overall length and allowing users stow it away in bags that might not appear to be able at first glance to carry an AR-style firearm. This ease-of-carry comes in handy if you live in a neighborhood where a flat-black gun bag or something similar would attract unwanted attention.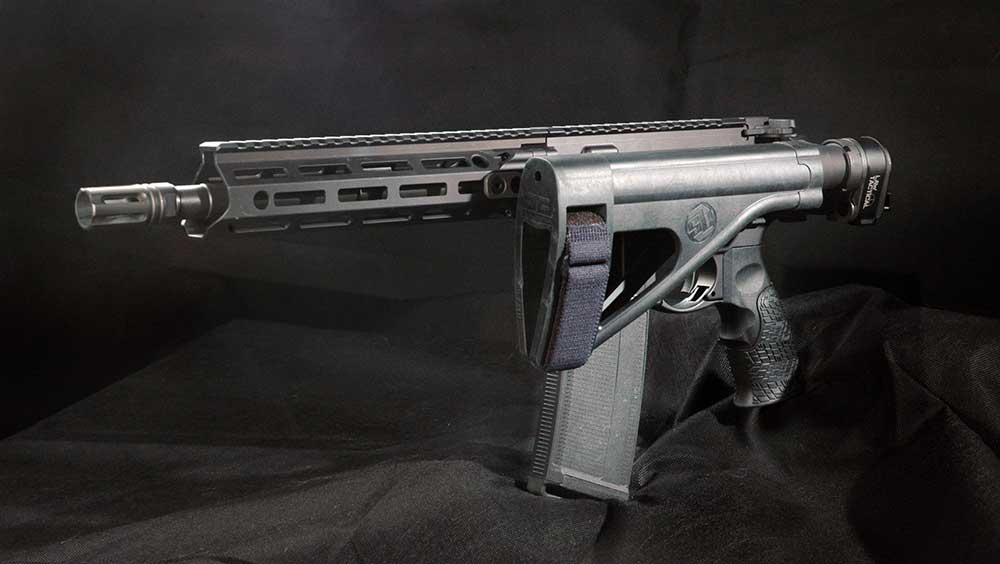 Rather than a stock, the V7P has an SB Tactical SOB pistol brace on the end of its buffer tube. Since the brace is designed for use while braced against a shooter's forearm, not a shoulder, the gun is considered to be a pistol, not a short-barreled rifle. While the V7P cannot be fired with brace folded back, the brace is easy to deploy, locking into place with just a flick of a wrist, letting you shoot your pistol just like any other AR on the market. The short barrel of this gun means that it's slightly more than 28 inches with the brace unfolded (20.75 inches when folded). That, along with a short barrel and lightweight handguard, makes for a small, easy-to-handle combination that weighs just 6.14 pounds, unloaded.

Speaking of barrel on this gun, the 10.30-inch cold-hammer forged barrel on the V7p has a 1-in-8 twist rate and is wrapped in a free-floating handguard. The handguard is covered in M-LOK slots, so you can attach all the accessories to your gun that your heart desires, and Picatinny rails on the top allow users to mount sights, flashlights or whatnot. Daniel Defense has a reputation for making solidly-built AR pattern rifles, and I'm very happy to say that this gun lives up to that reputation, with features like M4-style feed ramps and a chrome-lined bolt-carrier group to ensure reliability for years to come.

One of the big advantages of the .300 Blackout round is allows the shooter to shoot both supersonic rounds and heavier weight subsonic ammunition. During my testing, the gun shot 250 rounds of subsonic and supersonic ammunition with no hiccups at all.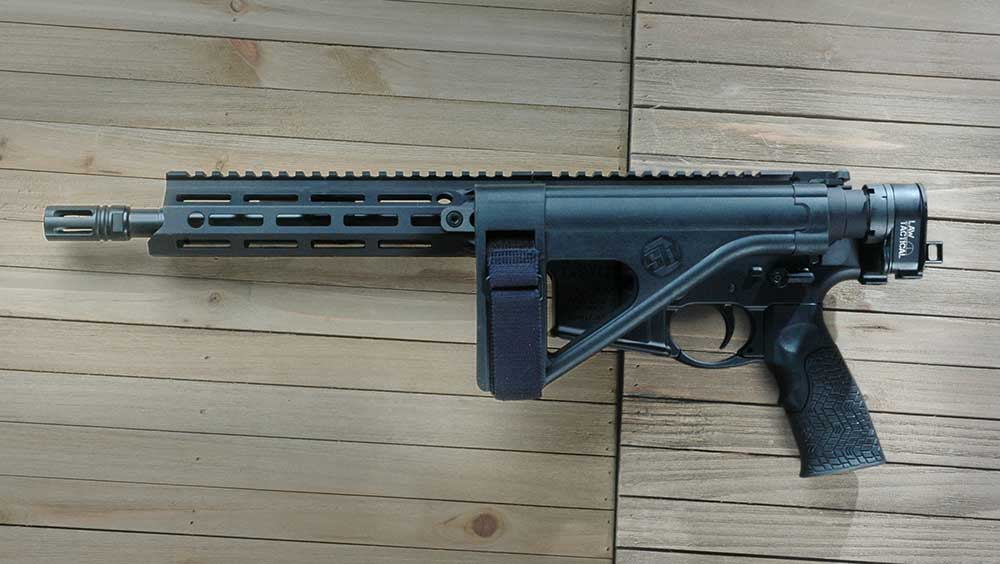 On the range, the gun was easy to control with both supersonic and subsonic .300 Blackout ammunition, and the small size and light weight makes it easy and fast to move the gun from target to target on the range. The pistol grip is a step above the stock grip on most AR-style guns, with a nice rubberized feel to it and texturing so you can get an even better hold on your gun. Smaller AR pistols can be a handful to control, but the Daniel Defense DDM4 V7P was easy to keep on target no matter what I was shooting.

With a built-in folding brace, the power of .300 Blackout and the build quality that Daniel Defense brings to every gun the company makes, the Daniel Defense DDM4 V7P is a great choice for a compact AR style gun but won't attract unwanted attention as you carry it around. The suggested retail price on the pistol is $2,110.