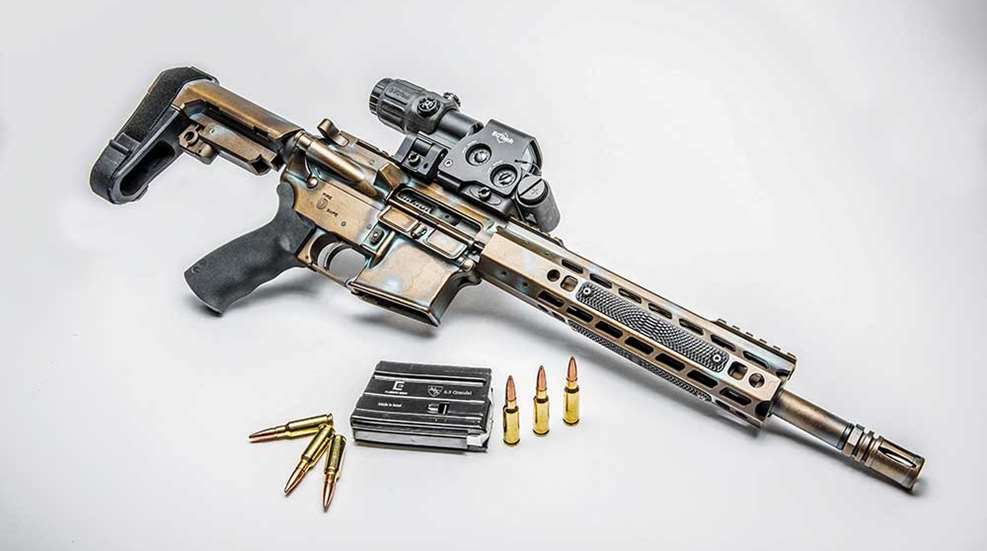 Popularized by the 6.5 Creedmoor, 6.5 mm rounds have quickly become hot sellers in the last decade. While it hasn't been as piping hot as the Creedmoor at the gun store counter, the 6.5 Grendel has steadily grown in demand, becoming arguably the most versatile cartridge ever developed for the AR-15 platform. Thanks to the same brilliant minds at Alexander Arms that developed the 6.5 Grendel in the first place, there's now a new SR-style pistol on the market that might just be one of the most versatile AR-15s ever built.


Highly compact and easy to manipulate in close confines, the new Highlander pistol boasts an 11-inch barrel and overall length of 27.5 inches (collapsed). Unlike pistol-caliber variants, however, the 6.5 Grendel chambering allows for serious long-range capability from an AR pistol. Thanks to a shorter case that seats long, sleek, high-BC bullets and a larger diameter case than the 5.56 NATO, the Grendel allows for greater powder volume and velocities of up to 2,900 fps. With more energy at long ranges and less wind drift than the 5.56 NATO, the Grendel is a proficient 1,000-yard option.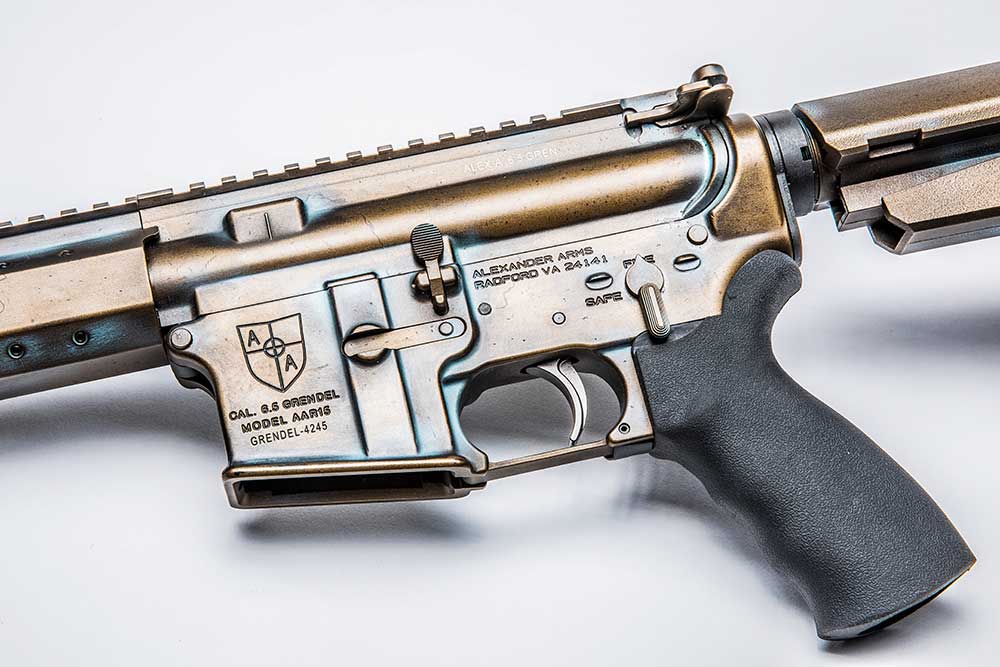 By way of comparison, Hornady's 75-grain BTHP in 5.56 NATO carries a velocity of roughly 1,848 fps and 569 foot-pounds of energy at 500 yards, while the 123-grain ELD Match bullet in 6.5 Grendel travels at 1,796 fps with 881 foot-pounds of energy. Those results are derived from 20-inch test barrels, but the difference in energy between the two cartridges when fired from similar length barrels is nonetheless apparent. This means both better long-range capability and greater energy at close distances, which is why so many folks have fallen in love with the low-recoiling 6.5 Grendel for hunting and long-distance applications.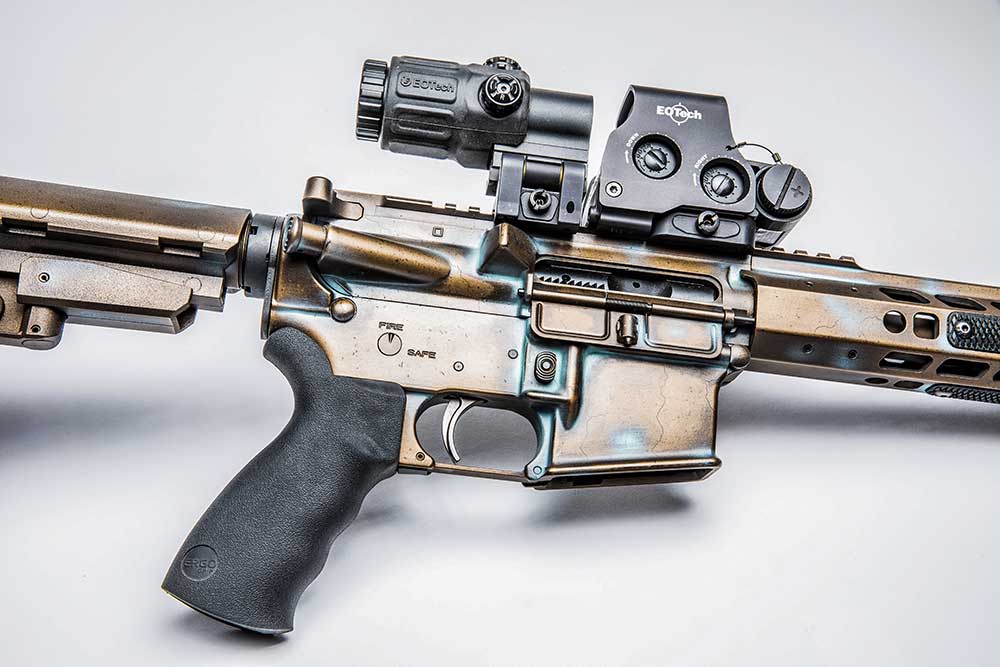 That would all mean nothing, however, without a precision engineered AR platform, which is exactly where the Highlander pistol excels. The pistol features Alexander Arms' own 11.5-inch barrel with 1:7.5-inch twist, as well as a unique bolt design that retains the same external dimensions as the 5.56 NATO bolt but with a wider diameter on the bolt face. Utilizing 9310 steel results in a longer lifespan for the bolt as compared to the Mil-Spec Carpenter 158, which is why it's become Alexander Arms' go-to steel for Grendel bolts.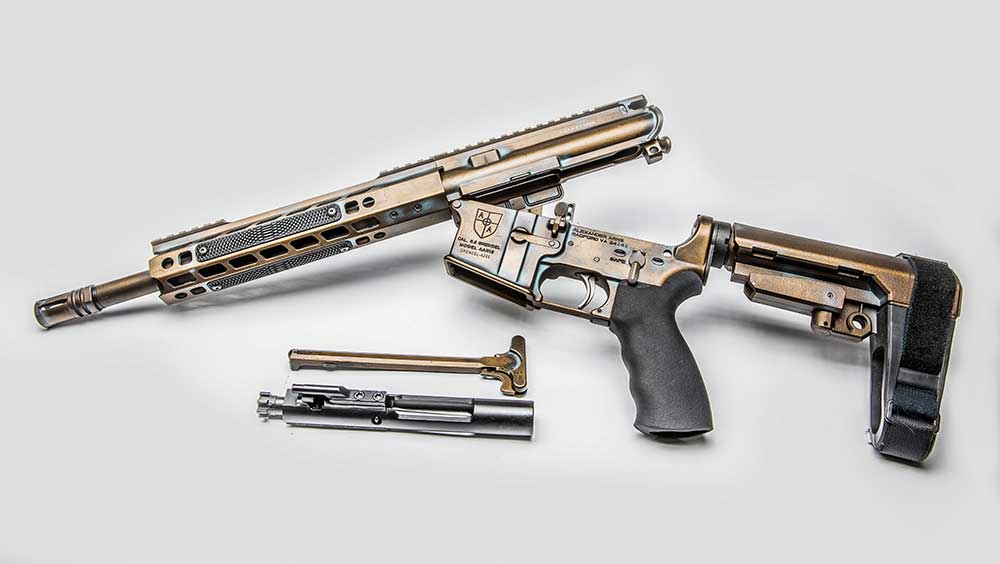 Another critical component is the trigger, which has the potential to make or break the accuracy of the pistol. The Highlander pistol features a single-stage, drop-in Velocity Trigger with a 3-pound pull that is surprisingly crisp. Accuracy data from the range backed up just how good the trigger and barrel combination function together, with average groups at 25 yards ranging from .69 to .97 inches. That data was collected with an EOTech HHS II sight and G33.STS magnifier and would be an ideal setup for defensive purposes and moderate ranges, but the accuracy was equally impressive at 100 yards and beyond with a Vortex Diamondback Tactical 6-24x50 mm optic.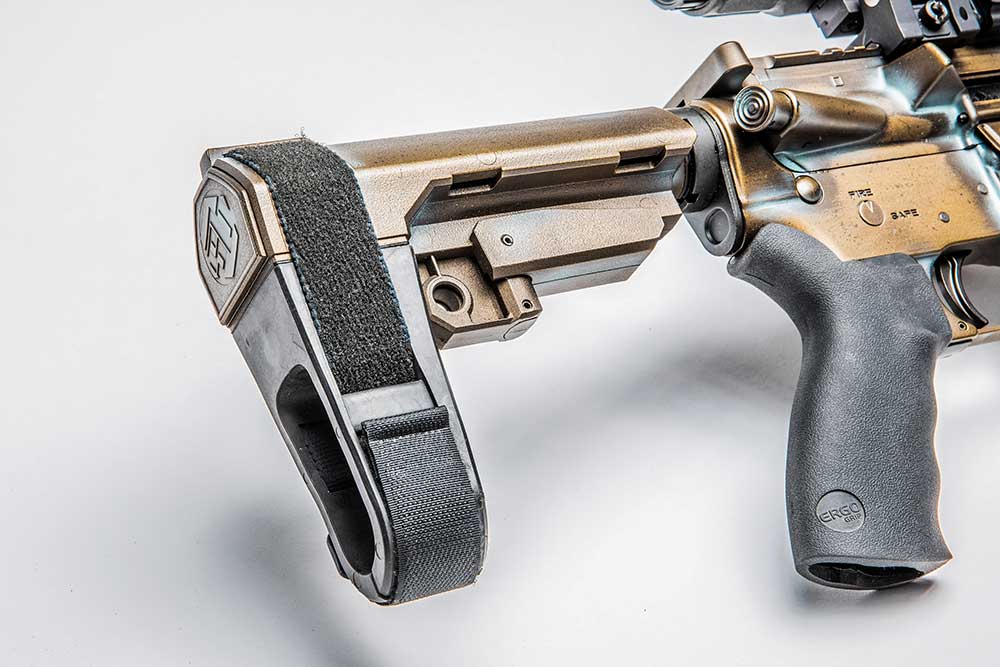 An important component of any AR pistol is the brace, which in this case is SB Tactical's impressive SB3. Featuring five positions and an integral QD sling mount, the SB3 offers a length of pull adjustment from 6.75 to 9.5 inches and is comfortable to shoot with the 6.5 Grendel's low recoil. Another valuable feature is the Manticore Arms 9-inch Transformer handguard, which comes with Snakeskin polymer grip panels at the 3-, 6-, and 9-o'clock positions that can switched out with either M-Lok or KeyMod attachment panels for maximum versatility. The pistol comes without sights and features a Picatinny top rail, as well as brass deflector and forward assist.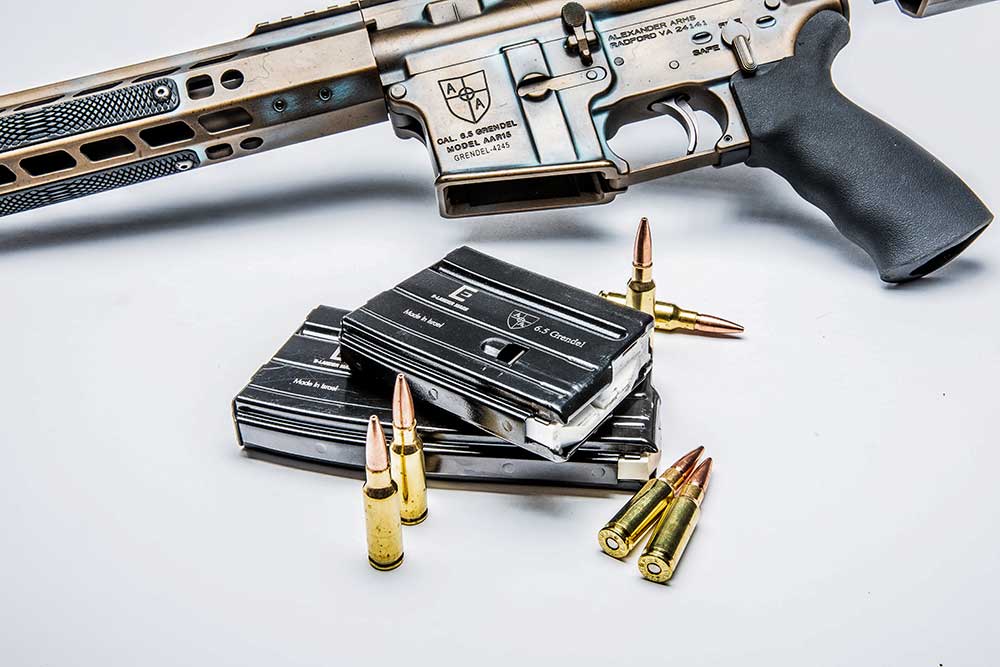 While there are plenty of factory-produced ammo options for the 6.5 Grendel, including Hornady's Black 123-grain ELD Match, Alexander Arms also offers its own precision-loaded blends for the cartridge. Included in accuracy testing for this review were the 120-grain Barnes TSX and 130-grain Swift Scirocco, both of which produced minimal group sizes and consistent feed and function in the firearm. Highly consistent and astoundingly accurate, Alexander Arms' loads are as good as its AR builds.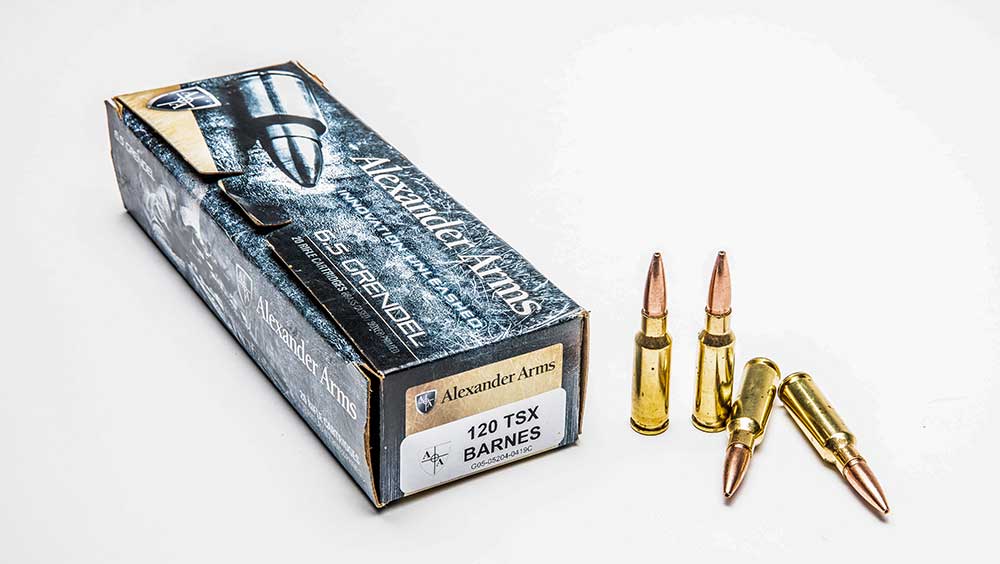 Compact, highly accurate, and loaded with features, the Highlander pistol is as versatile an AR platform as any on the market. Whether you're looking for a compact AR pistol that will adequately excel at hunting, defense or ringing steel at the range, the Highlander in 6.5 Grendel is equally at home on the close and long ranges.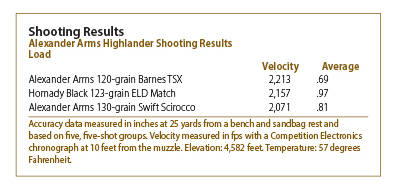 Alexander Arms Highlander Specifications

Manufacturer: Alexander Arms; AlexanderArms.com; 540-443-9250
Action Type: Semi-automatic, direct gas impingement
Caliber: 6.5 Grendel
Capacity: 10 rounds
Receiver: 7075 aluminum; Cerakote Burnt Bronze
Barrel Length: 11 inches
Barrel Twist: 1:7.5-inch
Accessories: Manticore Arms 9-inch Transformer handguard; one E-Lander 10-round magazine, one 17-round magazine
Pistol Brace: SB Tactical SBA3 
Pistol Grip: Ergo
Sights: None; Picatinny rail for optics
Trigger: Velocity Classic drop-in, 3 pounds
Weight: 6.2 pounds
Length: 27.5 inches