You don't know what you can do until you do it. Often, it seems as though we're held back by our own experiences—or lack thereof. Before my time at High Bar Homestead in Gillette, WY, if you'd asked if I could hit a steel coyote silhouette target at 300 yards, offhand, with a suppressed .300 BLK rifle, I'd have looked at you like you were crazy and shook my head. I would have had the same response if you'd asked if I could hit a standard IPSC target at 700 yards with a suppressed rifle system… in the dark.
Partnership. Firearms and ammunition. Rifles and optics. Pistols and holsters. Gear and training. We don't often stop and appreciate just how often items seamlessly mesh together, especially when it's excellent gear at the onset. When I received my invitation to the "First Annual ElectroMedia Conclave," sponsored by Leupold & Stevens, SilencerCo, Hornady Ammunition, Grey Ghost Precision and the Tactical Night Vision Company, I marveled at the confluence of products coming together for this experience.
New products were the order of the day: Hornady brought its new Black line of ammunition to feed a passel of suppressed rifle and handgun systems, while SilencerCo brought the innovative Maxim 9 integrally suppressed pistol. Leupold had a variety of the company's new VX-5 line of riflescopes, plus the brand-new Quest handheld thermal imager. Grey Ghost Gear/Grey Ghost Precision provided rifles for the intermediate and long-range shooting, as well as gear bags, covers and other soft goods used. The Tactical Night Vision Company brought along some see-in-the-dark goodies to cap off the event, and while I've used night-vision gear before (in the 1990s, and it was tech most likely left over from the 1980s…), it's much like comparing a Model T to a Tesla.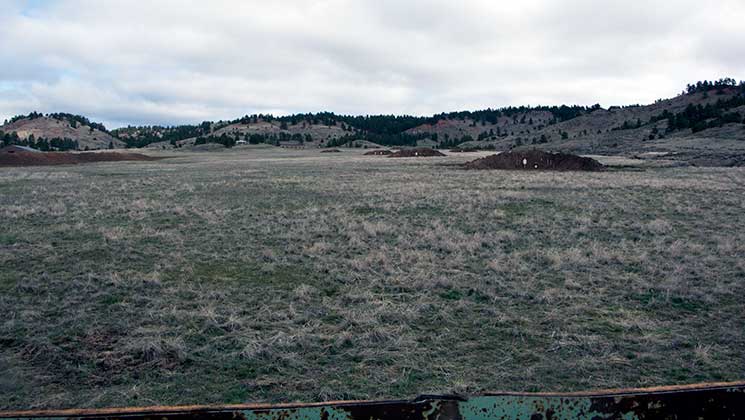 We started out on a known-distance, 1,000-yard range that had backstops at 100, 200, 300, 400, 500, 700 and 800 yards. Grey Ghost Precision rifles in .308 Win. and 6.5 Creedmoor saw the lion's share of the long-range action, with carbines in .223 Rem. and .300 BLK kept primarily to the shorter distances. A handful of Ruger Precision Rifles (including one in the new 6 mm Creedmoor) filled in the rest of the rifle offerings. All rifles were fitted by SilencerCo Omega and Saker suppressors, while Hornady's new Black ammunition provided the ping on steel.
Now, shooting from a bench is fine—there's little way to better get a feel for holdover and actual point-of-impact than having a solid bench under you, a sturdy rest under the fore-end and a bolster at the stock to anchor a rifle to the shooter's body. Getting to know the long-range habits and drops of the rifles in a controlled environment made shooting at unknown range easier, no question about it. However, once you're dialed in at various ranges, it's time to head out.
Here's where High Bar Homestead really has a lot to offer. In addition to numerous carbine and handgun courses, there are a multitude of variable-distance and slope courses to challenge even the most steely-eyed of sharpshooters. We went prone with .308 Win. and 6.5 Creedmoor on one range with targets set anywhere from 350 to 700 yards, then seated, standing and offhand at 200 to 400 with a moderate slope with .223 Rem. and .300 BLK carbines. Additional ranges offered a 40-foot-tall tower and targets out at 100 yards, and a separate prone rifle course with variable-distance targets out to 600 yards.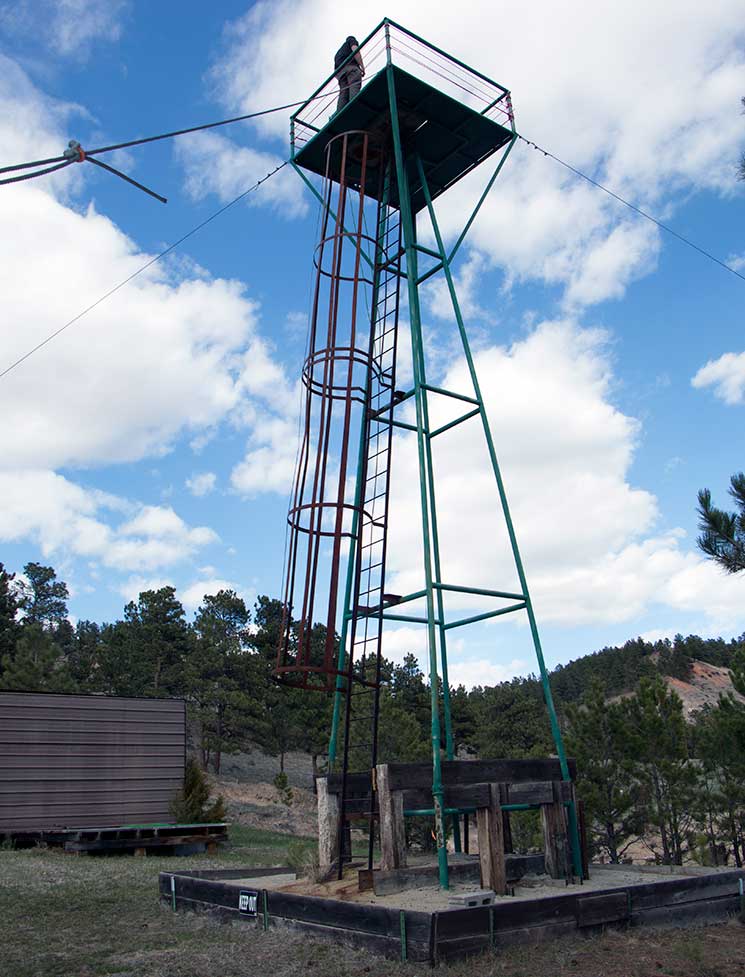 What really hit home for me, though, were the lessons I learned from the NRA Outdoors Long Range shooting clinic I attended several years ago. Get comfortable. Use your surroundings. Know your gear. Whether it was dragging a pack to use as an improvised seated rest or leaning up against a tree, having the knowledge and confidence inspired from great training really makes all the difference in getting solid hits. Great instruction, top-notch gear and a fantastic venue are a recipe for a great event.
One thing you don't realize when shooting suppressed rifle systems, and this is not a knock at any of the gear we used, is just how dirty everything gets. By the very nature, the suppressor adds a level of backpressure that results in a fair amount of detritus, well, everywhere. It's one of the many tradeoffs we make for increased hearing protection, less muzzle flash and greater controllability. Just expect to wash your hands more frequently! Through it all, though, the suppressed rifles and carbines provided by Grey Ghost performed admirably, with minimal stoppages or interruptions.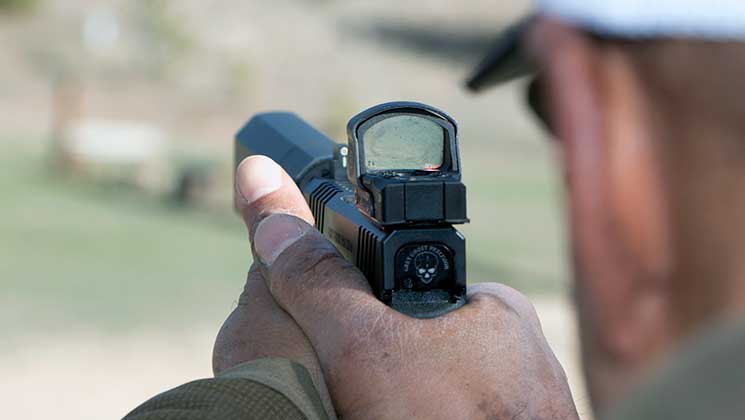 In the vein of increased hearing protection, though, it's notable that, while the SilencerCo suppressors did keep the noise at a reduced level, it was still quite evident. It was immediately obvious that suppressed rifles were being shot—even with subsonic ammunition. While hearing protection was used, it was more of a comfort issue than one of preventing hearing damage, which would have occurred had we been firing unsuppressed rifles.
Another aspect that jumped out at me was how my perspective had changed. If someone had told me ten years ago that I'd be shooting at 300 yards, I'd have been concerned for how I'd perform. Five years ago, if you'd told me I'd be shooting at 300 yards with only a 1-5x scope (even the superlative, new Leupold VX-5HD with CMR-2 reticle), I'd have been equally dubious. And a suppressed rifle system running .300 BLK shot offhand would have been so far out of the realm of possibility I'd have thought you had suffered a head injury for suggesting it. However, there I was, repeatedly whacking a steel coyote silhouette at 300 yards.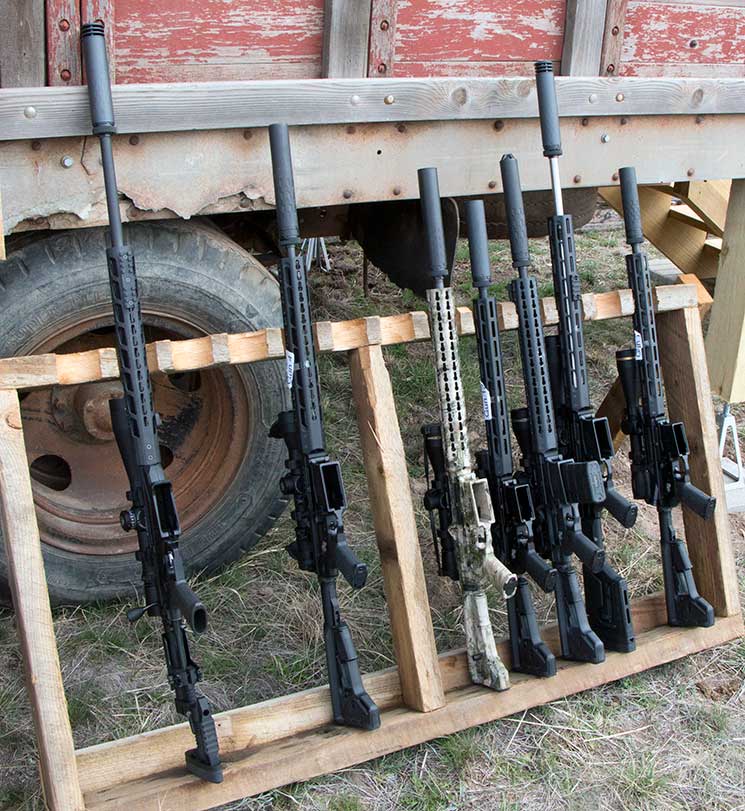 Interesting side note: Something you may not realize about shooting steel with subsonic ammo is that the pitch is radically different. Where the supersonic .223 Rem. makes the familiar ping that we all associate with a rifle round hitting steel, the subsonic .300 BLK is more of a thunk, like a brick being dropped on pavement. Add to that the delay between discharge and the thunk, it brings a unique perspective to shooting steel with rifles at distance.
The Tactical Night Vision Company (TNVC) brought dedicated night vision headsets, handheld units and "clip on" devices for our nighttime shooting goodness. Having done a smidge of work with infrared light and converters many years ago, I thought I knew what to expect. I thought wrong. The difference between the old (even at the time), de-classified military technology I used in the '90s and the high-tech gear brought by TNVC is on a par with the difference between a WWI biplane and an F-16.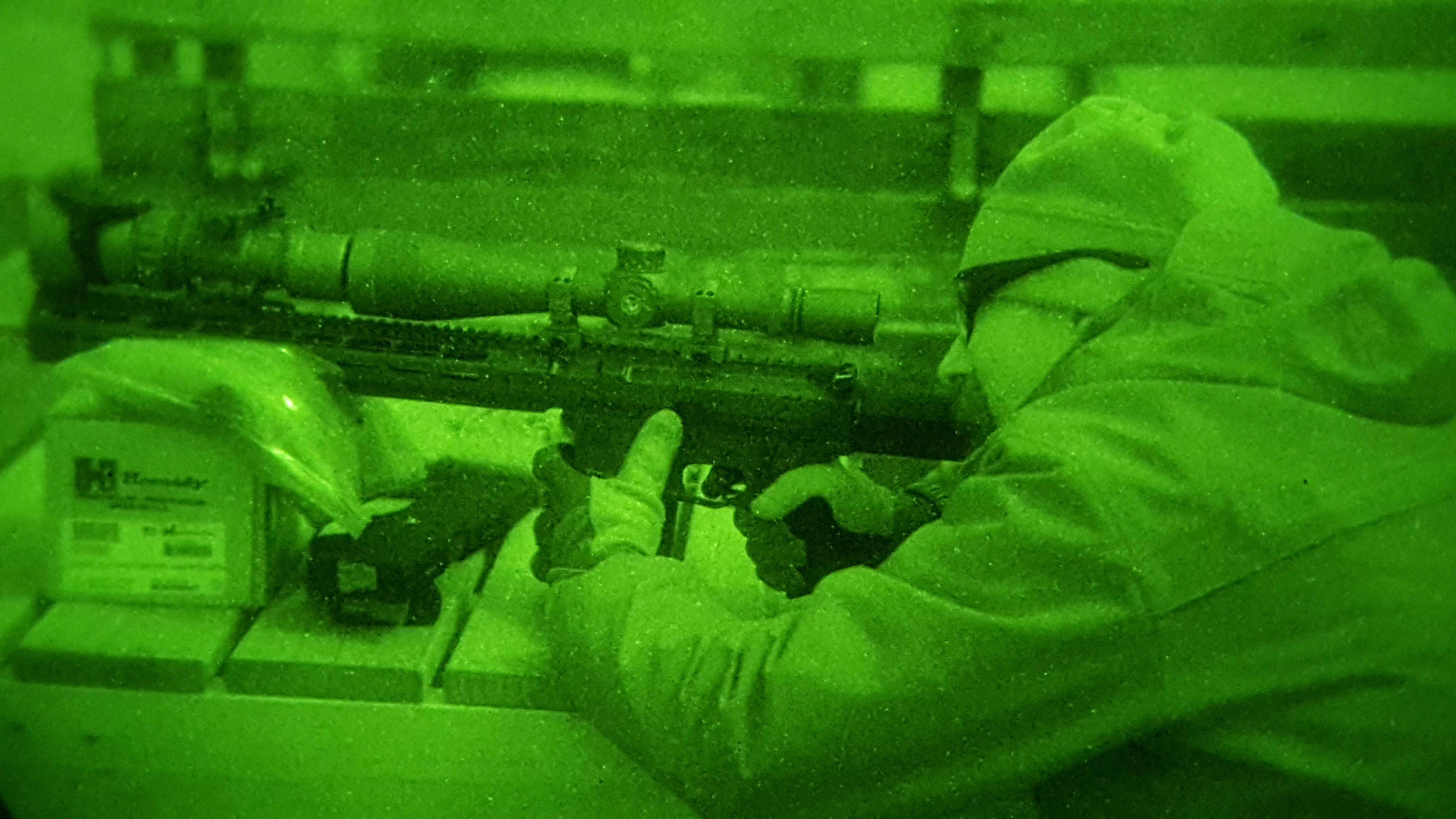 On the first night, we donned the headsets and battled steel plates with suppressed rifles and pistols at ranges under 100 yards; on the second night we employed clip-on units (they mount in front of a traditional scope) against targets out to 800 yards. Before both sessions we were given extensive instruction and background behind the science and application of these devices, and got to see, first-hand, how suppressors and night vision give our troops a decided advantage against all adversaries. It was quite an eye-opening experience.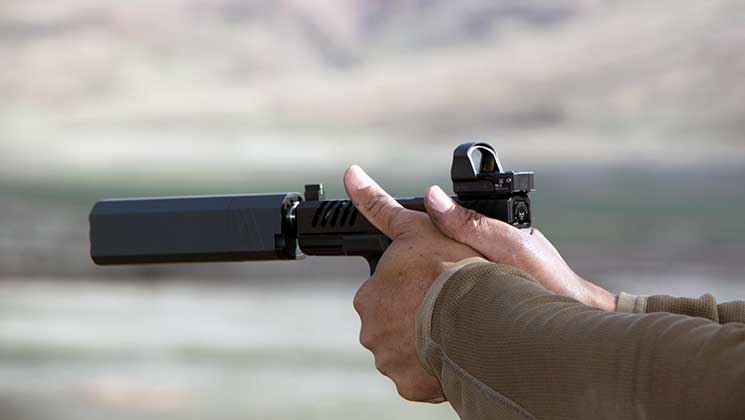 All in all, my time at High Bar Homestead with these manufacturers saw a mixture of new challenges met with previous education and new instruction. There's always something to learn in any experience, and the real takeaway is that with proper instruction and quality gear, even in the most unlikely of circumstances you have a pretty good chance of prevailing. It brought home, resoundingly, the importance of knowing a suppressed rifle system, getting good training and practice, practice, practice.