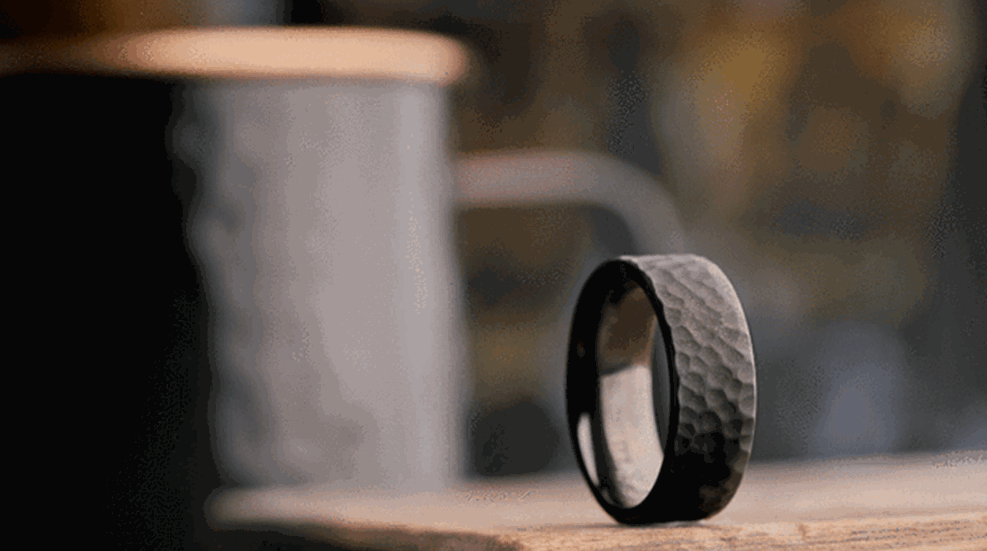 Rugged, hardworking, maybe even a little rough around the edges. These are all words I would use to describe a manly person. Though I would say I think manly more describes a man, a manly person can be any gender, and any gender likes to have options when it comes to wedding bands, or jewelry in general.
A wedding band is something truly special. It symbolizes the love and commitment to your partner. But it also does something else. It represents your unique relationship to your significant other as well as your individual personality. In a way it's just like a marriage—a blend of two separate people forming a bond that's one of a kind. So if many women love diamonds and look forward to getting that beautiful rock to place on their finger, why shouldn't men (or anyone for that matter) have the option for a piece of bling that represents who they are?
The traditional wedding band has mostly always been a simple gold or silver band. Now, I'm sure there are plenty of people who like that style, but what if you want something with a bit more flair? There aren't too many options out there or it can be difficult to find something that fits, too. Manly Bands has created a solution for those that want a little added spice to their ring.
Started by a couple that had such a terrible experience finding a wedding band for the groom, they decided to create their own company that gave people more choices when it came to men's wedding bands at a reasonable cost along with the customer service they felt they lacked when they were shopping for a ring. And they sure owned up to their goal.
Manly Bands has a plethora of bands to choose from ranging in style and different material types. It's really quite impressive. Whether you're needing a specific material in order to be able to wear your ring while working or you really want to find a style that suits your persona, or a combination of both, then you can't go wrong with the abounding options on their website. They even have a scale of how durable each material is in case you need to know based on where you will be wearing it. Plus, each ring comes with its own short description too, which I found amusing, but also very witty and creative.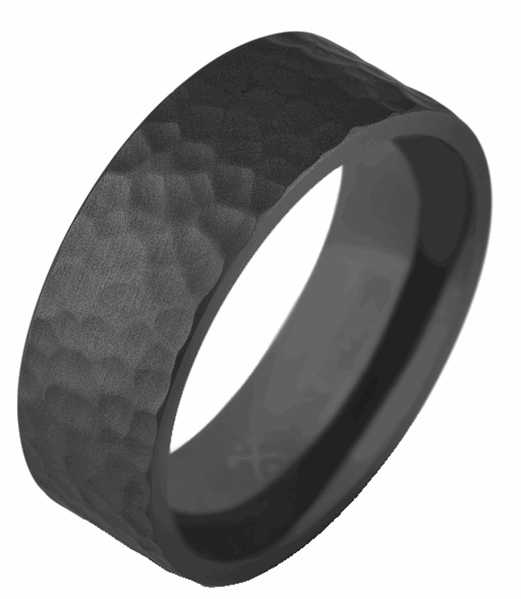 The Tyler
Additionally, if you're in need of a ring fairly quickly they have ready to ship rings you can choose from, and even those are quite extraordinary. Specifically, The Tyler is a ready to ship ring, and the one I was sent to review. Made of black zirconium, it has a hammer finish and is rather tactical looking. It's 8 mm wide and has a flat design with a comfort fit. Accurately depicted, The Tyler might be for you if, "Even if you suit up daily, on the inside, you're a long-haired rocker with the voice of a Heavy Metal god. It's time to stop dreaming and let that guy out, even if it's just for weekly karaoke. This ring's ready for life on the edge."
Upon receiving the ring, the packaging is bold and thrilling. Though I don't consider myself much of a manly person, quite the opposite actually, I was excited when I opened the drawstring leather bag the ring arrived in. Inside the leather bag was the ring box along with a small, clear, zip-locked pouch that contained a black silicone ring—an added bonus that comes with every ring purchase. A nice addition for sure if you need to switch out of your nice ring and into something more durable for the range or the gym, just in case you don't want to mess up your "precious" new bling. I gave the ring to my husband to try as well, as I consider him the more manly type between us, (plus, he loves heavy metal), and he really admired the ring. It fit him rather well, letting a bit of his hidden personality shine through.
The Tyler is rather stylish and sleek, and when I slipped it on I couldn't believe how smooth the inside of the band was—definitely a quality I liked. One thing that was a tiny annoyance was the flat design making the edges straight on the outside rather than rounded, which made it slightly uncomfortable. However, that is part of the design and only something I noticed. It might not be noticeable to others, and if it is then you can choose a different design as other rings on their site have a different feel and fit.
Speaking of their other rings, the selection available from Manly Bands is surely remarkable. Range of materials includes anything from gold to wood, carbon fiber with luminescent ability to antler and even dinosaur bone. Yes, you read that correctly. You can have a ring made out of pieces of dinosaur bone that were too small or broken to be displayed in museums. Now that's definitely out of the ordinary and one of a kind. Furthermore, prices of rings start at $135 and go up from there depending on how much you want to spend. You can even have a custom ring made by them if you're so inclined.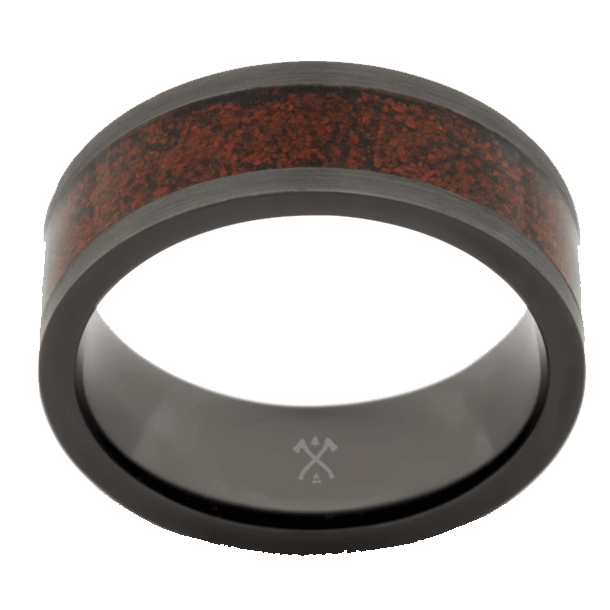 The T-Rex
Planning a wedding is extremely stressful, but ring shopping shouldn't be and Manly Bands understands this and tries to make it fun for all involved. They even offer a quiz on their website that aids you in finding your perfect ring that suits who you are and works with what you do. If you don't know what you're looking for in a ring this quiz can help you while also being enjoyable, since questions include what type of shoes you wear or what drink you normally have in your hand on a Friday night. Simple questions we don't normally think about, but actually give us insight into what represents us—rather ingenious.
Ordering is simple and if you aren't sure of your ring size you can buy a ring sizer to make sure you get the right fit. But even if you don't get the correct size, or style, you have 30 days to return or exchange your ring. In addition, limited warranties are also included based on the type of ring you buy. Also, for every ring sold, Manly Bands donates to a local charity of their choosing each month. So not only do you get the ring of your choice, but you also get to help others by your purchase—something you can think about every time you look at your ring.
Whether you're searching for the band that will symbolize your forever love and commitment to your partner or you're just looking for a piece of jewelry to rock, then Manly Bands is sure to have what you desire. Are you manly enough to give them a try?
MSRP on The Tyler is $300. For more information, visit manlybands.com.