We hear it from time to time, in various guise, but generally some form of "Buy once, cry once." It's the admonition, often correct, that paying extra for a known-quantity, name-brand item will, in the long run, be less expensive than buying an inferior product, finding out it doesn't work, and replacing it. Sometimes, though, the less expensive item works just fine, as in the case of the Holosun 407C V2 pistol-mounted red-dot sight.
With an impressive list of features, such as what Holosun deems "Solar Failsafe" and "Shake Awake" technologies, you can be forgiven for thinking the 407C should cost more. A lot more. A sight that has 12 settings (10 visible, 2 infrared), a solar back-up, user-programmable inactivity shut off and 50,000 hours of battery life, all for less than $300? What's not to like about that? Oh, and let's also add that it comes with a Picatinny mount, so if you feel like putting on a shotgun or carbine, you can – and that if you're putting it on a pistol, it fits the omnipresent RMR footprint, quite handy indeed.
The 2-MOA dot is crisp and sharp, with no distortion even for someone with astigmatism (which generally makes dots look like a starburst or bean, rather than a crisp dot). Sure, this might make you wonder if the sharper dot is more difficult to acquire, but fear not. While it is smaller in the window, aligning it with the iron sights (which, if you've smartly chosen suppressor-height sights, will line up perfectly with the dot) gets that dot on target fast. If you are worried about not finding the dot, don't – if you can see the iron sights, you can see the dot. Holosun lists 10 visible brightness settings, although it really boils down to three or four distinct levels with nearly imperceptible changes in-between. Again, not really a knock; I've never used more than "something resembling dim" for low light, "somewhere in the middle" for average use and "up near the highest level" for bright-light use.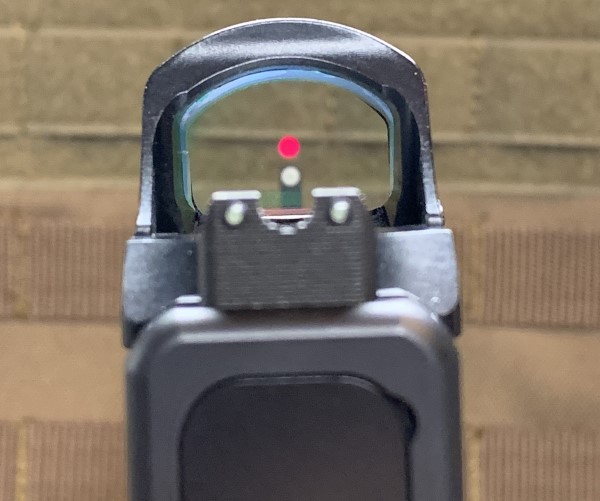 While I don't have a ton of time behind the trigger on the handgun I have equipped with the Holosun 407C, it's done quite a bit of dry-fire practice with no ill effects. Presentations from the holster are simple and efficient, and any holster that will accommodate suppressor-height sights and a red-dot cut should work with the 407C – it overhangs the top of the slide only by a minuscule amount, and hasn't interfered with any of the Glock G19 holsters cut for optics that I've tested. Folks I know and trust have been running Holosun pistol optics for a while now with no reported failures, and the HS403C optic I put on my ultra-light carbine build has been chugging along for nearly three years now – on the same battery – with no change in point-of-aim.
Controls for the 407C V2 are simple. On the left side are the brightness controls, with an up arrow for up and a down arrow for, yep, you guessed it, down. On the top is the elevation adjustment, which requires a small slotted screwdriver. A neat feature? Changing the point-of-aim up is clearly labeled as counterclockwise. On the right side is the windage adjustment, with the same slotted screwdriver needed to change, and clever markings present to show you that turning the screw counterclockwise moves the dot to the right. The battery door is also on the right side, using the same small slotted screwdriver. At 50K hours, that's more than 5 years in between changing depending on settings. If you change out the battery every Summer Olympics, you'll be fine (even if one year does get postponed for… reasons).
All in all, there's a lot to like and only very minor quibbles on the Holosun 407C Vs pistol-mounted red dot sight. It's affordable, durable and uses a common footprint to get it on a pistol. This is one case where – for the vast majority of folks who don't kick doors in for a living -- it's not much of a compromise getting the less expensive variant. In this case, with an MSRP of $282.34 (and street price is lower), that saves money that can be invested in practice ammo...