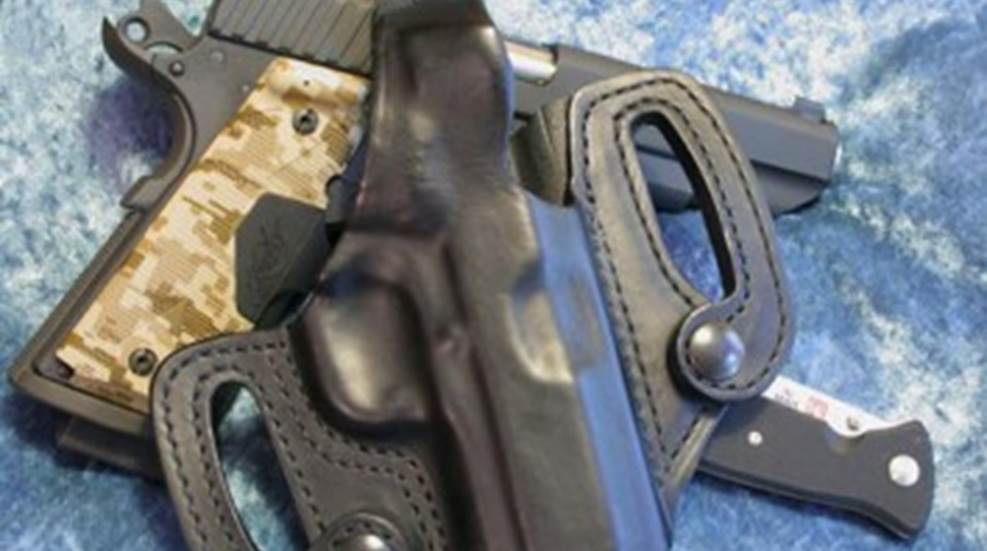 Here's the first of a five-part series on holsters and concealed-carry options. These articles will help anyone who carries a handgun choose the proper holster and carry method for their build, pistol and lifestyle.
We start with the pancake holster, originally developed by Roy Baker to be a flat holster that could be worn close to the body on either the strong side or in the cross-draw style. The design is about 60 years old. Regardless of the make and model of your carry gun, the chances are high someone, somewhere makes a pancake holster to fit it.
"Though there are plenty of holsters that do one thing well, but the three-slot pancake style that Roy pioneered is still as versatile a design as there is," said Chuck Buis, who manages the holster product line at Blackhawk. "It works well for concealment for a variety of weapons and can be worn on various widths of belts." While Buis was a detective, he carried either a Smith & Wesson Model 25 N-frame revolver or a stainless steel Randall 1911, most of the time using a leather or nylon pancake holster.
The larger your midsection, the better you'll like the pancake. The level at which you wear your pants influences the comfort and effectiveness of this holster, too. Pants worn low on the hips cause the gun to ride vertically; pants worn a bit higher help pull the gun into your body. Good pancake holsters hold the gun tight against your body. This minimizes printing and adds rigidity. If you're slim, look for a pancake that pulls the gun in at the top, eat a lot of donuts or consider a different carry option.
Pancake holsters come with two or three belt slots. Three-slot pancakes can be worn on your strong side or as a cross-draw holster on your weak side. The downside is you must undo your belt to put a pancake on or take it off. Blackhawk's newest pancake is a two-slot rig with snaps on the bottom of each belt slot, which negates this requirement. It's convenient, and I don't find that it lessens the security, comfort or concealability in any way.
Gun fit is a prime consideration with a pancake holster, especially if you opt for a model without a thumb break. Pancake holsters cannot be constructed of rigid materials, lest they become as uncomfortable as a chastity belt. If you go with a nylon pancake, it needs to tightly fit your pistol. If you opt for leather, hand-boning helps the holster retain the gun. Buis also recommends that thumb breaks on pancake holsters be reinforced. This keeps them stiff through years of wear and makes them easier to release when the gun is riding close to the body, like it should.
Finally, to properly conceal a handgun carried in a pancake holster, you will need to wear an outer garment. Whether it's a t-shirt or a jacket, it should hang at least 8 inches below your belt line—maybe even more if you carry a "Dirty Harry" handgun or wear your pants below your cheeks.