Many years ago, when I received my concealed-carry permit, I chose to start carrying my defensive pistol in an inside-the-waistband holster. I was the first person in my family and circle of friends to start carrying a gun on a regular basis, so at that time, concealing the pistol from casual observation was my No. 1 priority. As time went by, I stuck with inside-the-waistband (IWB) carry because it's what I was comfortable with. I carried larger guns like a CZ-USA P07 and smaller guns like the Smith & Wesson Shield in IWB holsters, and I got used to how they felt.

I do, in fact, own a number of outside-the-waistband (OWB) holsters, but they're primarily for competing in practical-pistol matches, and not suitable for everyday carry. Then I was sent a Raven Concealment Phantom holster for the Beretta APX to try out and use as an everyday concealed-carry holster.

The holster itself is a pancake design made from Kydex with metal belt loops. It also has a sweat shield that extends the length of slide to keep the rougher surfaces of the gun away from my skin. A nice feature of the Phantom line is that they can be converted to IWB carry simply by swapping out the metal belt loops for hooks that attach on the other side of the holster, making it, in essence, two holsters in one.

A full-size APX slides into the holster and has a satisfying click to let you know your gun is now secure. The holster was set up initially for a vertical-carry position, but after carrying it around for a few days, I loosened a couple of screws holding the belt loops and changed it to allow for angled carry similar to an FBI cant, a position that I find works better for me for both carry comfort and concealability.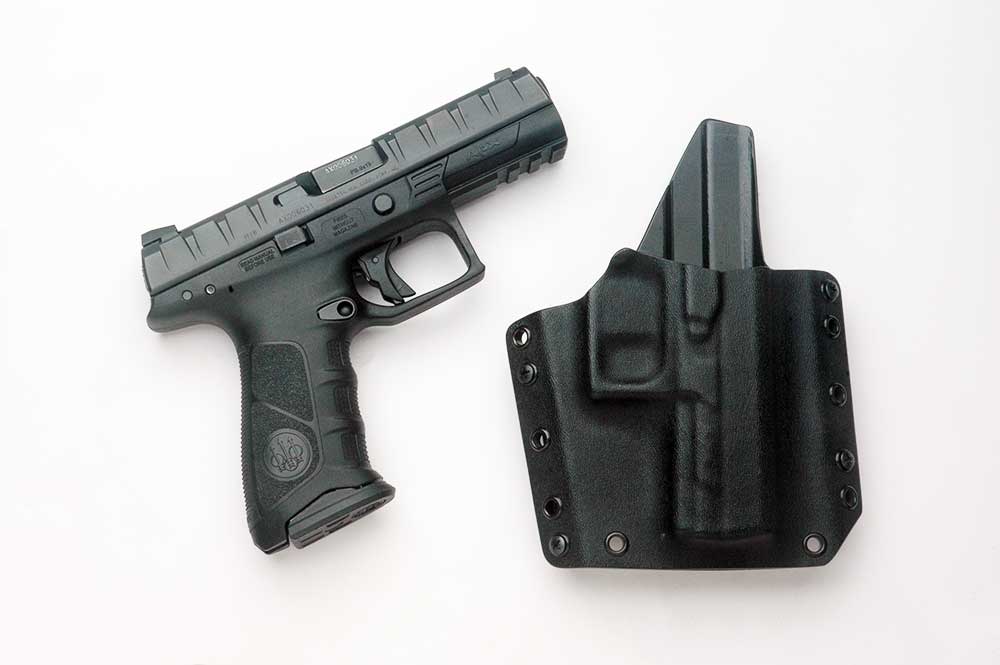 Carrying in an OWB holster after years of IWB carry has shown me there are some benefits and drawbacks to an outside-the-waistband holster. First off, the gun is noticeably easier to grab onto during the draw, and getting a good firing grip on your pistol is an easy thing to do, easier than any IWB holster I own. While I didn't do any testing to provide hard numbers on this, because my initial firing grip is easier to acquire, I'd be willing to bet that my draw speed is a few tenths of a second faster than the equivalent IWB holster.

When it comes to comfort, both IWB and OWB holsters seem about the same, which is due in large part to the fact that I use a solidly built gun belt with both holsters, giving me a stable foundation from which to hang my holster on. I was expecting that the three points of contact that you get from carrying IWB (two belts and the holster pressing against your hip) would mean that an OWB holster would feel less stable than carrying IWB, but that's not been the case. Day after day, my pistol has stayed right where it was supposed to be, which is one of primary tasks of any good holster, and the Raven Concealment Phantom felt just as a comfortable as any other quality holster I've used.

If there's a drawback to carrying outside the waistband, it's that because your gun is outside your base layers, it is a little bit harder to conceal. I found that the T-shirts that would conceal my gun when I carried IWB weren't as effective in masking the shape of my pistol in an OWB holster. However, that is not an insurmountable obstacle. I found that switching to a slightly larger shirt or changing my concealment garment to a loose-fitting button-up shirt made the APX much less noticeable when I was out and about on the street.

Based on this brief test, even though I've carried IWB for years now, I'll be adding in a few OWB holsters to my regular concealed-carry gear, and adjusting my training and practice routine accordingly. A quality OWB holster like the Raven Concealment Phantom makes carrying a pistol, even a full-size pistol like the Beretta APX, an easy task to perform on a day-in, day-out basis.