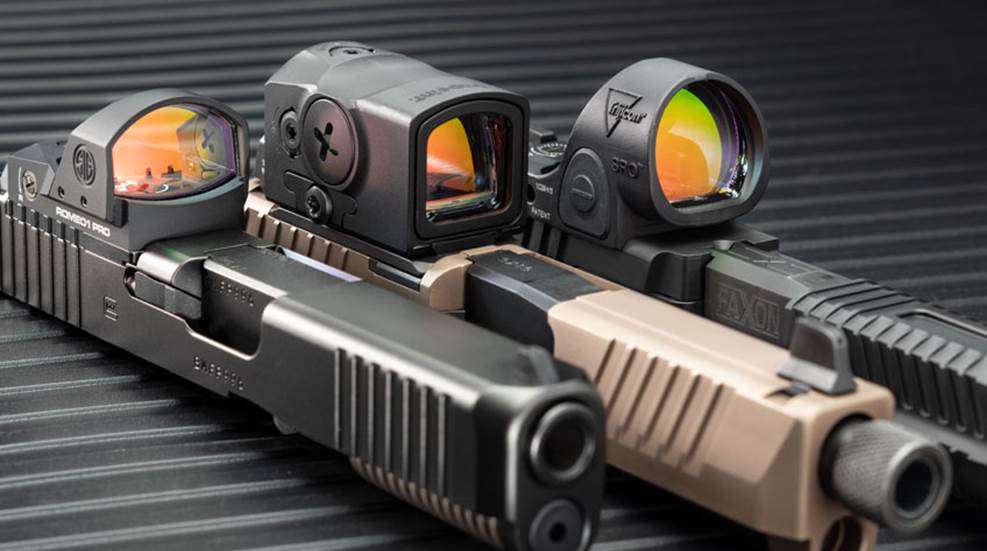 Man, it's pretty amazing how fast things move sometimes, isn't it? Ten years ago, red-dot-equipped handguns were more or less limited to high-end, competition-ready 1911s and rimfire rigs. Now? You can't open a press release without seeing a complete kit from pretty much every manufacturer out there. Glock and Smith & Wesson were among the first, with the MOS and CORE systems, respectively; when even SCCY offers a pistol with a dot on it, you know the market is here to stay.
But, what happens if you've already got a pistol and you want to add a red dot to it? Maybe your eyesight isn't what it used to be and lining up the sights isn't coming as naturally. Maybe it's hard to focus on the front sight like you know you should. Heck, maybe you're just curious what this red-dot business is all about and think it's time to check one out. There are many different mini-red-dot options out there on the market today; any attempt to even vaguely scratch the surface would inevitably leave out a number of excellent choices. With that in mind, I'm going to focus on three relatively new offerings in the mini-red-dot world.
Let's take a look at the three red-dot sights in question: The Aimpoint Acro P-1, SIG Sauer Romeo1Pro and Trijicon SRO.

---


Aimpoint Acro P-1
Certainly, the most, well, angular sight of the group, the Acro is a fairly radical departure from the "typical" red-dot pistol sight in this group. It's an enclosed-tube design, more commonly seen on carbines, but now adapted for handguns. Advantages of the closed tube are immediately apparent: The entire system is, as the name implies, closed to the elements. While other dot styles leave the emitter open to the world where it can potentially be impacted by rain, snow, mud, dust or other everyday hindrances, the Acro is sealed. Sure, the lenses can still fog, but that's a danger inherent to literally every other optic in existence. Scott Jedlinski, of the Modern Samurai Project, likes the Acro for just this reason.
Now, because of the Acro's all-enclosed design, there are some drawbacks. It doesn't attach to a pistol slide like other red-dot sights—it literally can't, as the mounting screws come down through the body of those sights. This necessitates a specialized mounting plate, unique to platform, that lends not only an extra level of intricacy, but also narrows options. Existing sights tend to fall into a limited number of mounting options; the Acro now presents another. It's not a deal-breaker, but it's something to keep in mind when considering not only the Acro, but any red dot. Make sure that you not only have the hardware, but that the hardware you need is compatible with the pistol upon which you wish to mount it.


I've mounted the Acro on an FN 509 Tactical pistol, as it comes with a variety of mounting plates and options for attaching mini-red-dot sights. As referenced above, the mounting system for the Acro is slightly more involved than in other sights, so finding fits that work, while not impossible, is more challenging. This will obviously change with time as more manufacturers gear up to include the Acro in their optics-ready offerings.
Finding the center of an equilateral geometric shape is relatively easy; it's the reason most scopes and red-dot sights are round. If you're looking for something, say, an aiming point, it will be more natural for the eye to find it in a circle—or square—than in a non-standard shape like an oval or rectangle. I imagine this would hold true for an equilateral triangle, but no one's building a red-dot triangle to my knowledge. In any case, when you bring the Acro up to your line of sight, it's pretty easy to find the dot. Steve Fisher, of Sentinel Concepts, remarked on the Acro's battery life, as he has seen units lose power sooner than other models, and would like to see a more common battery like the CR2032.
For new products like the Acro, a great option is a holster like the PHLster Floodlight, which indexes on a weaponlight such as the SureFire X300 or the Streamlight TLR-1. Often, these are cut generously at the mouth, even for inside-the-waistband holsters, to allow for a variety of options. Other possibilities are open-topped, outside-the-waistband holsters, which allow greater latitude in what's mounted at the rear of your slide.
Magnification: 1X
Objective Lens Dimensions: 20x20 mm
Reticle: 3.5-MOA red dot
Length: 1.9 inches
Weight: 2.1 ounces
MSRP: $660
---


SIG Sauer Romeo1Pro
SIG's Romeo1Pro is an updated version of the Romeo1, first released in 2016. Offering increased battery life, upgraded housing and more rugged construction, the Romeo1Pro is the most "traditional" of the three sights profiled. SIG Sauer claims improvements include "An improved point source emitter [that] increases battery life and improves overall ruggedness. The Romeo1Pro has a more rugged aluminum body, where the original had a magnesium alloy body for weight savings."
With this conventional and enduring design, it should be fairly simple to find holster fits for the Romeo1Pro—just look for existing fits for the Romeo1. This is obviously not the case for the Acro, as it is brand new, nor the SRO, as the overall length is different, so if you happen to be upgrading your Romeo, you won't need to replace any gear. While this shouldn't necessarily be a deal-breaker, if you're the type that's fully kitted out and reluctant to change everything, there's a point in SIG's favor. However, SIG inexplicably changed the footprint from the Romeo1 to the Romeo1Pro—meaning that if your pistol is set up to accept a Romeo1, it's not guaranteed to fit the Romeo1Pro. Check sigsauer.com to see which SIG pistols are compatible with the new Romeo1Pro.


SIG does offer mounting plates for certain optics-ready pistols such as the Glock MOS and Smith & Wesson M&P CORE series, so I've mounted the Romeo1Pro on a Glock G45 MOS. Obviously, this carries over to the G19, in that the slide is the same size, so I'm carrying the G45 in a Mission First Tactical IWB/OWB holster. This setup is easy to conceal, as the Romeo1Pro is the smallest and lightest optic in the group, and in presentations and single-timed-shots offered an average 1.55 second time, slightly slower than the other two optics.
There is less real estate in which to pick up the dot—it's not hard; the viewing area is pretty standard across other manufacturers—but after the uniform openings of the Acro and SRO, the narrow window of the Romeo1Pro took a split-second to adjust to. Consistent practice and quality training will help with acquiring the dot faster, as SOB Tactical's John "Shrek" McPhee reminds us, "It's never the gear, it's always the training necessary to get used to the gear that makes a difference."
Magnification: 1X
Objective Lens Dimensions: 30 mm
Reticle: 3- and 6-MOA red dot
Length: 1.8 inches
Weight: 1 ounce
MSRP: $449.99


Trijicon SRO
Designed not to replace, but to supplement the company's existing, supremely rugged RMR sight, Trijicon's SRO (Specialized Reflex Optic) leans more on the side of shootability over indestructability. While the SRO is hardly fragile, it's not built to the same military specifications as the RMR. It's still pretty darn tough, mind you, but if you're looking for an optic to throw off a five-story parking garage, you might want to look elsewhere. (Since I happen to live in the real world, where I have yet in all my years to toss a firearm off a structure, I'm confident the SRO will be just fine.)
Immediately apparent on the SRO is the large, carbine-like aperture. You're not missing the dot. I can say without fear of contradiction that the SRO has the most easily acquired dot out of not only this group, but any pistol-mounted optic I've tested. Fisher agrees, noting a strength of the SRO to be its "larger window allows more information of what's being seen and target transition."
I've done a number of timed draws with the SRO (draw from concealment, place a shot on a 4-inch target at 7 to 10 yards; generally, I can hit 1.5 seconds pretty reliably), and even under rapid conditions it's an easy day seeing that dot. Granted, I've had the opportunity to train with Scott Jedlinski and Modern Samurai Project so I'm doing more right than wrong, but even those who haven't have remarked how easy it is to find the dot in the SRO.


Obviously, the same forces at work in the Acro apply here—you have a uniform opening with a generous dot in the center (2.5 MOA as tested, there are both a 1-MOA variant for the precision-minded and a 5-MOA variant for those who want to get on target immediately). Trijicon reworked the battery door from the RMR, listening to consumer feedback and changing the access point to the top of the optic, so the SRO does not need to be removed from the pistol to change batteries. Battery life is a claimed 3 years, which seems pretty reasonable, as I've been running mine for close to a year now with no noticeable dimming.
I've opted for a specialized slide for the SRO, which highlights another strength of this new optic. Trijicon wisely opted to give the SRO the same footprint as the RMR, so finding a compatible slide is pretty easy, or, should you choose to have your existing slide milled out, a gunsmith who can perform an RMR cut should be readily available. I'd guess that, out of all three optics, the number of slides cut for the RMR/SRO outnumber the other two, combined. In this case, Faxon Firearms makes an RMR-cut slide for the Smith & Wesson M&P, available in two flavors, that's literally plug-and-play—you simply fieldstrip your existing M&P and put the Faxon slide on.
However, there are a couple of things about which to be mindful with the SRO. While it shares the same footprint as the RMR, it takes up more overall real estate—specifically, it overhangs the mounting area by quite a bit. This comes into play in two ways: First, folks who prefer putting the rear sight in front of the red dot won't be able to do this—on the Brownells RMR-cut, Glock G19 slide I've been using for my SRO, the optic dances right up to the edge of the barrel hood. Second, even holsters cut specifically for RMRs won't necessarily work with the SRO. Remember how I said the SRO overhangs the slide? If a particular holster is cut for the RMR, but comes right up to the edge of the cut, chances are the SRO will be too large. Be sure to check fit before dropping any coin. At any rate, the remarkable shootability of the SRO is worth taking some time to find a holster.
Magnification: 1X
Objective Lens Dimensions: 25x22.5 mm
Reticle: 1-, 2.5- or 5-MOA red dot
Length: 2.2 inches
Weight: 1.6 ounces
MSRP: $749
---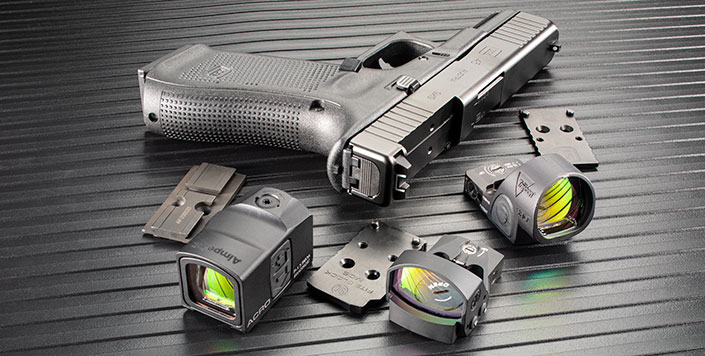 General Testing Thoughts and Protocols
I'm a big fan of appendix-style carry, for a variety of reasons that aren't germane to this article. All three setups—FN 509 with Aimpoint Acro, Smith & Wesson M&P with Trijicon SRO and Glock G45 with SIG Sauer Romeo1Pro—were all carried and shot from the appendix position (roughly 1-o'clock on the beltline for a right-handed shooter). All arrangements were comfortable for all-day-long carry and accessible even under cover garments in a rapid fashion. Obviously, for those who prefer traditional strong-side, inside-the-waistband carry, much will remain the same; for those who prefer outside-the-waistband methods, some attention will need to be paid to the cover garment to avoid printing.
At close range (anything closer than 10 yards), the SRO and Acro were within .01 second of each other in acquiring the dot when drawing "on the clock" (using a timer). That's not to say the Romeo1Pro was slow, just that the SRO and Acro were faster. For the longer-range shots, smaller dots mean greater precision, of course, so I tried to keep the dot size as constant as possible, with a range from 2.5- to 3.5-MOA across the three options. None of the optics showed substantial changes in point-of-impact in going from 10 to 25 yards beyond the expected spread from increased user error. All sights were accuracy-tested using the Glock G45 MOS and Winchester USA Ready 115-grain 9 mm ammunition. Keeping the pistol platform and ammunition consistent eliminates all variables outside of the sighting system and allows a truer comparison. While the sights were evaluated on concealability using different firearms, it was important to keep the accuracy evaluation as homologous as possible. This allows any differences in point-of-aim/point-of-impact shifts to be discerned when shifting to longer distances.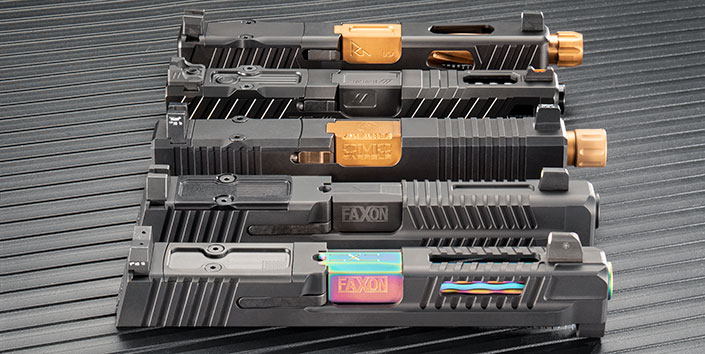 Jedlinski and other red-dot-specialized trainers recommend zeroing at a "practice" distance—like 10 yards—and then confirming where rounds impact at 25 yards. In all cases, the differences were miniscule and most likely attributed to operator error. Ten-yard targets were all within .06 inch of each other across all three sights, ranging from 1.66 to 1.72 inches; moving back to 25 yards had the groups opening up a bit, but not favoring one sight over another. The "on target" portion was performed at 5 yards, drawing from concealment and hitting a 4-inch circle while on a timer. 
Much of the difference between the three dots is subjective. How each feels during a presentation, how quickly one can get on target, finding holster(s) for your pistol-and-optic combination; all of these vary between individual shooters and their preferred platforms. Some will point out the price of these sights, noting that the Romeo1Pro, the least-expensive of the three, is still a bit higher than other options on the market. There's a couple of ways to look at this. First off, all three optics represent improved technology that sets them apart from competitors. Second, each is designed and tested by the respective manufacturers to withstand a particularly hellish amount of abuse—do these less-expensive competitors test as rigorously? Lastly, this is an area where you are relying on this gear to make the difference in a critical situation. It's not the time for cutting corners.