In America's heartland lies a business launched amid the Great Depression that thrives today because those at its helm have never forgotten their small-town roots while striving to reach further than the previous generation. The story of Brownells of Montezuma, Iowa, is the stuff of the American dream: It's a company built on love of liberty to become a premier seller of high-quality gunsmithing tools and firearm supplies that today does business worldwide.
Indeed the Brownell name has been familiar with NRA membership since 1943, probably longer. And for the next two years, at least, it will be a household name—if it is not already—as Pete Brownell, CEO of Brownells, was elected NRA President May 1, 2017.
His plans include focus on growth and sustainability of membership through training and education—"the big objectives." Viewed as a solid, forward-looking leader during his seven years of service on the NRA Board, he is excited to help our organization in its outreach to young people—indeed, folks of all stripes.
"The Second Amendment and the NRA are for everyone," says Brownell. "We must spread our wings and make the NRA more appealing for all who hold the Second Amendment near and dear."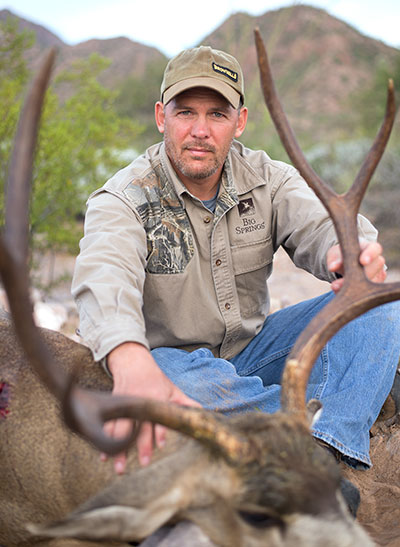 Small Town, Big Shoes
Pete Brownell grew up in Montezuma. The Midwestern hamlet was—still is—small enough so "everyone in town knows who you are," he says, "so they can catch you if you slip up … and they can catch you if you fall."
He is one of three sons born to Frank and Nancy Brownell. Now 48 and a husband and father of three, he is the third generation to run the business his grandfather, Bob, founded in 1939. But he never expected to run the company.
"It was a small company; it was about 5 percent of its size today when I was 15," he says. "So it was a regional, small, small business."
High school life was full of familiar activities: sports (football, wrestling), music (trombone) and some school leadership. A small school (K-12 under one roof) in a small town allowed students to dabble. "I played JV football," Pete says, "dressed for varsity. But I also played in the marching band. So I changed at halftime of the varsity games to perform in the marching band then redressed for the second half.
"We traveled a lot," he says, "… camping, fishing with granddad—but we didn't hunt as much as one would think."
As a teenager, Pete was a rock climber and mountaineer, a pastime that in part fueled his love of extreme hunts. Last year he completed a sheep grand slam, a feat many hunters dream of but few complete.
"The sheep slam started with a desire to replace the company logo," he says. But a hunt for a Dall in Alaska's Chugach Range in 2012 spun into a hunt for stone sheep then a desert sheep then finally a Rocky Mountain bighorn.
As a youth, he was a junior competitor at Camp Perry a handful of times. Today, he also enjoys elk hunting, 3-gun competition, "zombie" shoots and recreational trap leagues, and training at Gunsite and other locations. This year he is headed to Newfoundland-Labrador for caribou.
"I love any multi-day hunt, anything that involves tracking, spotting-and-stalking," he says. "You test yourself and your gear, your campmates. Those are always good areas to seek improvement. If you're going to call yourself adventurous, these are the things to do to test yourself."
From the University of Iowa, Brownell earned a B.A. in business administration in 1991 (and in 2000 an MBA with a focus on data-driven marketing). After undergrad studies, he pursued a career in construction. Someday, after that played out, he thought maybe he'd become a mountain guide. But fate weaves an interesting web.
A Generational Case Study
At this point the story of how Pete Brownell became NRA President cannot be told without also emphasizing the story of Brownells the company.
As a gunsmith in 1939, Bob Brownell realized many of the tools he needed either didn't exist or were hard to find, so he created Brownell Industries to supply himself and other gunsmiths with them. The Brownell name first appeared on the NRA landscape in an ad in the September 1943 issue of The American Rifleman.
Bob's business grew thanks in no small part due to his writing and marketing skills. In July 1944, a favorable mention of his quality bluing technique in The American Rifleman revealed an opportunity. Though trial-and-error, he had learned bluing as he refinished hundreds of old guns for customers, many of them World War I veterans. He launched his own line of bluing salts; the first ad for these ran in the August 1944 issue of The American Rifleman. Brownells Bluing Salts became the company's first signature product. Today they are still popular as Oxynate No. 7, so named because the idea was Bob's seventh product concept.
Soon, Bob's marketing literature included advice along with display of his goods and services. In 1947 he published his company's first catalog; a Dall ram adorned its cover. Almost 300 pages thick, it contained tools big and small and products still marketed today, including Brownells Sheath (later sold to the Birchwood Casey Company). Two years later, he distributed "The Dope Sheet," a newsletter to share gunsmithing how-to. Later, "The Brownells Newsletter" evolved into Gunsmith Kinks, a series of advice books on gunsmithing operations that in addition to earnest advice included Bob's storytelling and his famous sense of humor. They are still four of the most sought-after books sold by Brownells.
In 1948, Bob was one of the first two entrepreneurs to display a booth at the NRA Annual Meetings (the other was Roy Weatherby). Three years later, he focused full-time on mail-order, shuttering his gunsmithing business. Thereafter followed many signature products: Acraglas (an epoxy used to bed actions in rifle stocks), the Latigo rifle sling (1964) and Acraglas Gel (1977).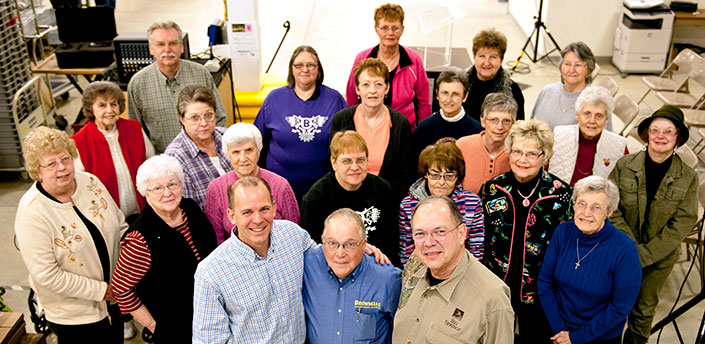 The February 1957 edition of The American Rifleman presaged new leadership: Bob's son, Frank, was pictured on the cover while hunting mule deer near Devils Tower in Wyoming. Frank, a 1961 graduate of Iowa with a B.A. in advertising, attended his first NRA Annual Meetings in 1964 then joined the company full-time, his stint in the U.S. Navy complete. He became president in 1983 then CEO in 1991.
Bob admired the Dall sheep as one of North America's most majestic and challenging species of big game, but he was unable to hunt it due to health reasons. In July 1967, Edward "Pete" Brown, editor in chief of Sports Afield magazine and a longtime friend of Bob's, presented him with a mounted Dall taken on a 1965 Alaska hunt; a plaque accompanying it read, "To Bob for his mark." The mounted head appeared on the cover of Catalog No. 20 and for more than 25 years hung in company headquarters in Montezuma.
That head of game became another signature, a nexus for the company and its customers. In many ways, the Dall represents America's majesty, its promise for all who work hard and persevere. In that light, it represents customers' reliance on Brownells' tools and advice.
In 1991, Pete was graduated from college shortly before his grandfather, Bob, passed away at the age of 79. As planned, he went to work not for Brownells but for the Montgomery/KONE Co. a construction subcontractor.
Growing up, Pete worked at his family business, of course. "It was a small company then," he says. "It was a catalog company—I knew that. We had typewriters. I worked in the business, probably about 50,000 square feet max; it wasn't the biggest employer in town. I didn't become aware of the competitive nature of it until later; I didn't get a sense of where we stood in the world until much later."
He also worked various construction jobs. Then he was paid more as a concrete construction worker, and his stint at Brownells ended (or so he thought). At Montgomery/KONE, he sold elevators, escalators and moving walkways and supervised their installation at airports first in Florida then California. "That was sales and management training," he says. "I was responsible for construction. It was a great job. It was a fourth-generation family business; I loved that. You felt like you were working for a person. You could see and feel tangible results. I thought that was going to be my career."
Life in California was eye-opening. The 1990s witnessed the rise of the "tech bubble," and Pete worked alongside it, managing, among other things, clean-room construction for an Intel microprocessor chip plant. Such proximity made him privy to the nascent practice of Internet development.
When Montgomery/KONE was sold in 1996 to a huge Scandinavian company, what was a family enterprise became stockholder-driven, focused on profit only. "I realized there is a larger social responsibility," says Brownell. "I thought, 'What impact can I make?' I talked to my dad, who was thinking about what his next move might be." And so Pete Brownell returned to Iowa, and became executive vice president of Brownells in 1997.
One of his first "signatures" was a website, Brownells.com, launched in 1999. The promise of the Internet was undeniable—Pete knew it.
"The only way we could grow was to find new people," he says. "You either expand geographically—the website did that—or you grow product-wise—Bob and Frank did that—or you expand categories—thus ammo, archery and survival gear nowadays."
In succeeding years, as he took control of the company first as president in 2007 then as CEO in 2012, Pete doubled down on all fronts. Catalog offerings expanded (MIL/LE, 2005; 1911 and AR-15/M16, 2007). New growth occurred online: In 2008, while searching for a method to reduce the effort needed to order from its vast selection of products, the company developed and patented its own Internet ordering system to enable customers to view exploded schematics with a click then, with another click order a part. A year later, it launched AR15Builder.com, a patented fully interactive website that allows customers to build the AR of their dreams; a year after that a mobile app debuted. Alongside this, organic product development continued: In 2006, the company introduced Brownells 30-round AR-15/M16 magazines. They are noted for durability and reliability—two government contracts confirm it, and millions have been sold to the U.S. military alongside the hundreds of thousands sold to civilians. In 2012 it launched more than 1,000 products in the survival gear market (Brownells ESG). In 2007 it purchased Sinclair International, a reloading, precision-rifle brand aimed at high-power shooters; in 2011 it purchased Crow Shooting Supply, North America's largest shotgun-shell wholesaler; and in 2015 it purchased Gamaliel Shooting Supply, a premier shotgun sports company. Advice continues to flow, too: Brownells' YouTube channel ably carries the mantle of "The Dope Sheet."
To house all this, Brownells opened in 2014 a new facility in Grinnell, Iowa. The 245,000-square-foot plant doubled warehousing capacity and features a first: a 7,000-square-foot retail showroom. Today, Brownells is a full-fledged direct-marketing company that supplies more than 100,000 firearms, optics, firearm parts, accessories, gunsmithing tools and ammo to gun owners and gunsmiths worldwide.
"In 1996 when I returned to work at Brownells," says Pete, "the company had 17,000 products listed; today it's 110,000 sellable SKUs."


Grow the Base
Such a recitation is good fodder for any business school. But the success of Brownells lies not only in the business acumen of the men who have led it but in their recognition of a need to "return the favor" to the community that has shepherded the rise of their company.
In 2005, as part of Brownells' longstanding commitment to the shooting sports it opened Big Springs Range, with shotgun, rifle and pistol ranges a few miles west of Montezuma. The facility hosts scholastic, recreational and law enforcement shoots. It also features 700-plus acres of upland habitat available for guided hunts.
The Frank Brownell Museum of the Southwest, located at the NRA Whittington Center, is the largest firearm museum in the region, with more than 200 firearms exhibited in a spectacular 2,750-square-foot facility. Frank funded the building, sits on the board of the Whittington Center and provides additional museum funding as needed.
Brownells was a founding sponsor of NRA Life of Duty, a program that offered exclusive membership to and benefited men and women in uniform—the first responders and military members who protect our country and our Second Amendment every day.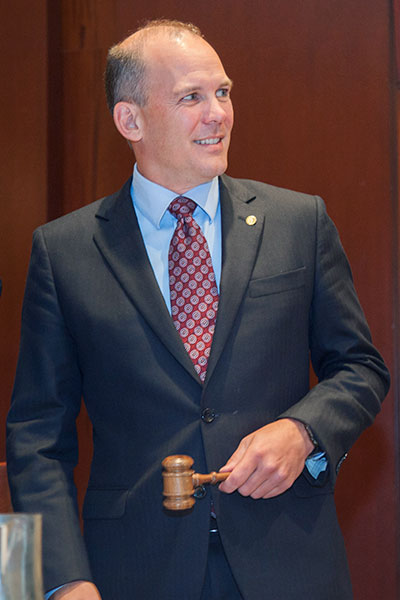 Perhaps foremost, Pete has served for 11 years on key NRA committees associated with membership and finance; he was elected to the NRA Board in 2010; to 2nd Vice President in 2013, 1st Vice President in 2015; and he was elected NRA President at the 146th NRA Annual Meetings & Exhibits.
His plans include focusing on training and, particularly, education. "It's all about growing the base," he says. "We need to broaden our wings and make the NRA appealing for everyone who is a staunch supporter of the Second Amendment. We spent the last decade defending the Second Amendment, now it is time to start living the 2A lifestyle. The NRA is a freedom brand, an adventure brand, a brand of self-reliance, responsibility. I've been doing that since I was a kid—hunting, fishing, climbing, traveling, exploring … "
Then, in a moment of reflection, his already deep voice drops an octave, and his eyes flash with earnestness and wisdom: "I want everybody to have these options, to explore the world, to be able to defend themselves and their families, and to feel comfortable wherever they go.
"That's why when we talk about the NRA and its defense of civil liberties we must reach out to our natural allies—anyone who appreciates the sense of adventure, anyone who enjoys our great outdoors, anyone who wants to keep themselves and their families safe. We must engage them with a new message delivered through new channels to help them understand who we are and what we're all about. Our legislative efforts will never waver from protecting our precious Second Amendment. However, our many great programs must serve as the voice for safe and responsible firearm ownership in America.
"The long-term success of this 146-year-old organization depends on what we do today. For the NRA to be viable and healthy 30 years from now, we must embrace diversity. Now, more than ever, it's critical to get our youth out hunting, shooting, fishing and just enjoying the outdoors. It's equally critical to attract minorities, women, and farm-to-table advocates who represent the next generation of outdoorsmen and outdoorswomen."
An NRA Life member since birth, Pete's passion for the NRA is palpable. In his characteristically humble and insightful manner, he discusses his commitment to growing NRA's membership using some of the lessons he's learned running his 78-year-old family company. He describes Brownells not just as a place that sells guns and gun parts, but as a place where his employees are placed in positions to reach their fullest potential and everyone has a say.
He wants the same for current and future NRA members—the millions of Americans who identify with our mission and message—when he reiterates the theme of his presidency: "Everyone has a voice in freedom."