by
posted on October 17, 2018
Support NRA Shooting Illustrated
DONATE
Hornady released the .300 PRC (Precision Rifle Cartridge) in fall 2018, a beltless non-rebated .30-caliber magnum centerfire rifle cartridge designed for extreme performance at long range.

The .300 PRC is not simply a necked-up version of Hornady's other recent introduction, the 6.5 PRC. The latter is based on the .300 Ruger Compact Magnum. The .300 PRC is based on the .375 Ruger Compact Magnum; call it a .30-375. Maximum cartridge overall length is 3.700 inches (minimum length is 3.575 inches). Case length is 2.580 inches (rim to case mouth); head diameter is .532 inch; throat diameter is .3088 inch.

Word is the cartridge was created with input from and is being evaluated by the U.S. Navy to supersede the .300 Norma Magnum, which was selected as the Advanced Sniper Rifle Cartridge for SOCOM. But the head diameter of the .300 Norma is .588 inch, same as the big .338 Lapua Magnum, which was based on the 107-year-old .416 Rigby Magnum (.589 head diameter). That's too big to fit within conventional centerfire-rifle magnum bolt faces. The .300 PRC, however, features a head diameter of .532 inch (same as the .300 Winchester Magnum) to fit within a standard magnum bolt face.

The 2.580-inch case creates capacity for 75-80 grains of powder to push big, heavy .30-caliber bullets at high velocity. So it has the capacity to win shooting competitions, kill most big game and in the process kill most other .30-caliber magnums. In short, it offers .300 Winchester Magnum performance with a shorter maximum OAL, so bullets may be seated farther out to maximize performance.

But does the shooting world need another .30-caliber magnum?

"We needed it," said Jayden Quinlan, ballistician at Hornady. "Gun guys build actions," he said at a 2018 pre-release field-test in Texas. To cover the most bases, to be sure a rifle model will fill plenty of wants and needs, he explained, they incorporate the most cartridges in one action. So existing actions are based around old cartridge and bullet design. "Ammo guys build ammo to spec," he continued. "They build ammo based on fit in existing actions. This creates a limited design cycle. So we thought, 'This is not working. Let's do what we want. Let's do what we need.'"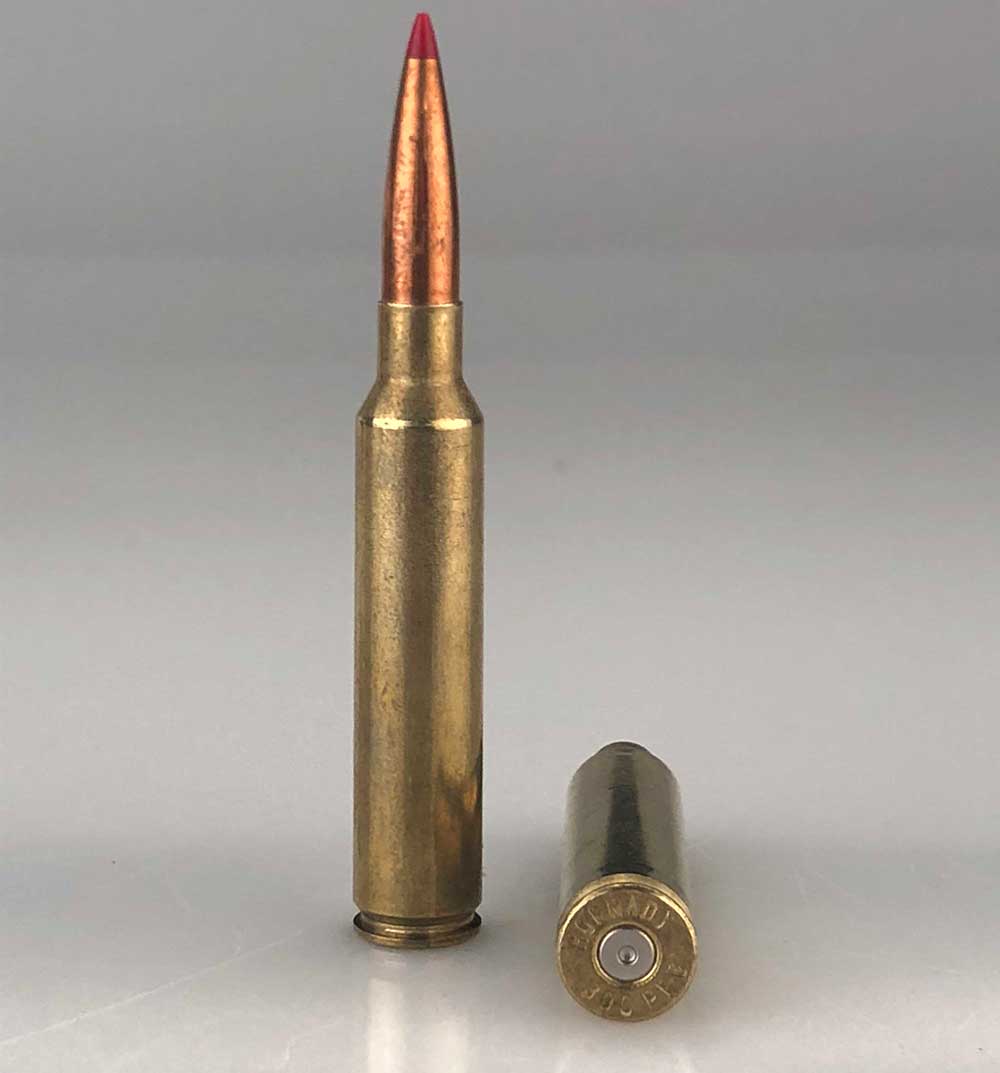 Consider an itemized list of the .300 PRC's characteristics.

The .300 PRC features a cartridge/chamber design geared for precision shooting using a standard magnum bolt face. Its beltless case creates an optimum body taper, shoulder angle and neck length, and deliberate chamber clearance in the throat. Its case capacity is designed for use of specific propellants to ensure temperature stability; uniform pressure and velocity; and the ability to use every bit of case capacity. It is designed to deliver adequate and consistent barrel life. The cartridge accommodates modern long-range and traditional bullets; its overall length allows bullets to be seated out from the case body to ensure proper throat length. Hornady factory offerings released today utilize modern, long-range bullets—the 225-grain ELD-M and 212-grain ELD-X—traditionally available only to the handloading community.

Now consider the fact there has never been a SAAMI-standardized, factory-produced .30-caliber magnum cartridge with all the preceding attributes.

Exactly—the cartridge already is SAAMI-standardized; Hornady did so to speed adoption. SAAMI lists a maximum average pressure (MAP) of 65,000 PSI, same as the 6.5 PRC. With a 3.7-inch maximum COAL, the .300 PRC will fit, feed and function in existing long actions. Rifles I have seen and used include bolt-action models built by GA Precision, built for Hornady to cover this release. Quinlan tells me detachable box magazines currently available for the .300 PRC include offerings from AI, Accurate Mag and MDT.

The 225-grain ELD-M carries a G7 ballistic coefficient of .391 (G1 of .777) and travels at an advertised muzzle velocity of 2860 fps. In pre-release testing, our group noted average velocity of 2876 fps with the load. At that speed, at 1,000 yards velocity is still sizzling at 1835 fps. Energy is a thumping 1,682 ft.-lbs. Time of flight to reach that 1,000-yard mark is a mere 1.305 seconds.

Our group first zeroed the load at 100 yards then progressed quickly to 500, 800, 1,000, 1,400 and 1,800 yards. Accuracy using the Hornady 4DOF (four degrees of freedom) ballistic calculator (available free from Hornady and on the Android and App stores) ensured unbelievably consistent first-hit capability at all distances. Unofficially, some shooters with specialized field experience tell me this cartridge design may deliver increased first-hit probability of 20 percent. The .300 PRC can be magic in the right hands.

I used a 225-grain ELD-M to shoot a hog in fading light at FTW at 433 yards. After a quick consult of the Hornady 4DOF calculator, point of aim equaled point of impact—right between the shoulder blades. But while the ELD-M may be adequate for much game, hunters should be interested in the 212-grain ELD-X, with a G7 BC of .336 (G1 is .673).

Like the 6.5 PRC, the .300 PRC should meet demand for increased accuracy in today's trending sport of long-range shooting. Time will tell if the .300 PRC captures the hearts (and dollars) of long-distance match shooters and hunters. Here's betting it will.