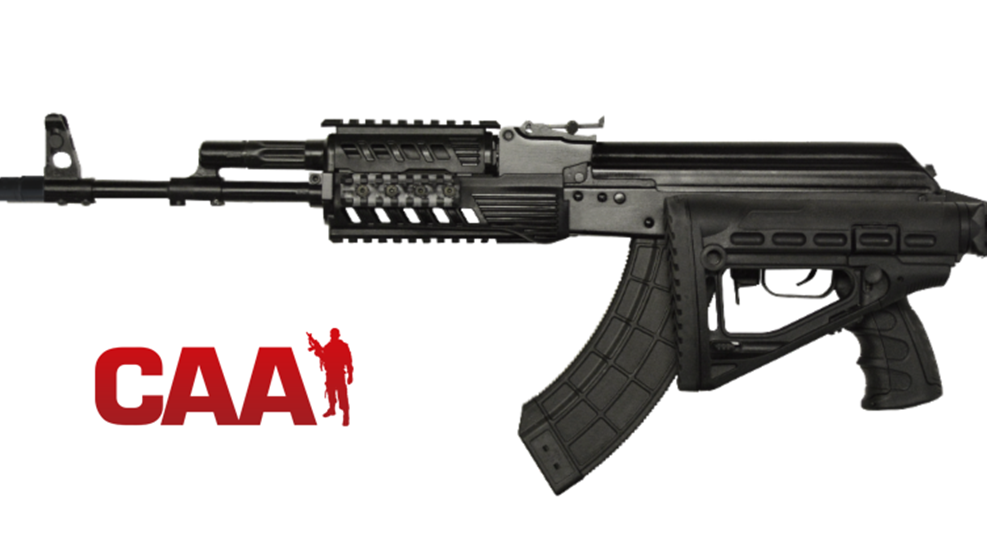 CAA USA is pleased to announce the CAA  ambidextrous, side-folding, 6-position, polymer, collapsible stock tube is now available and shipping to retailers across the country. The CAA side-folding, stock tube (AK47SFSP) allows the installation of M4-style stocks on most AK-style rifles with Saiga stamped receivers. The CAA side-folding stock tube provides rifle enthusiasts and professionals with CQB and covert carry capabilities and easily converts from left-hand to right-hand folding positions.
The polymer construction of the stock tube features an internal aluminum lock and latch parts for extra strength. Installation is quick and easy and requires no gunsmithing or tools. The horizontal tube mounting to the stock also improves sight picture. An oversized, ridged push button makes it easy to locate and fold the stock, even under stress. To move the stock from the folded to extended position, a pull on the stock is all that is required (no push button).  The 6-positions allow the user to customize the fit of the stock for a personalized and comfortable fit.
The CAA side-folding, 6-position, collapsible tube accepts all commercial AR15/M4 collapsible stocks including CAA's skeletonized (SKBS) and collapsible (CBS) buttstocks. Available in black only with an unconditional lifetime warranty, the CAA AK47SFSP collapsible tube for AK47's has an MSRP of $ 124.99.